Jerome AZ (February 20, 2014) – The Jerome Art Walk keeps its momentum going on March 1st, approaching the spring season with more artistic energy and wonderful talent than ever before. Every first Saturday, the creative community of Jerome is pleased to host an evening of art, music and entertainment with open studios and galleries displaying local, regional and national artistic treasures. New members have joined the group and are planning special events throughout the town on March 1st from 5:00 to 8:00PM. A free shuttle runs during the event. Restaurants will offer delightful meals and charming lodging choices abound for a delightful nights stay for those who might enjoy making a weekend of it.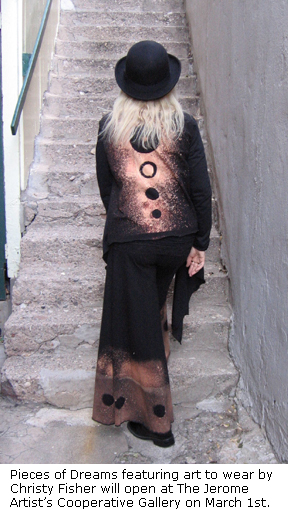 'Pieces of Dreams…an eco-logical collection of art to wear by Christy Fisher' at The Jerome Artists Cooperative Gallery opens Saturday, March 1, 2014. The collection's theme calls attention to a part of the fashion industry that is usually reserved for insiders. Over 10% of landfill in Los Angeles alone consists of textiles…a result of waste in the manufacturing end of the business. Christy does what she calls "fabric rescue". Scavenging warehouses in the fabric district, she salvages hundreds of rolls of fabric that would otherwise be turned to waste. Working from her Arizona studio, the textiles are dyed, printed and turned into fantastic pieces of wearable art. Christy began her career in the 1960s, designing stagewear for numerous rock and roll acts, including Jimi Hendrix, Frank Zappa, and Eric Clapton. In the 1980s, her knitwear collection was featured at Macy's. She also has a highly collectible jewelry line that utilizes recycled glass, aluminum cans, and vintage imagery. Both collections are available at the Jerome Artists Cooperative Gallery 502 Main Street in Jerome, Arizona. Come meet Christy during First Saturday Art Walk on March 1.Refreshments will be served from 5-8 PM. The show runs through April 25.
An Awesome Collection of Custom Jewelry Designs is available at Jerome's Jewelry. Choose from a wide variety of artistic jewelry created by father and son team Rick and Ricky Hernandez. Jewelry Artist Rick Hernandez has been creating custom jewelry for over 20 years in 14k gold and sterling silver using Australian Opal, Diamond, Tanzanite and Amethyst along with many other of gemstones. Rick's son, Ricky has followed in his father's footsteps and specializes in the unique art of handcrafted silversmithing. Enjoy the evening while listening to the talented Miss Tara Ortiz singing and playing the guitar or ukulele.
Magpie is celebrating Art Walk with a fragrance launch party! Our Alchemy Perfume Bar has over 50 blends for you to experience! We will be previewing 3 new ones during Art Walk…and giving away free samples while supplies last! Magpie features a fantastic collection of handcrafted clothing, jewelry, and accessories from great local designers. Located at 510 Main Street in Jerome.
Wine About The Walk at Cellar 433 with a happy hour featuring wines grown, produced and bottled exclusively in AZ. New releases are here! Come see the stunning new Raku pottery designs by John Manley. Cellar 433 is located two doors up from The Merchants Gathering, home to both The Cody Delong Gallery and Casa Latina where March brings new excitement to 300 Hull Ave. Cody Delong & Casa Latina opened a new space inter-mingling Cody's art prints and Maureen's Latina American folk art, glass & earthy natured-inspired creations. The gallery is refreshed, open, airy and of course colorful. Come join us and see our new addition. In house artist Duane Ewing will be performing on saxophone "Saturday night live"! 300 Hull Ave. next to the visitor's center. CodyDeLong.com 928-300-4576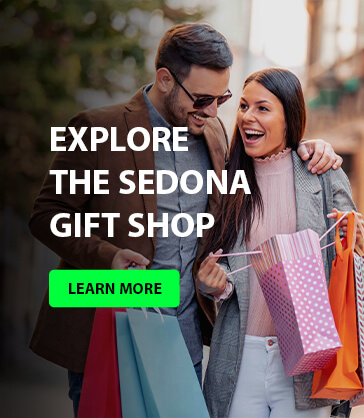 Zen Mountain Gallery is pleased to welcome the ceramic work of Mike and Sharon Upp to the gallery as featured artists for March Jerome Art Walk. The local art of husband and wife ceramicists Mike and Sharon Upp is a perfect addition to Zen mountain gallery. Sharon focuses on hand built pieces, many of which are both sculptural and functional in nature. Michael concentrates on creating functional art forms on the potter's wheel. They each have their own bodies of work but say that they do enjoy working on collaborative pieces. Both potters bring many years of experience to their work. Mike studied ceramics at Arizona State University, lived on a 300 acre artist's community in northern Tennessee for eight years and ran the Tempe Arts Festival at one time. Sharon has studied ceramics in southern California and Portland, Oregon and has found inspiration through extensive international travels. She is also the author of House on the Bridge: Ten Turbulent Years with Diego Rivera about the life of Angeline Beloff who was Diego Rivera's first wife. Please join Zen Mountain gallery for March Art Walk at 515 Main Street, Jerome to welcome Mike and Sharon to the gallery.
At Pura Vida, the March 1st Jerome Art Walk marks the debut of jewelry artists Carolyn Zakarija and Jeanette Payne. Using sterling silver and 14kt gold-fill, Carolyn creates clean, sexy, contemporary designs that are striking and timeless. Jeanette's work is also extremely contemporary – incorporating sterling silver and colorful anodized niobium to create beautiful eye-catching designs. Join Pura Vida for champagne and chocolates and wonderful new jewelry.
Wine Aficionados! This month, Adorn Collection on Clark Street features the environmentally conscious work of Colorado artisan Brad Evans. Brad re-purposes used wine barrels, transforming the beautifully stained pieces of oak into works of art… each piece as unique as the handcrafted barrel it came from. These works put the FUN in functional with candleholders, coat racks, wine racks, soap dishes, trivets and other accessories for the wine loving home.
Roberge & Day Studio at The Old Jerome High School is a feast for the senses and has treasures for all ages and budgets. Visit the wonderland of whimsy and art you can wear! We are happy to spotlight the fabulous wirework jewelry of Slinky Lynnx Chic along with our own unique handmade, natural fiber accessories and out-of-this-world hats for all occasions (check out our new Top Hats on our Facebook page)! Find out about our classes, too!! Open daily 12-5 and every Art Walk!!
Gallery 527 in Jerome presents 'From Heart to Hand – Ramona Stites Returns', opening on March 1st during First Saturday Art Walk. Ramona has a loyal fan base in the Verde Valley and her collectors have commented on how excited they are to once again see the bright and vibrant landscape paintings with her signature sumptuous curves and colors. Gallery 527 is home to some of Northern Arizona's finest artists and promises a delightful evening for great art and conversation on March 1st from 5 to 8pm. For more information, contact Donna at 928.301.3004.