Gloria Rothrock Art Collection To Benefit the Amitabha Stupa
Sedona AZ (February 4, 2013) – Fine art lovers have the rare opportunity to purchase what remains of the Gloria Rothrock art collection—and benefit the Amitabha Stupa and Peace Park at the same time. Rothrock has offered 50 original paintings for the silent auction fundraiser that will take place on Sunday, February 17, from 2 p.m. to 5 p.m. at Troia's Restaurant in Sedona. The event is free and open to the public. The artist will be present to discuss her work and creative process. Adalia Tara, Sedona's inspired songstress, will add her lovely voice and music to the festive reception, generously hosted by Rosanne and Sam Troia.
Rothrock's well-known series of "Serenity Sisters," "Buddha Brothers," abstract paintings, and Zen garden paintings, will all be available for bidding as Rothrock moves forward in a new creative direction in her life. These are the last remaining paintings in these series.
Rothrock wants to offer her art to help preserve and maintain the Amitabha Stupa and Peace Park, a 14-acre community resource in Sedona. "We need open spaces," says Rothrock. "We need to preserve the sacred." A stupa is a Tibetan Buddhist monument that embodies compassion, wisdom, peace and love, which is said to bless all beings and harmonize and balance the surrounding area.
Rothrock the artist
"Being an artist is not a choice, but a necessity," says Rothrock. She has been a professional artist since her 20s—first as a ceramicist and then a painter. According to Rothrock, "My work melds my inner life with my art into a harmonious whole. I think there is a universal pull we all have to be serene and peaceful."
Rothrock began her "Serenity Sister" series after a divorce. "It was a new journey inward," she recalls. What emerged were iconic, multicultural, multiethnic images of contemporary women on multilayered canvasses. She then moved on to male images, which she calls her "Buddha brothers."
The foundational layer of Rothrock's male and female paintings is torn newsprint from human interest stories. Rothrock then added texture through fabrics and other materials. Her last step was to paint over her collage with translucent washes in a color palette that is earthy, full of iron oxide red, golds and deep greens, which she complements with black and white.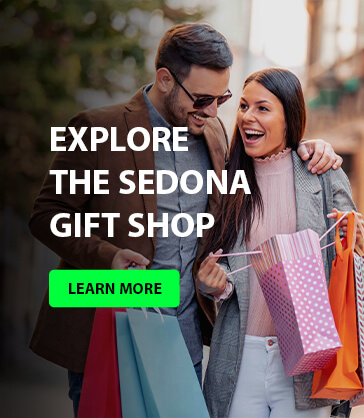 According to Linda Goldenstein, owner of the Goldstein Gallery in Sedona, where Rothrock exhibited her art for many years, one of her paintings provided comfort to a grieving father who had lost his son. He understood that "life goes on" through Rothrock's sensitive paintings. Each of Rothrock's paintings has a spirit-infused presence that can transform a home or office into a serene oasis. "We paint what we want to be," says Rothrock, "serene and centered."
Rothrock's paintings came in many different sizes—10 x 10, 24 x 20, 24 x 60, 30 x 30, 40 x 40, 48 x 60 and a few other sizes. A small number of 8 x 10 and 12 x 16 prints will also be available.
The Reception
Troia's Restaurant is sponsoring the reception, which will include light hors d'oeuvres, nonalcoholic beverages and a no-host bar. Rosanne and Sam Troia have been good friends to the Amitabha Stupa since its construction, hosting many events on its behalf in their restaurant, including the consecration ceremony dinner just after the Amitabha Stupa was completed in 2004. "We love the stupa and peace park and are extremely grateful that it is in our community," says Rosanne Troia. "This event will be fun."
Five Rothrock paintings will be on display at Troia's Restaurant on 89A during the restaurant's normal business hours (dinner only) the week prior to the stupa fundraising event on February 17.
For more information, contact Wib Middleton, 928-862-0600.
The Amitabha Stupa and Peace Park is owned by Kunzang Palyul Odsal Changchub Choling (KPC), a 501(c) 3 organization.