By Jennifer Epperson
Sedona AZ (August 25, 2014) – Have you been contemplating the questions flying around town? While Sedona enjoys it summer slumber, artists have been busy asking questions, and they are not simple ones.
Tina Mion, artist in our fair town and in Winslow, recently provided a provocative question for artists and art lovers. As part of the NAU Summer Seminar Series at Mary Fisher Theatre artist Tina Mion asked,  "Why Am I Here?" and the audience contemplated along with her. When she asked how many in the audience were from Sedona, not a single hand was raised. Tina's challenges persisted: "Why did you come here, of all places, from wherever you were before?"
And she is not the only one asking questions. The Sedona Visual Artists Coalition Fall Show asks artists to explore the question "Who Am I?" In September, we will have the pleasure of seeing the work resulting from self-searching and the imagination.
What is going on here?  Can we be waking up to the influence of "place" in the creation of art? Have the combined journeys that led us here lead us also to dreaming and waking up to Sedona's influence on the marvelous history of 20th century art, namely how surrealism planted its seeds in the red earth that surrounds us?
What is Surrealism?
Sedona, with its beauty and ability to draw us in, has contributed an integral chapter to the surrealist movement of the 20th century. Surrealism unites the conscious and unconscious realms of experience so completely that the world of dream and fantasy are joined to the rational world in "an absolute reality, a surreality." Now, does that not sound like this place?
Artists who created the movement in the early 20th century based it in part on the writings of Sigmund Freud. For the artists, the mind or human psychology, could be a source of artistic inspiration, and the unconscious, a wellspring of the imagination. Surrealism gained traction as an artistic and literary movement in Europe and later in the Americas. It was dedicated to expressing the imagination as revealed in dreams, free of the conscious control of reason and convention.
There was no single style of Surrealist art but two broad types can be seen. These are the early dream-like work of Salvador Dali, and Rene Magritte, and the later free form or automatisic work by artists Max Ernst and Joan Miro. Surrealism has had a huge influence on art, literature and the cinema as well as on social attitudes and behavior.
Now for a Sedona reality check. Prepare to be blown away by an exhibition this week that introduces Max Ernst and Dorthea Tanning, important surrealist artists who lived, loved, and worked in Sedona. Discover a part of their story and explore their influences on modern art right here at the Sedona Art Center this week!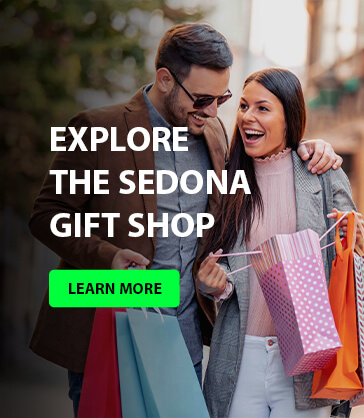 From Surreal to Abstract
While Max Ernst is most known for his commanding presence in the Surrealist movement, he influenced the Abstract Expressionist movement as well. Abstract Expressionism was the first American art movement to achieve international recognition, and Ernst is credited with having influenced some of the most important emerging painters of the modern art era.
Arriving in New York in 1941 during World War II, Ernst influenced emerging painter Jackson Pollock.  Ernst invented his own unique techniques in painting, and perhaps even more importantly used his artwork as a vehicle for expressing an internal state. As a surrealist escaping war torn Europe, Ernst's influence spread to Willem De Kooning, Robert Rauschenberg, Barnett Newman, and Mark Rothko.
Max Ernst moved with artist Dorothea Tanning to Sedona in 1946. The years of inspiration and prolific art making in Sedona proved to become a turning point in Ernst's career. He wrote the treatise Beyond Painting in 1948 and began to receive greater renown. In 1952 Ernst was featured in Life magazine, with photographs of Max and Dorothea in Sedona, along with images of their respective work.
A private collection of Max Ernst and Dorothea Tanning's artwork will be on display at the Special Exhibition Gallery of the Sedona Art Center, Friday August 29th through Monday September 1st. An opening reception will be held from 5:00 until 8:00 PM on Friday. The artwork provides a small sampling of Ernst's range of styles from early Surrealist days to some of the more abstract work produced in Sedona.
New work by Mark Rownd, Sedona artist and curator of this fine exhibition will be included in the show. Mark's abstract color field paintings notably reflect the influences of minimalist abstract expressionist painters such as Barnett Newman and Rothko. So the influence continues!
In addition, a one-hour documentary entitled Max Ernst Hanging will be shown Saturday thru Monday at 3pm each day. Admission is free, but seating is limited. The film documents the design and construction of the exhibition space created specifically for the retrospective of Ernst' work at Rice University/Houston in 1973. The opening night and after party gala emphasize the welcome he received. Dominique de Menil, philanthropist and collector curates the show. Many of the works Ernst produced while in Sedona are shown in the film, with Max and Dorothea in fine form.
Sedona may be snoozing this summer, but Sedona artists are not. Tina and Mark provide eye-opening experiences of our art history, our place and its legacy, and lead the way for marvelous things to come.