By Tommy Acosta
Sedona AZ (July 1, 2018) – Sedona is a gift that belongs to no single soul. The more that people hear of Sedona the more they will want to come here be to healed, enlightened, saved, inspired excited and thrilled.
What can we really do to stem the flow of those who have heard of our beautiful part of the Universe and hope to experience it as we do?
Basically, nothing!
They are coming. Period! Shroedinger's Cat is out of the bag, as they say. There is no getting out of the way.
The magic of Sedona is spreading exponentially. We are a fountain of spiritual energy, music and the arts. We are the metaphysical center of the cosmos. Ground Zero, as so many have said before.
We also happen to live in one of the most geographically perfect and beautiful locations on the planet.
People are flocking to Sedona from all walks of life. Some show up in private jets and others hitch hike across the country to get here. For some it is an enlightening spiritual and metaphysical experience. For others it's the sense of profound beauty and the wonder of the red rock formations.
Visitors come, immerse themselves in the Sedona experience, then go back home feeling warm and fuzzy. A few are sucked into the vortex and become locals. We long-time locals understand perfectly what that means.
There are those that come because they are following a dream or a path and either Sedona embraces them or they wander on. Transient, they stay a while until fate moves them along a new path.
We can't stop people from wanting to experience the magic we experience every single day. TV ads are focusing on our rock formations. Sedona consciousness is spreading exponentially. 
Let's not forget that Sedona is considered to be a "hot-spot" for UFO activity and paranormal events. True believers cannot continue in their quest for extra-terrestrial contact until they have been on a nighttime tour of the Sedona skies with a professional UFO spotter.
Sedona's got it all. There is something for everyone. Magic! Mountains! Vortexes! Massage! Clairvoyants! Music! Art! Spas! Great golf! Helicopter tours! Off-road rides! Adventure and great restaurants! Resorts and hotels!
We are magic in the dreams of men. Sedona sparks the spiritual flame. Everybody wants to be here.
People come here searching for answers, a reason to live and hope. Some are seeking beauty and adventure. 
Do we have the right to stop them from coming? Some might say yes. Sedona says otherwise.
The lure of Sedona and its reputation will continue to magnify. Traffic, visitors will continue to increase as long as the magic persists and there are no signs of it dissipating anytime soon.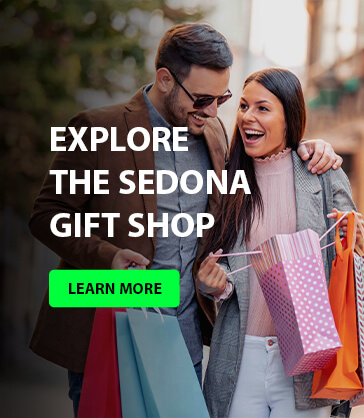 We are going to get visitors. We are going to get traffic. It's reality. Face it! Trying to ebb the flow of visitors into Sedona now is like trying to stop a Tsunami with a sponge.
So what do we do about it? First and foremost is managing our reactions to the traffic and changing our perspectives a bit so we don't get so upset. Get to the core of why visitors and congestion bug us. What is it that upsets us so about this "invasion" of wonder-struck unwelcome visitors?
Start with clogging the roads. Every so often, during a couple of months of the year, the ride from Dry Creek Road to Tlaquepaque could take an hour if traffic is really bad. S.R. 179 clogs to a crawl. S.R. 89A slows to a snail's pace and the traffic lights seem to take longer than ever to change.
And every so often our favorite restaurants are a bit more crowded. Cars parked by trails. Tons of people use them. Yes. Every so often it gets irritating for we locals who in our busy Sedona lives seem to always need to be somewhere just when negative traffic conditions arise.
Sigh. Let's be grateful for the words "every so often."
And while we are at it, let's be grateful that Sedona is supported by a "clean" industry. Tourism does not pollute the air and poison our waters, unlike less fortunate cities whose main industries are based on production and factories that spout pollution into their communities.
We are lucky to have what we have and brief interludes of inconvenience are a lot easier to deal with than a smelting company pouring toxins into Oak Creek.
Mitigation and flow control should be our primary areas of focus. We have to adjust and accommodate.
Our best bet is to let the city fathers continue with their efforts to prepare for the future with their Sedona In Motion Master Plan  and find a way to make the Village of Oak Creek, Cottonwood, Jerome and Clarkdale destination points in their own right.
By assisting in the promotion of these other cities as destination points in the Greater Sedona Area we spread out the congestion and hopefully thin out the traffic.
The city should also assign cops or hire people to man the congestion points during exceptionally busy traffic days to keep things moving along.
Further, locals need to utilize Facebook and other social media to keep each other informed as to how traffic is moving and where the congestion is occurring during the day. This way we know when to venture out and what to avoid.
There are times during the heavy traffic days when traffic thins for a while and that's the time for us to make our rounds if needed. We could also do our shopping during the week rather than weekends when we are hit hard by tourists.
There are those who want to discourage people from coming here as a solution to the traffic problem. What should we do? Paint the red rocks black? Write articles in the Phoenix press about the "horrors" of Sedona traffic? Plant rumors that Sedona is a "police state" that loves to prey on innocent visitors as a way of increasing our tax revenues? Slap a 25 percent increase in price for everything in Sedona applicable only to tourists? Create a blockade and police checkpoints to ID people coming into Sedona and turning anyone that does not live here away?
Afraid not. Aside from not advertising our city in Phoenix there is pretty much nothing we could do to discourage visitors from coming here.
Stuck in traffic? Meditate. Take the time to enjoy the scenery we sometimes take for granted. Use the moment to reflect on how lucky we are to live in one of the most beautiful places on earth. Count your blessings. Breathe and bless those who come here rather than be angry with them. It's because of our tourists that we have the funds to keep our streets in repair and maintain the functions of this city.
Without tourism we would be a town of shuttered businesses, dying on the vine.
Next time you are stuck in traffic, note the businesses that are still open and thriving and give thanks for the privilege of calling yourself a Sedona local.