Sedona AZ (March 12, 2018) – Even though Joshua Tobey has been sculpting since he was 6 years old, he never seems to lack inspiration or enthusiasm for his chosen career. Joshua will make his annual pilgrimage to Sedona when Rowe Fine Art Gallery present Joshua Tobey: Joy onApril 6, 5-8 p.m., and April 7, 1-4 p.m. Since Joshua was last here, he's participated in 16 shows, and he has completed six new sculptures, including one of his personal favorites, Joy of Life.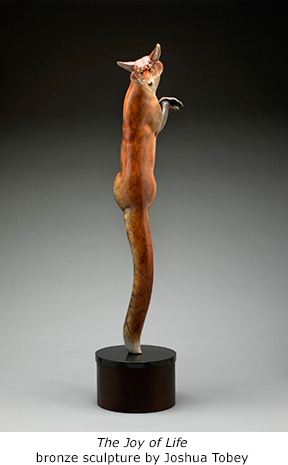 "I'm really excited about this sculpture because it has such great movement and shape," says Joshua. "When you sculpt, you imagine photos of your subject matter in motion, and then you pick your favorite photo to sculpt. Joy of Life depicts a fox in the process of mousing. There's a sense of happiness in the expression of all foxes, and I think this guy looks excited and thrilled about life."
Other new sculptures include One Too Many featuring a gluttonous red squirrel (collectors take note: there aren't many of these left); Love is in the Air, which depicts a love-struck moose; and Cat Nap featuring a bobcat in repose. In the last year, Joshua also fulfilled one of his career goals by sculpting a set of three, 6-foot-tall bears. The Conspirators was commissioned by one of his collectors. "It's a size of sculpture that I've always wanted to make," says Joshua. "I love the shape of a big, seated bear – that's something that I learned from my dad." (Joshua's father is the late Gene Tobey, a renowned western sculptor.)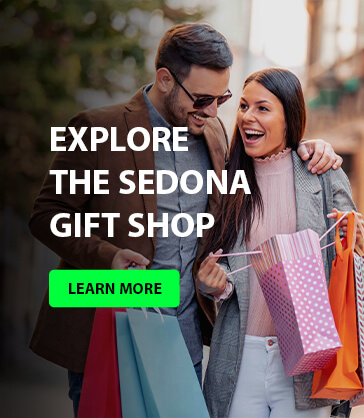 Joshua won't be spending much time in Sedona while he's in town. He's too eager to get back to his studio in Colorado where he is currently working on eight sculptures including a herd of life-size bighorn sheep, which gives us something to look forward to for next year's show.
Rowe Fine Art Gallery represents traditional and contemporary southwestern artists. The gallery, located under the bell tower in Patio de las Campanas at Tlaquepaque Arts & Crafts Village, is open seven days a week from 10 a.m. to 6 p.m. For more information, call 928-282-8877 or visit www.rowegallery.com.