At the Library:
Through mid-April: AARP Foundation's free tax help on Tuesdays, Thursdays, and Saturdays 10 a.m. – 2 p.m.
Thursday, April 10 at 5 p.m.:  "Aging Eyes" is the topic of this month's Take Note Sedona lecture series, with board-certified ophthalmologist David Deutch, M.D.  For more information on this event call 928-639-6551.

By Virginia Volkman, Library Director
Sedona AZ (April 4, 2014) – Inaugurated by the Academy of American Poets in 1996, National Poetry Month is now held every April, when schools, publishers, libraries, booksellers, and poets throughout the United States band together to celebrate poetry and its vital place in American culture.
The website www.poets.org  is promoting this year's Poetry Month nationwide.  One of their original ideas is "Poem in Your Pocket Day."  Join thousands of individuals across the U.S. and carry a poem in your pocket on April 24, 2014.  Sedona Public Library invites you to take a poem from our display so that you're prepared.  Or contribute a poem written by your favorite poet or your own original poem.
For those interested in sharing their poetry, the Sedona Writing Salon is hosted by author Gary Every on the first and third Tuesday of each month, from 4 to 6 p.m. at the Library.  Attendees read their works and offer constructive criticism to each other.  Every Salon features a writing exercise, among other activities, and first-time authors have a great opportunity to receive considerate criticism.  It's also an opportunity for authors to exchange information and ideas about workshops, and discuss the works of favorite authors.
I recently had a conversation with local poet Mary Heyborne.  Three books of Heyborne's poetry are included in our collection, along with the works of many other local poets. Heyborne told me that she was inspired to write the poem "On the Dedication of Sedona Library" after attending the dedication of the library building on White Bear Road.  The poem begins this way:
"From every corner of our town,
in demographic sweep,
we came—from young to very old—
with 'promises to keep.'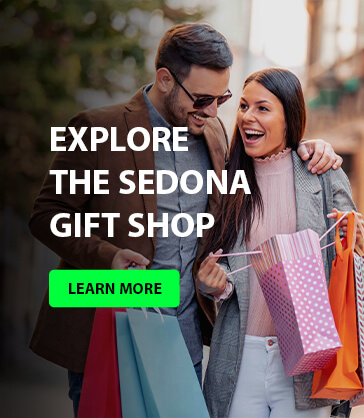 Two solid arms of stone reached out
and drew us near the door
of something more than columns,
and roof, and walls and floor.
A dream come true had called us there.
We came to dedicate
our library—Sedona's jewel—
and also celebrate 
Our City's namesake cast in bronze
placed at the entryway.
Sedona was to be unveiled
that crisp October day." 
The closing lines of the poem sum up Heyborne's thoughts on that day in 1994, when a community came together after years of heated discussions over incorporation and the establishment of a local school district:
"These rites, expressing future hopes
born of a common past,
saw separateness, exalted to
community, at last!"
Stop by the Library during the month, or any time of the year and check out a book of contemporary poetry or one the classics.