Sedona Film Festival presents Northern Arizona film debut and encore presentation
Sedona AZ (June 4, 2013) – The Sedona International Film Festival is proud to present a special one-day-only event at its Mary D. Fisher Theatre: the premiere of "Big Easy Express" and an encore of "Bill W.". Both films will show Monday, June 10 at the festival's arthouse theatre venue in West Sedona.
BIG EASY EXPRESS
3 bands, 6 cities, 1 train, and thousands of miles of track … "Big Easy Express" documents a cinematic musical journey. Directed by renowned filmmaker Emmett Malloy, this incredible new film captures nothing less than history in the making.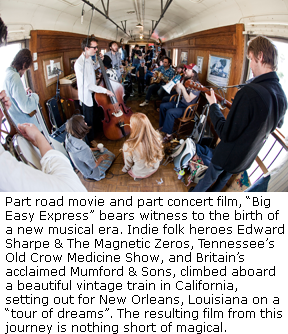 Indie folk heroes Edward Sharpe & The Magnetic Zeros, Tennessee's Old Crow Medicine Show, and Britain's acclaimed Mumford & Sons, climbed aboard a beautiful vintage train in California, setting out for New Orleans, Louisiana on a "tour of dreams". The resulting film from this journey is nothing short of magical.
Part road movie and part concert film, "Big Easy Express" bears witness to the birth of a new musical era. With poignancy and beauty, Malloy documents these incredible musicians as they ride the rails and wow the crowds, from Oakland…to New Orleans.
So climb on board for a vibrant, raucous, railway adventure. Filled with joyous crowds, late night laughter, endless music … and a train that was bound for glory.
"Big Easy Express" will show at 4 p.m. on Monday, June 10.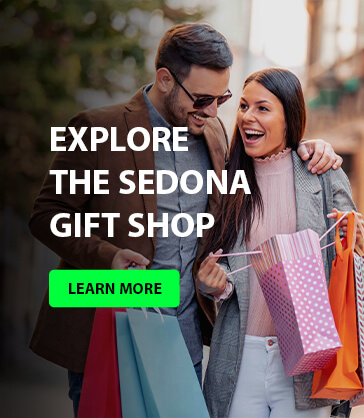 BILL W.
The Sedona Film Festival joins 100 cinemas across the country for a special one-night-only encore of "Bill W." on the 78th anniversary of Alcoholics Anonymous — Monday, June 10 at 7 p.m.
Bill Wilson may be the most famous person that almost no one has ever heard of. Almost everyone has heard of Alcoholics Anonymous, of course, but Wilson himself is largely unknown because he helped create a fellowship based on anonymity.
"Bill W." tells the story of William G. Wilson, co-founder of Alcoholics Anonymous, a man included in TIME Magazine's 100 Persons of the 20th Century. Interviews, recreations, and rare archival material reveal how Bill Wilson, a hopeless drunk near death from his alcoholism, found a way out of his own addiction and then forged a path for countless others to follow.
With Bill as its driving force, A.A. grew from a handful of men to a worldwide fellowship of over 2 million men and women. Millions of people throughout the world now credit him with saving their lives – both alcoholics and members of dozens of other 12-Step recovery groups. This success that made him an icon within A.A., but also an alcoholic unable to be a member of the very society he had created.
A reluctant hero, Bill Wilson lived a life of sacrifice and service, and left a legacy that continues every day, all around the world.
Tickets are $12, or $9 for Film Festival members. For tickets and more information, please call 928-282-1177. Both the theatre and film festival office are located at 2030 W. Hwy. 89A, in West Sedona. For more information, visit: www.SedonaFilmFestival.org.