Sedona AZ (June 18, 2015) – On Friday June 26th at 5 pm the Pumphouse Poetry and Prose Project will host a show to soothe the scorched summer soul featuring Honshin and Barbara Mayer.  On the southernmost end of the Creekside Plaza parking lot beneath the shaded sanctuary of the giant sycamore trees Honshin and Barbara Mayer will speak about their spiritual insights.
Performing all over Sedona and the Verde Valley at various occasions and celebrations, Barbara Mayer has become something of a local legend.  From early days as a singing nun through years as a teacher, then editor of a Midwestern newspaper, Barbara Mayer has followed a lifelong spiritual path. After thirteen years in the convent, she has remained dedicated to finding truth beyond teachings of patriarchal hierarchies and self-styled religious pundits. Considering many universal beliefs of world religions and rising consciousness in today's Axial Age, she promotes personal encounter with the God Source beyond staid religious concepts. Barbara Mayer is a spiritual facilitator, meditation guide, Reiki Master, interfaith minister and poet who resides and writes in Sedona, Arizona.  Audiences have learned to treasure what she says between poems, her asides and insights, as much as her written words when she performs.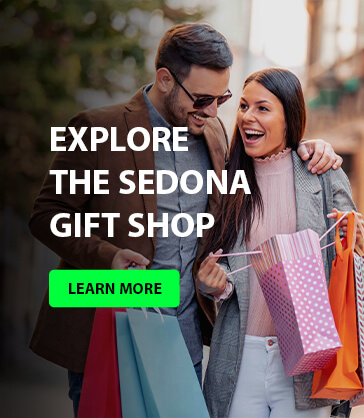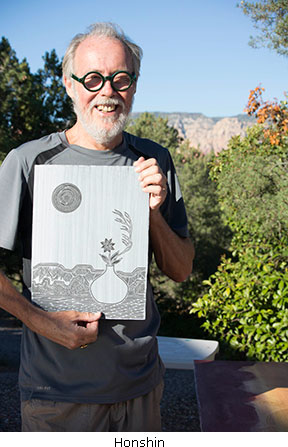 In a town full of colorful characters Honshin has earned a reputation as one of the most colorful and one of the most likable.  Perhaps best known as a painter those who follow his facebook page get to see both his paintings and poetry together.  Nicholas Kirsten Honshin's art and poetry are a reflection of his experience with ancient Eastern spiritual practices and the philosophies of Christianity, Tibetan Buddhism, Zen Buddhism, and ancient Mesoamerican cultures.  His work is a mythic amalgamation of ancient healing symbols, practices, and present trends in spirituality, science and nature. Profoundly influenced by the Northwest Mystic School, a legacy passed to him by his father Daiensai Kuden Bonseki Dojin and the other acclaimed artists of this period that he grew up surrounded by their work, Honshin sees art as a form of spiritual quest.
Located on the southernmost end of the Creekside Plaza parking lot the Pumphouse Poetry and Prose Project holds a reading the last Friday of every month from March through September at 5pm.  Sponsors include award winning poet Elizabeth Oakes and many of the Creekside Plaza merchants such as Trailhead Tea, Cocopah North, and Mother Saachi's Books and gifts.  Pumphouse Poetry and Prose Project shows are hosted by local author Gary Every.  Promptly at 5 pm on June 26th Barbara Mayer and Honshin will share their words and more on the steps of the historic old stone pumphouse beneath the shade of the giant sycamore trees, please join us.