By Cheryl Yeatts, Manager of Sedona Public Library in the Village
Sedona AZ (September 22, 2017) – The long-awaited biography of Sedona Schnebly has finally arrived.  Join Lisa Schnebly Heidinger, great-granddaughter of Sedona, as she discusses her new book "The Journal of Sedona Schnebly." Sedona Public Library will host two author presentations:  on Saturday, September 30, at 2 p.m. at the Church of the Nazarene, 55 Rojo Drive in the Village of Oak Creek and on Sunday, October 1, at 1 p.m. in the community room of Sedona Public Library, 3250 White Bear Road.
Lisa will be signing books following her programs. Be among the first to own "The Journal of Sedona Schnebly," which you may purchase for $18.  Cash, checks, and credit cards will be accepted.
Whatever your reason for making Sedona your home, you may be intrigued by the interesting history of our scenic town. You probably know that Sedona was named after Sedona Schnebly, one of the early settlers of the area. Sedona Arabella Miller was born February 24, 1877, in Missouri.  At the age of 20, Sedona married Theodore Carleton (T.C.) Schnebly and the couple moved to the Arizona Territory to join T.C.'s brother, Ellsworth. The family farmed and built a home along Oak Creek, where Tlaquepaque stands today.
 
As more people settled the area, T.C. saw the need to establish a post office. He suggested naming the town Oak Creek Crossing or Schnebly Station. The Postmaster General said the names were too long. Ellsworth Schnebly suggested naming the town after Sedona. The town and the post office became official in 1902 and the rest is history. Sedona Schnebly is buried along with T.C. and their daughter Pearl at the Cook Cemetery off Airport Road in West Sedona.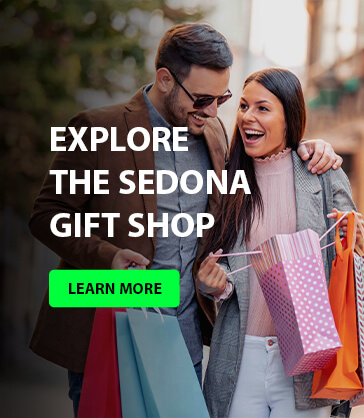 "The Journal of Sedona Schnebly" is Lisa Schnebly Heidinger's tenth book. She dreamed of telling her great-grandmother's story since childhood and has been working on this project for more than 30 years. The book contains 30 images from the Schnebly family's private collections and "draws you into a fiercely private woman's life that is by turns amusing and heartbreaking and always fascinating," explains the author.
 
A native of Arizona, Lisa Schnebly Heidinger is deeply passionate about sharing stories of our amazing state and helping others find their "favorite Arizona." During 35 years working in journalism and broadcasting, Lisa has honed the craft of sussing out and sharing stories in newspapers, magazines, and books and on the radio and TV. As part of her investigative work, Lisa went into a drug tunnel, had dinner with polygamist families, walked through plane crash debris, and interviewed death row inmates—before taking on the truly risky pursuit of raising a family.
Sedona Public Library is a 501(c)(3) charitable nonprofit organization. We are grateful for the support of the City of Sedona, Yavapai and Coconino Counties, businesses and foundations, and individuals like you. Your tax-deductible donation may be sent to: Sedona Public Library, 3250 White Bear Road, Sedona, AZ 86336 or can be made online at www.sedonalibrary.org.
Upcoming Event:
Tuesday, September 26, from 2 to 3:15 p.m. in the community room: Intellectual Freedom Seminar with guest speakers Christopher Fox Graham, Sedona Red Rock News Managing Editor, and  Paul Friedman, Ph.D., Retired Professor of Communication.  Join us during Banned Books Week as we learn what intellectual freedom is and how it is essential to a democratic society.