Sedona AZ (December 11, 2019) – Visit with Red Earth Theatre and get a peek at where the magic is created! On December Sunday 15th 3-6pm this busy, live theatre company is holding a unique fundraiser in the space where much of their rehearsal takes place.
 Art & Stuff – Backstage with Red Earth Theatre is an opportunity to meet some of the actors, enjoy live performance in the informal atmosphere of the warehouse-rehearsal hall and support a vital cultural community partner.
Among the items for sale are some of the eclectic pieces living in the warehouse (including a fabulous bath!) and original art from two special Sedona personalities. John 'Gator ' Bertini (known for the first Sedona Shuttle Service between Sedona and VOC) created unique folk art his family has generously offered to share sales 50/50 with Red Earth
Red Earth Theatre is also offering a few very special original pieces by Sedona's own Tony Carito as well as prints of his work. Tony and Red Earth association goes back to the original show Recycling with a Unicorn they created in 2014 and performed at Sedona Recycle Center. Some of his original art, books and many prints were gifted to the theatre after he passed.
Bringing a unique electric ukulele vibe and sound to the event, is live music provided by the gifted Iain Paterson also known as followTheDolphin (fTD).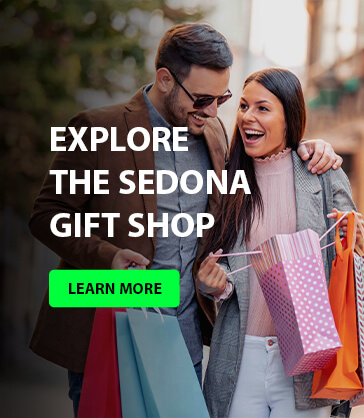 Born in Hereford, England and living in the US since 2002, fTD is an eclectic mix of athlete, creative, mathematician and visual artist.With music being a relatively late addition to his quiver of talent, fTD is exploring new ground and sounds using live looping as a platform for expression, and a number of electronically affected instruments to create a full sound, which differs from track to track. His muses vary wildly from Beethoven, Pink Floyd, Electronica and Folk, to modern day looping artists such as Dub Fx and Tash Sultana.
 A recent addition to the Red Earth Tribe, Iain is also playing Bob Cratchit in the upcoming reading of A Christmas Carol (Thursday 19th). Expect other Red Earth actors to appear – perhaps Terra Shelman will share some Shakespeare? 
Adding to the atmosphere is the video of their fabulous Midsummer Night's Dream playing (albeit as a silent movie), non-alcoholic beverages and cookies, and sofas! A $10 Donation gives you a $5 gift credit and a free (non-alcoholic) drink. Also available are a few costumes and oddments, photos/prints of previous shows, hand-made items, Zen art from Shaeri Richards and other donated items.
Buy a gift- Give a gift to a worthy nonprofit. Join Red Earth for an opportunity to socialize while contributing to a worthy nonprofit by selecting from a unique array of gift options. Relax in the midst of the holiday mayhem while supporting Red Earth Theatre.
What: Red Earth Rummage Sale-Performance Fundraiser
When: Sunday December 15th 3-6pm
Where:  At 2875 AZ-89A, almost directly across from Southwest Dr. Also the home of Slingshot ATV rental. Easy parking is available next door at the where the Yavapai Title Company is situated.)