Sedona AZ (October 16, 2015) – On Friday October 23rd, Alberto Rios, Arizona's first poet laureate will speak at the Sedona library from 7-9 pm.  Rios has published several books of poetry, short story collections, and a memoir.  The last time the Pumphouse Poetry and Prose Project invited Rios to read, the auditorium was packed and when the show was over the excited throng spilled into the cool autumn night enthusiastically discussing ideas and literature.
Alberto Álvaro Ríos, born in 1952 in Nogales, Arizona, is the author of ten books and chapbooks of poetry, three collections of short stories, and a memoir.  His books of poems include, most recently, The Dangerous Shirt, preceded by The Theater of Night, winner of the 2007 PEN/Beyond Margins Award, along with The Smallest Muscle in the Human Body, a finalist for the National Book Award, Teodoro Luna's Two Kisses, The Lime Orchard Woman, The Warrington Poems, Five Indiscretions, and Whispering to Fool the Wind.  His three collections of short stories are, most recently, The Curtain of Trees, along with Pig Cookies, and The Iguana Killer.  His memoir about growing up on the Mexico-Arizona border—called Capirotada—won the Latino Literary Hall of Fame Award and, most recently, was designated as the One Book Arizona choice for 2009.
Ríos is the recipient of the Western Literature Association Distinguished Achievement Award, the Arizona Governor's Arts Award, fellowships from the Guggenheim Foundation and the National Endowment for the Arts, the Walt Whitman Award, the Western States Book Award for Fiction, six Pushcart Prizes in both poetry and fiction, and inclusion in The Norton Anthology of Modern Poetry, as well as over 250 other national and international literary anthologies.  His work is regularly taught and translated, and has been adapted to dance and both classical and popular music. 
Ríos is a Regents' Professor at Arizona State University, where he has taught for over 30 years and where he holds the further distinction of the Katharine C. Turner Endowed Chair in English.  Ríos said of his appointment as Arizona's inaugural Poet Laureate, "This is a profound honor. A small-town border kid from Nogales to Poet Laureate—this is a good story, an Arizona story."
The occasion for this event is the annual Pumphouse Poetry and Project's annual awards show.  After completing an extremely successful 4th season it was difficult to decide who had earned the coveted Dylan Thomas.  Highlights of the 4th season included Navajo Nation Poet laureate Laura Tohe, slam poets Evan Dissinger and Claire Pearson, nature writer Larry Lindahl, James Bishop, Barbara Mayer, Frank O'Brien, Kate Hawkes, Martha Entin, the artist Honshin giving a wonderful talk about the power of creativity, and the premiere production of a  radio play written by Mary Pallais.  After a heated debate the Pumphouse Poetry and Prose Project decided to award the Dylan Thomas award to an unexpected choice – singer/songwriter Ed Kabotie.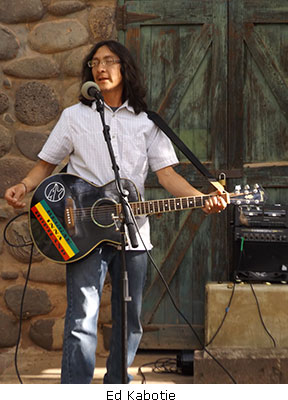 Many people in Sedona were first introduced to musician Ed Kabotie during last September's Peace Festival when Kabotie had the audience up and dancing to a Bob Marley tune while singing lyrics in English, Hopi, and Tewa.   Ed Kabotie is from the Hopi village of Shungopavi and the Tewa village of Khap'o Owinge (Santa Clara Pueblo). His music incorporates Native flute & acoustic guitar. Both the message of his music and melodies are unique; carrying traditional themes with contemporary instrumentation.  Others know him from CDs such as "Origins" or "Live at the Legacy" and even his band Tha Yoties.  Other Kabotie fans cite videos such as "The River" filmed at the Grand Falls of the Little Colorado (aka Chocolate Falls) which can be found at https://youtu.be/f9c_2JUw6Og or simply by going to youtube and searching for Ed Kabotie The River.  In the end, the judges decided to give the award to Kabotie because of the way the stories between songs promoted a deep cultural connection along with a reverence for the landscape.
This year the Pumphouse Poetry and Prose Project is giving the Christopher Lane Memorial Award for service to the literary community to Starrlight Books in Flagstaff.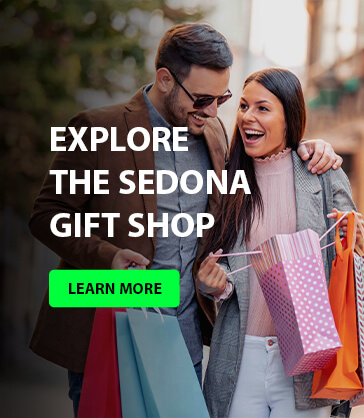 Starrlight Books is an independent bookstore founded in 1994 by Walter and Dolly Spalding,      who named it for their two favorite bookstores: City Lights Books in San Francisco and the Starr
Bookshop (since closed in 2002) off Harvard Square in Cambridge. Located in the 1897 Loy Building in the heart of Flagstaff's downtown historic district, Starrlight specializes in used, rare, and out-of-print titles, including 1st editions and many signed books.
The store's main ethos– that bigger is not always better; that quality is more important than quantity– received an unexpected  validation in 1999 when, arriving for a discussion/book signing, the poet Gary Snyder commented, "You know, this is just about the right size for a bookstore." Over the past two decades Starrlight has been closely associated with the Northern Arizona Book Festival and has hosted dozens of fine writers, including John Nichols, Michael Ondaatje, Russell Banks, Joy Harjo, Simon Ortiz, and T.C. Boyle.
In line with its mission to create a cultural resource relevant to Flagstaff and the surrounding area,  Starrlight selects regional, Southwest, and Native American titles that reflect the rich and diverse history of Northern Arizona, in addition to classic literature. The store also offers paintings by important regional artists, most recently including works by Carl Oscar Borg, E.A. Burbank, James Swinnerton, and Conrad Buff.
Starrlight has survived the age of the "big box" store, the rise of digital media, and the proliferation of the Internet marketplace, perhaps not so much because it was thoughtfully conceived as a business, but more simply because of an intimate and enduring love of books.
As the awards show winds down the highly successful 4th season of the Pumphouse Poetry and Prose Project, we would like to take a moment to thank those who have made this literary event possible, including Trailhead Tea for always supplying delicious beverages to our audiences.  Ann Fabricant and Cocopah North along with Mother Saachi's Books and Gifts.  Pumphouse Poetry and Prose Project events are always hosted by Gary Every and of course none of this would be possible without the contributions and charisma of award winning poet Elizabeth Oakes.  Last but not least we would like to thank 60's recording artist Gary Scott for providing his skills as sound engineer because otherwise nobody would be able to hear a single one of the beautiful words that were ever spoken.