Sedona AZ (December 17, 2012) – For the past 30 years, Russia-born Nicolai Medvedev has focused his talent on intricate inlay gemstone boxes, garnering the attention of the Carnegie Museum of Natural History in Pittsburgh and the National Museum of Natural History at the Smithsonian Institution in Washington, D.C., to name just a few. But Nicolai temporarily put aside the lapis and malachite in favor of bronze after taking some sculpting classes taught by Ken Rowe at the Sedona Arts Center. Rowe Fine Art Gallery, which is owned by Ken, is the only gallery to represent Nicolai's exotic wildlife sculptures. Be one of the first to see this extraordinary artist's work during "An Artful Journey," part of the Sedona Gallery Association's 1st Friday Gallery Tour, on Jan. 4 from 5 to 8 p.m. Nicolai, who relocated from Tucson to Sedona to be closer to northern Arizona's world-class foundries, will be on hand to answer questions and meet art lovers.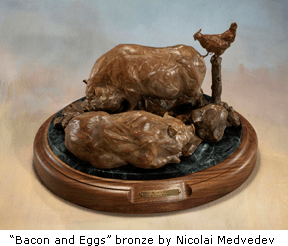 Nicolai began his formal art training at the age of 12 in his native country, and he completed his master's degree at the Art Institute of Moscow in 1979. He says he dabbled in sculpture at the beginning of his education, but he didn't revisit it until taking Ken's class nearly three years ago. He immigrated to the U.S. in 1980 and created oil paintings for a few years before discovering gemstones and intarsia. He's been a full-time artist for 30 years.
"When I started sculpting, I felt like I had discovered myself in a sense," says Nicolai. "I'm trying to create a marriage between my sculpting and my work with gemstones. Both are three-dimensional pieces of art, and I use stones as inspiration for the patina on my bronze sculptures. But it's still a learning process, and I'm grateful for the help of artists like Ken and Erik Petersen."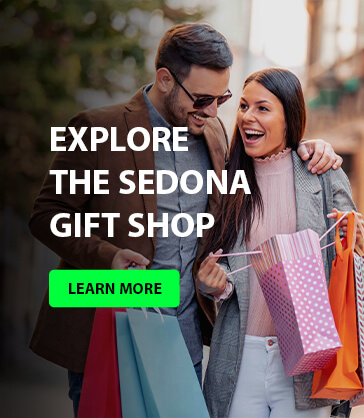 Stop by Rowe Gallery to meet Nicolai! Wine and appetizers will be served.
Rowe Fine Art Gallery is located under the bell tower in Patio de las Campanas at Tlaquepaque Arts & Crafts Village. It is open seven days a week from 10 a.m. to 6 p.m. For more information, call 928-282-8877 or visit www.rowegallery.com.