Sedona AZ (March 26, 2014) – The spiritual journey can be a roller coaster ride. So why not laugh at the ups and downs along the way? Join Zenprov Comedy "Spiritual Enlaughenment" for a light-hearted, good-humored trip through the Old Testament to the New Age to the Great Beyond and all points in-between. This one-night only performance happens Saturday, March 29 at 7 pm at the Sedona Creative Life Center. Tickets are only $10 per-sale, or $15 at the door. 
"We are going to transform, transmute, and transmogrify the Creative Life Center into The Creative Laugh Center," said Tony Carito, Zenprov Comedy troupe member.
"Since we use 'Zen' in our name, we've been wanting to do a 100 percent spiritually themed show for years now, and we decided to take some risks and develop some new games that are unlike anything we've ever done before. We're going to exploring this rich subject matter with both humor and truth. If you're even a little bit 'woo-woo' or you're in 'woo-woo' recovery, you're going to love this performance," said Derek Dujardin, director of Zenprov Comedy.
If you've never attended one of their live performances before, Zenprov Comedy is similar to the popular improvised TV show "Whose Line Is It Anyway?" The troupe performs fast-paced games and scenes created in the moment—always based on audience suggestions. Unlike sketch or standup comedy, nothing is scripted or otherwise prepared ahead of time. Best of all, it's never the same show twice. 



"Zenprov is the best comedy troupe in Arizona," said Mr. Patrick Schweiss, Executive Director of the Sedona International Film Festival. "At their last show, people were laughing so hard their cheeks were hurting."
Since the audience is a big part of each Zenprov show, the troupe plans to interview one audience member about the craziest self-help seminar he or she has ever attended. Then the players will reenact the experience with lots of outrageous embellishments and insights.
"We're also toying with the idea of interviewing one brave couple willing to talk about the patterns in their relationship. We'll then improvise a few of the past lives they've lived together as different characters throughout history and we'll watch how those same patterns might repeat themselves for healing. Or humor," said Dujardin.
The troupe will also retell an Old Testament Bible story from different points of view chosen by the audience, such as a romance novelist, a police officer, a fashion designer and a hippie.  Another game will use the daily horoscope from audience members to inspire fresh, creative interpretations of what it could mean for them in real life.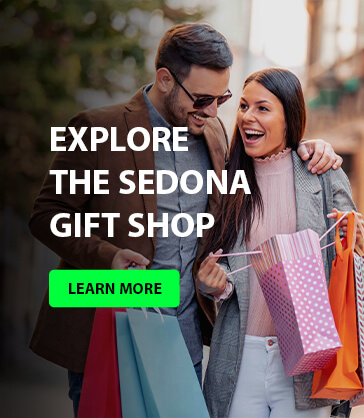 Adding to the mix will be the return of Tony Carito's beloved psychic guru character "Swami Sedonanada" who promises, "This will be the very last self-help seminar you will ever need. Until my next seminar, which I promise, will be the very last self-help seminar you will need."
Also joining Zenprov Comedy will be special guest John O'Brien, former director of Community Development for the City of Sedona, who will be reporting on local and national scene as Mr. Talltales — a comedy correspondent with a flair for telling the truth through exaggeration.
The Zenprov Comedy players embrace the Del Close method of improv acting, which emphasizes the "group mind" that mysteriously develops during a performance. Miraculously, the player's minds fuse together to create a "super mind" where they practically finish each other's sentences—and often do. Laughter ensues. 
The super minds of Zenprov Comedy are Tony Carito, Derek Dujardin, Shaeri Richards, Chris Redish, Mike Burdick, Bonnie Green, Betty Testa, Linda Roemer and Mary Carder.
 
Tickets are $10 pre-sale and $15 at the door. This one-night-only performance may sell out, so please purchase tickets early. You can purchase tickets using a credit card online at www.zenprovcomedy.com. Cash or checks only at the Creative Life Center, or Crystal Magic in Sedona or at the Jerona Java Café in Cottonwood, or at the door.
The Sedona Creative Life Center is located 333 Schnebly Hill Rd. Doors open at 6:30 PM and the show starts at 7:00 PM, and will run approximately 90 minutes. All content is rated PG-13.