Sedona AZ (January 24, 2018) – Join us at the Hub on Thursday February1st at 7pm for an out of the box "Wdya'Got?"  Once a month musicians and storytellers gather at the Hub to share new (or rarely heard) material in an informal setting where the focus is on the performer in an intimate personal space, followed by the Zenprov Comedy team creating a long-form improv based on what just happened.
Setting the stage for the 2018 series is married couple Chris Huelsbeck and Tracy Sheppard.
They will be weaving their different forms together into one 40 minute performance, creating together in this way for the first time. They arrived in Sedona area last July from the North San Francisco Bay /Sonoma County and have been traveling in an RV for almost 2 years, documenting their journey as The Cruisin' Crew online and Youtube (www.thecruisincrew.com). 
Chris Huelsbeck, born and raised in Germany, is a renowned veteran video game composer with over 32 years in the business, creating highly memorable electronic and orchestral scores. His best known works include the Turrican series, the Giana Sisters series, the Star Wars: Rogue Squadron series, X-Out, Apidya, War of the Worlds and Doctor Who: Legacy.
In 2011, he received a lifetime achievement award from the Game Audio Network Guild. He created 4 very successful Kickstarter campaigns for special soundtrack albums of some of his projects (a few recorded with full symphonic orchestras). While building his catalog of over 35 albums to date, Chris is also creating new electronic music on the Patreon site. His latest album 'Turrican – Orchestral Selection' is already available on many digital platforms, and will be available on CD and vinyl in Spring 2018. For more information about Chris Huelsbeck visit www.huelsbeck.com and chrishuelsbeck.bandcamp.com
Born in New York City, Tracy has also lived in Pittsburgh, PA, Greensboro, NC, and the San Francisco Bay Area. She also lived in Sedona in 1991 and 2005. She has a M.A. in Special Education from San Francisco State University, and was an Orientation & Mobility Instructor for a time working with blind and visually impaired clients.
Now an Astrologer and Intuitive Life Guide, she continues to be an artist in many mediums, including writing (poems, songs, short stories, children's stories, and screenplays), painting, and drumming, and has performed in an all-female djembe spoken word and drum ensemble called Sisters Rising.  She's also a facilitator of women's circles, and certified archery instructor!
For more information, visit www.astrologybear.com and www.tracysheppard.com.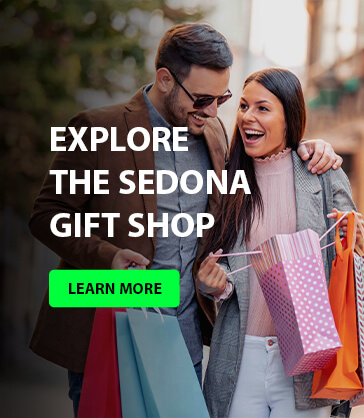 Chris will play a selection of his music on Keyboard and iPad, featuring electronic melodies and visual projections from different areas they've visited while traveling. Expect to be transported on a musical journey through time and space. His music can be melodic, hypnotic, and inspiring.
Tracy will perform a drum and spoken word piece called "Life's Waltz", as well as a performance piece "Venus Speaks". Her pieces will captivate hearts and minds, bringing to the forefront ideas and emotions that cultivate positive change in the audience's perceptions.
This unique performance will challenge and inspire Zenprov to new heights of imagination and creativity, as they jump in to connect notable bits of story and musical themes into a one-of-kind, long-form improvised theatrical performance.
Zenprov has been making Sedona laugh and creating on the spur of the moment for years. The Wdya'Got collaborators each week are the creative group-mind talents of Derek Dujardin, Shaerie Richards, Shaunn Cochran, Mary Carder, Betty Testa, Chris Redish, Linda Roemer and Tom Shoemaker.
We invite you join the fun and share the energy as a series of creative, inventive, courageous performers share new work, new collaborations and ultimately new 'takes' with you.  Ask the question – Wdya'Got? and then see what it is!
What: Wdya'Got – Music/Spoken Word Performances and Improv
Where: Sedona Hub (525B Posse Grounds Rd)
When: February 1st at 7-8.30pm (doors open at 6:45pm)
Suggested donation $5-$10
More information at www.sedonahub.org