Sedona AZ (October 2, 2019) – From now through the end of December Harold Schifman's impressionistic abstract paintings entitled Five Decades, is on display at City Hall. Mark Rownd is also exhibiting his abstract work, along with his collection of art by Max Ernst and Dorothea Tanning. Please save the date to meet Schifman and Rownd at their reception on Wednesday, October 30th from 4-6pm in the Council Chambers. Jazz guitarist Tony DiMito will be the musical guest.
This exhibition highlights Schifman's evolution through 16 paintings and artist embellished, limited edition giclees from his private collection. Schifman was classically trained at the Kansas City Art Institute, as were fellow artists Robert Rauschenberg and Jackson Pollock. Initially he worked in New York City alongside the likes of Andy Warhol as a commercial artist and illustrator in the 1970's. He later expanded working in New York's industrial and fashion design industries.
Schifman gained international acclaim in 1987 when he relocated to Tucson and purchased The Larson Company. His remarkable career revolutionized architectural themed experiences globally. Some of these works include: the Mars futuristic simulation for the Smithsonian Museum, a 150-foot nineteenth century shipwreck for Disney and an artificial environment for the world's largest aquarium in Osaka, Japan. He also created fantasy characters at the Forum Shops in Caesar's Palace, Las Vegas, including a 40 foot tall Trojan horse carved out of wood.
While at the helm of The Larson Company, Schifman's travels greatly influenced his aesthetics.  He studied Asian design for ten years in Japan. The minimalist simplicity of form and color is evident in some of his paintings today. His use of metallic pigments reflect his building work in the Middle East.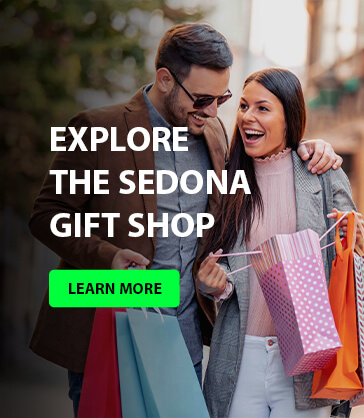 Recently, Schifman established a second residence and art studio in Sedona, Arizona.  He draws inspiration from the spiritual energy found amidst Sedona's majestic red rocks. "Living here has been transformative," said Schifman, "I'm a different person in Sedona, I'm a different artist."   
Arts and culture coordinator Nancy Lattanzi states, "In one of those synchronous Sedona moments, Harold happened to be sitting at the next table to me in a restaurant with Donna Chesler, who introduced us. Learning he was a new painter to Sedona and after seeing his work, I knew his large captivating pieces would be a good fit for the City exhibit. I am happy to connect Harold to our creative community and hope the public will take time to meet someone with an intriguingly incredible background and welcome him to Sedona."   
The City Hall Art Rotation exhibits are located in the Council Chambers, as well as the gallery in the Vultee conference room on City Campus, 102 Roadrunner Drive. To make an appointment for best viewing time, please call Nancy Lattanzi at 928-203-5078, or email NLattanzi@SedonaAZ.gov.