Sedona AZ (January 30, 2017) – "Celebrating Sedona's Magic and Beauty," is what Clark Sheppard, a 13 year resident of Sedona, expresses daily with his whimsical paintings created in oil, acrylic and watercolor. His exhibit is now showing at Sedona's City Hall through the end of March.
The public is invited to come meet Sheppard at a compelling Artist Reception on Thursday, Feb. 9 from 4 to 6 p.m., along with other City Hall artists currently exhibiting; Jim Peterson, Sherab Khandro, Mike Medow, Jody Florman and Julie Ronning Talbot. Immense thanks goes to Linda Goldenstein for generously loaning the city of Sedona 17 bronze pieces and bringing creative life to our City Hall plaza. Come view our new sculpture garden and also meet notable artists; James Muir, Cheston Trammel and John Soderberg during the reception.
The whimsical feel of Sheppard's work is greatly enhanced by the fact that he is living his dream in Sedona, a truly magical place. The unique and magical beauty of Sedona continually reminds him to open and expand his conscious awareness of and appreciation for the profound impact nature can have on us, when we truly pay attention to this wonderful planet we call Earth.
Sheppard, who signs his artwork McShep, was repeatedly exposed to art at a young age, but only became active as an artist in 1989. His father, a free-lance commercial artist working out of his home, never showed Clark how to paint. His initial exposure to painting began simply enough, through an adult evening education course at a local New Jersey high school. "I started with the medium of watercolor thinking, how hard can it be, only to discover that it was one of the most challenging mediums there is," said Sheppard.  
He showed his first work to a good friend Gordon Haas, who is an accomplished artist with his own Gallery in Lambertville, New Jersey. Gordon was very positive, telling Sheppard he perceived the beginnings of some real talent and encouraged him to pursue his interest in art. Gordon then became Sheppard's mentor and what started as dabbling, fast grew into a passion. The artist Thomas McKnight had a huge influence on Sheppard's palette. To pay homage to him Sheppard decided to put a Mc in front of his nickname Shep. Thus, McShep Art Studios was birthed and to this day he signs his art, McShep.
Sheppard became interested in the Southwest after a ski vacation in Jackson Hole, Wyoming. He rolled his snowmobile and broke his hand. In order to kill time, he spent his days walking around galleries. He was particularly inspired by the artistic images he found in Southwest Art magazine. "When I saw the images of the Southwest, they spoke to me. I have been painting Southwest art ever since, even before moving to Sedona when I lived in New Jersey." Sheppard recalled.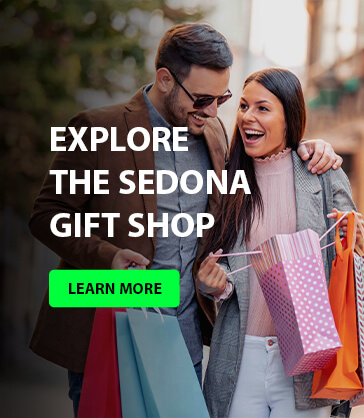 Sheppard recently received an email from Warner Bros. Television asking for permission to license his image of "Creekside Cathedral" for a new media series they are producing. "Of course at first, I thought it was a scam. Warner Bros. wants my art?" he questioned. After further investigation, Sheppard found the request to be authentic and has completed a signed contract with them.
Former President George W. Bush is a proud owner of Sheppard's award winning painting "Patriotic Longhorns". Sheppard's art work has been seen in SouthwestArt Magazine, Cowboys and Indians, American Cowboy, Texas Monthly, and True West magazines. His original watercolor of "Goulding's Stagecoach" hangs in the "Stagecoach" restaurant at Gouldings Lodge in Monument Valley, Arizona.
"I have wanted to exhibit Clark Sheppard's work for quite some time and I am very happy this opportunity has arisen. His work matches his joyful spirit. His color palette is strikingly bold and his paintings of Southwest landscapes are portrayed in such a distinctly colorful style. Don't miss this vibrant exhibit brightening up City Hall!" said Nancy Lattanzi, city of Sedona arts and culture coordinator.
Visit his website www.mcshep.com, where he also offers his magnificent artwork uniquely personalized with your own special dates, names, logos, etc. or for special, personalized gift giving.
Sheppard's exhibit is located in the Council Chambers at City Hall at 102 Roadrunner Dr. To check viewing availability and/or purchasing art for this exhibit, as well as many other exhibits in the City Hall Art Rotation Program, please make an appointment by contacting Lattanzi at 928-203-5078 or via email at NLattanzi@SedonaAZ.gov.