Sedona News – The Unauthorized Happiness Improv team is honored to bring this month's night of unauthorized laughter to the Mary D. Fisher Theatre on Tuesday, Aug. 15.
By no fault of their own, the show takes place on National "I Love Cowboys & Cowgirls Day". The improv troupe is unclear who designated this so-called holiday. But being that it was written on the internet, it must therefore be true. So, let the yee-haws and the howdy-dos begin!
The UH Team refuses to let this holiday go to waste. Accordingly, the comedy troupe is inviting audience members to bring western and cowboy-related random objects to the show, for the Object Freeze game. "Freeze! Put your objects up! It's a standoff for the best bit of comedy that will be given for our new game!" says Object Freeze host, Carlo Habash. Audience members can bring their family-friendly objects up to the front of the stage at the beginning of the show, and the troupe will be over the moon to include it. Make sure it's clean — as inappropriate objects will not be authorized. During the game, the troupe will create a scenario and use the objects in a way that it wouldn't normally be used. After July's show, one audience member exclaimed that his wooden spoon was "famous" after it was used as a too-tall, height marker for a children's amusement park ride, Harry Potter's broomstick, and an escape room lever.
Unauthorized Happiness is an improv comedy troupe based in Sedona, Arizona. They believe in sharing their passion for getting together and astronomically increasing the amount of fun experienced in the community's everyday lives.
Unauthorized Happiness team members include (top to bottom): Alissa Tyler, Carlo Habash, Jonathan Bonner, Bekah Hinds and Chuck Tyler.
At the show, the audience has all the power, because the entire subject of the show is up to them! All you have to do is sit back and wait for one of the troupe members to ask the audience for a suggestion. Then, one of the suggestions is picked for the following scene and that's how the show is entirely unscripted, unrehearsed and made-up on the spot.
UH offers an unconventional and entertaining night out and suggests you pair the show with dinner at one of Sedona's fantastic restaurants. Grab a coworker and decompress after work. Rebelliously have fun on a weekday! Folks who have never been to an improv show are encouraged to attend, as well as improv audience veterans. Plus, participants who come up on stage to play with the team, will be awarded a free gift on-the-spot for their bravery and sense of play!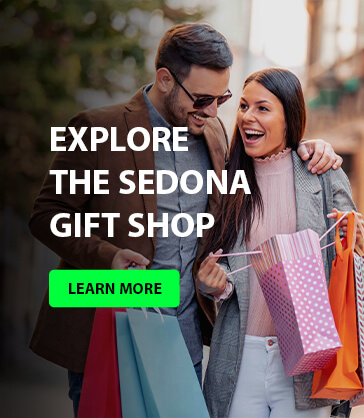 Usually it's considered bad manners to speak out during a regular theater performance. But, not during an improv show! Audience members are distinctly asked to shout out suggestions from the crowd! This is not a time to be shy! Why? Because you are competing for the coveted title of Suggestion of the Night! At the end of the show, the troupe will assemble on stage to decide in a non-reversible roundtable who will be awarded 'best suggestion' for the night. Said winner gets a pair of tickets to the following month's show, to keep the laughter on repeat.
And the winner is… congratulations to Mikki Fogg, July's Suggestion of the Night Winner, for bringing the hilarious blue oven mitts that we used for Object Freeze. Her pair of tickets to the August show can be picked up at the Mary D. Fisher box office, using her ID to prove her amazing identity.
You can still bring a piece of Unauthorized Happiness home with you, even if you don't win a prize during the show. Unauthorized Happiness t-shirts will be available for purchase during intermission and after the show, for only $30. They are 100% Cotton and are totally comfortable, with the added bonus of putting you in a good mood every time you wear it!
Mary D. Fisher Theater is Sedona's premier arthouse theatre venue located at 2030 W. State Route 89A in West Sedona, next to the Coffee Pot Restaurant. Doors open at 7:00 p.m. Shows are rated PG, as the troupe loves to provide family-friendly content. Shows run approximately 90 minutes, with a ten minute intermission. The theatre's concessions are available before and during the show, serving beer, local wine, popcorn and snacks.
Tickets are $15. Tickets can be purchased in advance by stopping by the Mary D. Fisher Theatre box office, or can be bought online at www.SedonaFilmFestival.org or by phone at 928-282-1177.
To stay in touch with the troupe, subscribe to their monthly newsletter via their website: www.UnauthorizedHappiness.com. Follow them on Instagram at @UH_Improv.