By Ted Grussing
… so, Rick was up here this morning to determine what all needed to be done to and for Mariah and he added 4 new exhaust manifolds to the list as three of the four were cracked (quite obvious) and the fourth had burned a hole through the metal next to the oil filter, fuel pumps and more and it is looking good in that it is likely next week I'll be back up at the peaks shooting photo's like this one. This is what I miss, a beautiful seat viewing the world below … and sometimes next to me when mountain flying.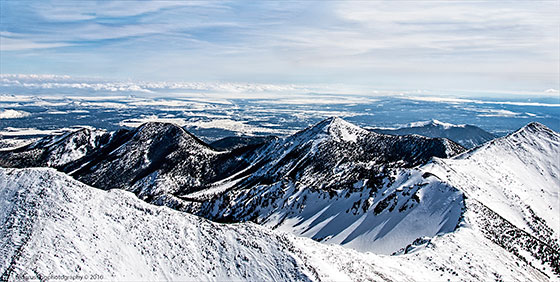 The peak on the left is Humphreys Peak and on the right Agassiz Peak and the upper reaches of Snow Bowl ski area which currently has a snow pack of 62". Open daily too. Flagstaff is beyond Agassiz and you can see the Flagstaff airport just above and to the left of Agassiz. One thing that so little flying lately has done is make me appreciate the rich experience that flying/soaring adds to my life and thoughts of selling her is being rethunk … likely it will be with me for some time to come. I can always rent a motorhome or condo somewhere.
Russ flew over from Payson and we all had breakfast at the Wildflower Bakery … have never seen cinnamon rolls that big before. Yum! Thence to the Walmart Eye Center in Cottonwood and home for a nice outing with One.  
Have a wonderful day and smile
Cheers
Ted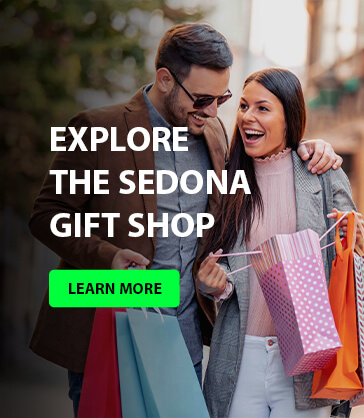 Give me a few friends who will love me for what I am;
and keep ever burning before my vagrant steps the kindly light of hope.
And though age and infirmity overtake me, and I come not within
sight of the castle of my dreams, teach me still to be thankful for life;
and for time's olden memories that are good and sweet; and may
the evenings twilight find me gentle still.
— Max Ehrmann
###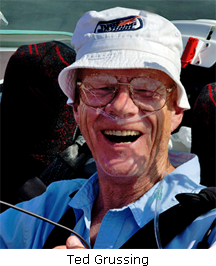 The easiest way to reach Mr. Grussing is by email: ted@tedgrussing.com
In addition to sales of photographs already taken Ted does special shoots for patrons on request and also does air-to-air photography for those who want photographs of their airplanes in flight. All special photographic sessions are billed on an hourly basis.
Ted also does one-on-one workshops for those interested in learning the techniques he uses.  By special arrangement Ted will do one-on-one aerial photography workshops which will include actual photo sessions in the air.
More about Ted Grussing …