By Ted Grussing
… I've been receiving reports from different forests about pile burns this week and new what I was going to be viewing after I took off … smoke … everywhere. So I decided against going very high and after looking at the mess from 8500' while heading out to Sycamore Canyon, I decided to try something else. A few days when I was shooting out at the ponds a Cessna flew fairly low over the ponds, so I headed that way and began shedding altitude and passed over the ponds about twelve hundred feet above them (higher than the Cessna did) but still much lower than I have done it before. Something about being a glider guider … getting low is not a good idea. Anyhow, I have a lot of confidence in the Rotax engine so continued on.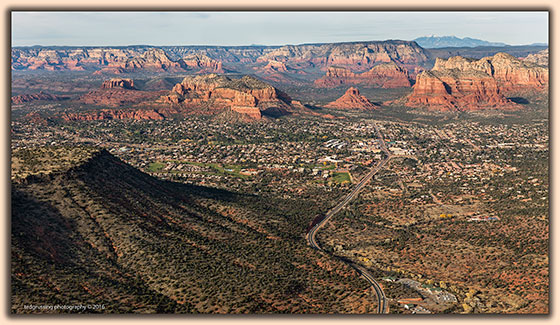 House Mountain is between the ponds and the village so I got some neat shots of the ponds with Castle Rock, Lees Mountain and other rocks in the Village in full view. So I continued E to Beaver Head Flat Road and took it down to SR 179 and I was just about directly over SR 179 when I took this shot looking N as 179 wends its way through the Village, to the chapel area and finally into town where it connects with SR 89A.
At the bottom of the image and to the right of 179 is the USFS visitor center and continuing N on the left you have first the Sedona Golf Resort, and above that Oak Creek Country Club where I live. The rocks from left as you approach them on 179 is Castle Rock, Bell Rock, Courthouse  and Lees Mountain. Further in and to the left of Castle Rock is Cathedral Rock, the airport and not sure about the intermediate rocks. Horizon from right the San Francisco peaks in the distance, in Sedona Wilson Mountain and then others which I do not know.
By being low I cut out looking a long way through smoke so it was not as evident … and I like the new perspective.
Fun day and hope yours was too. Busy day coming up so need to wrap the day.
Keep smiling … so much easier to smile then.
Ted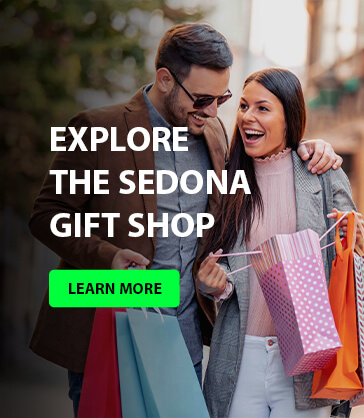 While yet we talk and linger late at parting,
And this say o'er each day as my last words,
Success will come by love and trust and work.
— Max Ehrmann
###
The easiest way to reach Mr. Grussing is by email: ted@tedgrussing.com
In addition to sales of photographs already taken Ted does special shoots for patrons on request and also does air-to-air photography for those who want photographs of their airplanes in flight. All special photographic sessions are billed on an hourly basis.
Ted also does one-on-one workshops for those interested in learning the techniques he uses.  By special arrangement Ted will do one-on-one aerial photography workshops which will include actual photo sessions in the air.
More about Ted Grussing …