By Ted Grussing
… beautiful day in northern Arizona … the snow pack is melting and Rogers Lake has water in it, but not for long. Spring is here and then summer … much nice up on the plateau than down in Sedona which in turn is better than Phoenix.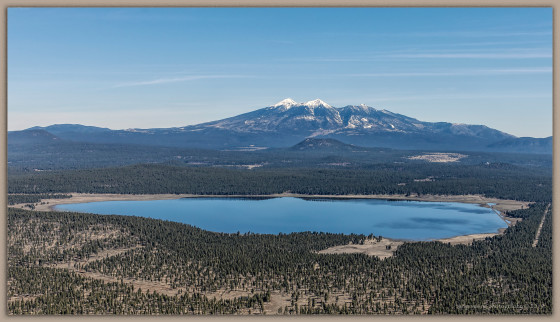 I tried to get the reflection of the peaks in the lake, but just wasn't able to get the angle right. I flew lower than this, but still couldn't get it so gave up on it and headed down to shoot Sycamore Canyon and the mining operations near Jerome; natural beauty and natural but toxic beauty. It just felt good to be back in the air again. Somewhere near the shore of the lake is the Flagstaff Arboretum. I need to go there on the ground and get acquainted with the place, especially since there is water in the lake.
Just above and to the right of the lake is the naval Observatory and further above and to the left of that is A-1 crater. The San Francisco Peaks are of course the prominent feature and the peaks from left to right are Humphreys, Agassiz, Fremont, and Doyle. Just fifteen minutes before I took this shot I was up cruising the ridgeline between Humphreys and Agassiz … then a drop of about five thousand feet to get this shot. Life is so very cool … breathing and good choices make it so … family, friends and a good doc or seven along the way helps too.
Calling it an early night as tomorrow is pretty full and will end with a photoshoot at the airport and dinner at Mesa Grill. Have a beautiful day and enjoy the challenges and pleasures that are waiting for you.
Cheers
Ted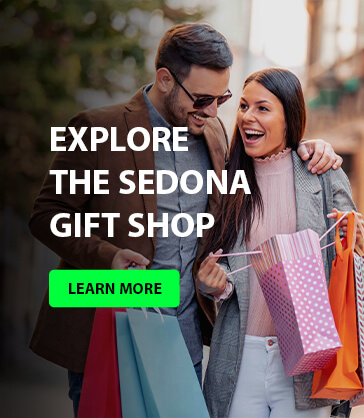 … and silent robes of beauty deck the world,
From tender leaf to twilight's quiet stars.
O lift us up, thou God of all, to love
Above the soulless martyrdom of things!
The rushing world is hungry at the heart.
— Max Ehrmann    
###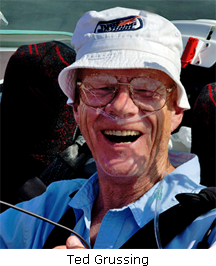 The easiest way to reach Mr. Grussing is by email: ted@tedgrussing.com
In addition to sales of photographs already taken Ted does special shoots for patrons on request and also does air-to-air photography for those who want photographs of their airplanes in flight. All special photographic sessions are billed on an hourly basis.
Ted also does one-on-one workshops for those interested in learning the techniques he uses.  By special arrangement Ted will do one-on-one aerial photography workshops which will include actual photo sessions in the air.
More about Ted Grussing …