… another series which will run until it doesn't … remembering creatures and places that are favorites. These will be from images not sent out and will span many years rather than just the present … tens of thousands of photos I have hardly looked at in years .. so this is the chance to take you along with me as I explore these images from past and present.
The photo above is of One a few months after she came on board and became a caregiver for Corky … she added a measure of love and support like only a creature you invite into your home and life can do. Q, One's predecessor passed the end of May 2013 and One came home from Sedona Humane Society a couple of days later. Corky had just been placed on hospice and for those days she spent some time in bed, One was always with her sharing life and love … this shot is of One on the over bed table with an orchid plant … big job for a year and a half year old creature.
The photo below was taken during a storm and we were coming up Long Canyon from the south … that is Enchantment Resort near the bottom of the image, tucked into Boynton Canyon, off of Long Canyon. On the horizon from the right going left is Mount Elden, The San Francisco Peaks and a portion of Kendrick Peak, which is mostly in the clouds. Enchantment was always one of our favorite places for fine dining and many a Sunday found us there for brunch … not sure if they still have it, but it was wonderful and the views from the restaurant are amazing.
Into another wonderful week … check yourself out in a mirror and let a smile come over your face … yep, that is you, still breathing and capable of enjoying life. Treat yourself to something special today … maybe a chocolate shake … sounds good to me 🙂
Have an absolutely glorious day.
With Joy!
Ted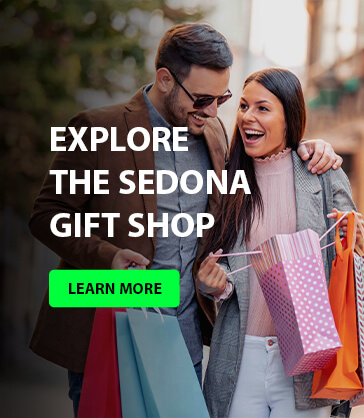 A bird flies through the sky, and I fly with it. I am in each pearl of moisture sparkling in the sun. I lie lazy on the clouds. And I acknowledge my kinship with each winged thing.
I see all as one, and nothing repels me, as this new day climbs noiselessly out of the valley of the night.
Peace lies over the world and over the world of my soul.
excerpt from On a May Morning by Max Ehrmann
###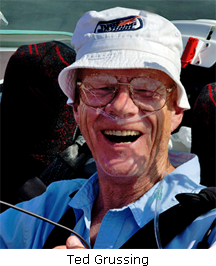 The easiest way to reach Mr. Grussing is by email: ted@tedgrussing.com
In addition to sales of photographs already taken Ted does special shoots for patrons on request and also does air-to-air photography for those who want photographs of their airplanes in flight. All special photographic sessions are billed on an hourly basis.
Ted also does one-on-one workshops for those interested in learning the techniques he uses.  By special arrangement Ted will do one-on-one aerial photography workshops which will include actual photo sessions in the air.
More about Ted Grussing …