By Ted Grussing
… for the last number of days we have been waking to smoke filled skies from managed fires on the plateau. The USFS fire crews are very much aware of the flows of smoke from their fires. For simplification purposes the evening air on the plateau cools and is dense air, Phoenix about a hundred miles to the south and a mile lower in elevation has warmer and thus less dense air so you get an evening/morning downhill flow and the smoke goes with it filling the valleys with choking smoke.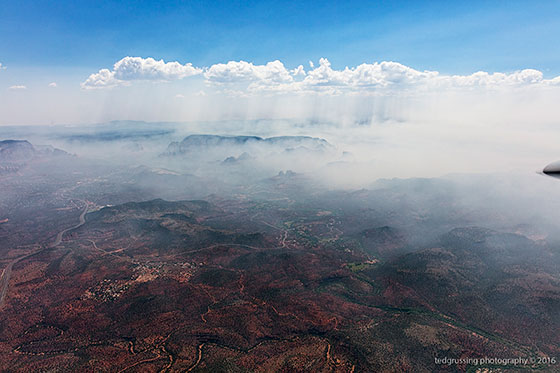 So what does it look like? I took this photo at 10:18AM this morning from 8,500' looking back to Sedona from a point roughly half a mile east of SR89A and about 5 miles SW of the airport. On the left side of the image is West Sedona and you can see SR89A going north into the city. The airport also buried in smoke is left of center and to the right of it is the Chapel area. Cathedral Rock is below and to the right of the airport. Lees Mountain is at the end of the blackish mountain ridge above and right of center; the top of Courthouse Rock is barely visible in the smoke, Bell Rock is totally buried as is the entire Village of Oak Creek on the right side and that is where I live.  Oak Creek Canyon and Munds Canyon are completely filled with smoke (right of Wilson). Looking to the S and SE it appeared that an area well in excess of 1,000 square miles was blanketed in Smoke and more than 100,000 human beings live in this area and are forced to breathe this air.
The EPA which bans one person in a large baseball stadium from smoking a single cigarette, is the agency that authorizes the USFS to do this to local residents many of whom have respiratory impairments. So much for a government that cares about its citizens!
The actual fire responsible for this toxic mess (one of three or four) can be seen to the left and below Mormon Mtn which is the flat top mountain on left horizon and you can see the white line of smoke which is the source. The following paragraph is from the USFS Coconino Forest website … they are planning to continue this burn for another month … how many people will they make sick and query will individuals with highly compromised respiratory systems perish whilst the federal government manages fires to promote the health of the forest? They give lip service to a concern for our health, but this is what they do! Their plans are to keep the fires going for another month if they can do so. If human health were a concern they would suppress these fires now!
Does this help promote tourism? Like who in their right mind would want to plan a vacation here and end up with this instead of the beautiful clean air vistas we used to have before they started the burns.
Three fires being managed to benefit forest landscape
Date(s): May 22, 2016
Contact(s): Coconino National Forest Supervisor's Office 928-527-3600
Fire managers are utilizing three lightning-caused fires to benefit the landscape and maintain a healthy ecosystem by allowing fire to fulfill its natural role in our ponderosa pine forest environment. The forest thrives on fires such as these that are low severity and creep across the forest floor. They reduce fuels and the risk of severe wildfire, create safer conditions, and restore wildlife habitat by stimulating understory vegetation growth.
For more information and updates, follow @CoconinoNF on Twitter and see the fire pages on Inciweb: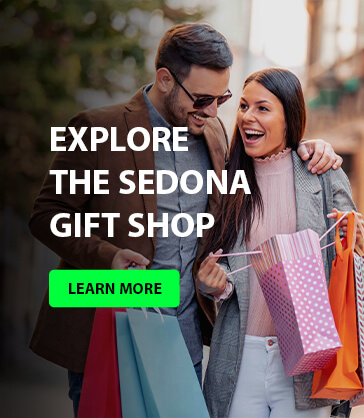 Cowboy Fire: along I-17 south of Flagstaff
Mormon Fire: near Mormon Mountain south of Flagstaff
Pivot Rock Fire: north of SR87 southwest of Clints Well
So if you want to register a complaint and let them know exactly how it affects you go here: http://www.fs.usda.gov/detailfull/coconino/about-forest/contactus/?cid=stelprd3843012&width=full
If you want to call, the general number is 928.527.3600 – low probability of actually getting to talk with a human being.
It was a very good day … I like healthy forests, but like healthy people even more … there has to be other ways.
Cheers
Ted
For life holds cheers as well as tears,
Take this old toast from me:
This world a riddle hard you call …
A mess from which you fain would shrink?
Perhaps 'tis wisdom, all in all.
To learn to laugh as well as think.
— Max Ehrmann
###
The easiest way to reach Mr. Grussing is by email: ted@tedgrussing.com
In addition to sales of photographs already taken Ted does special shoots for patrons on request and also does air-to-air photography for those who want photographs of their airplanes in flight. All special photographic sessions are billed on an hourly basis.
Ted also does one-on-one workshops for those interested in learning the techniques he uses.  By special arrangement Ted will do one-on-one aerial photography workshops which will include actual photo sessions in the air.
More about Ted Grussing …