Sedona, AZ — Tlaquepaque Arts & Shopping Village celebrates its twelfth anniversary of Day of the Dead this year. You can expect lavish decorations, life size sculptures, and world class, interactive entertainment at the event. This Free five-day celebration runs from October 28th through November 2nd. In Tlaquepaque's usual fashion, they will celebrate art in all its forms!
Day of the Dead or "Old Souls Day" maybe Mexico's most popular holiday. In Mexican culture, death is not to be feared. As the afterlife is viewed as a natural part of a person's journey. The tradition goes back thousands of years with its roots in the Aztecs. They dedicated an entire month to commemorating their dead.
To welcome both visitors and spirits of the deceased, the village is decorated with paper mache skeletons, bright colored banners, marigolds, and large-scale installations. The festivities kick off with a full schedule of entertainment that includes music, dance performances, children's activities and a small Mercado. You may even encounter an Angel Catrina, life size Monarch butterfly, or Audrey Hepburn roaming around.
There is live entertainment all day on Saturday, October 28th — when Free round trip shuttle service is provided from the Municipal Parking lot in uptown Sedona.
Tlaquepaque's famous Marigold Project is in its ninth year, and will be up through November 2nd. This 26-foot-long community remembrance wall provides a visual connection for everyone to honor their departed together. The activity is free with paints and brushes provided onsite.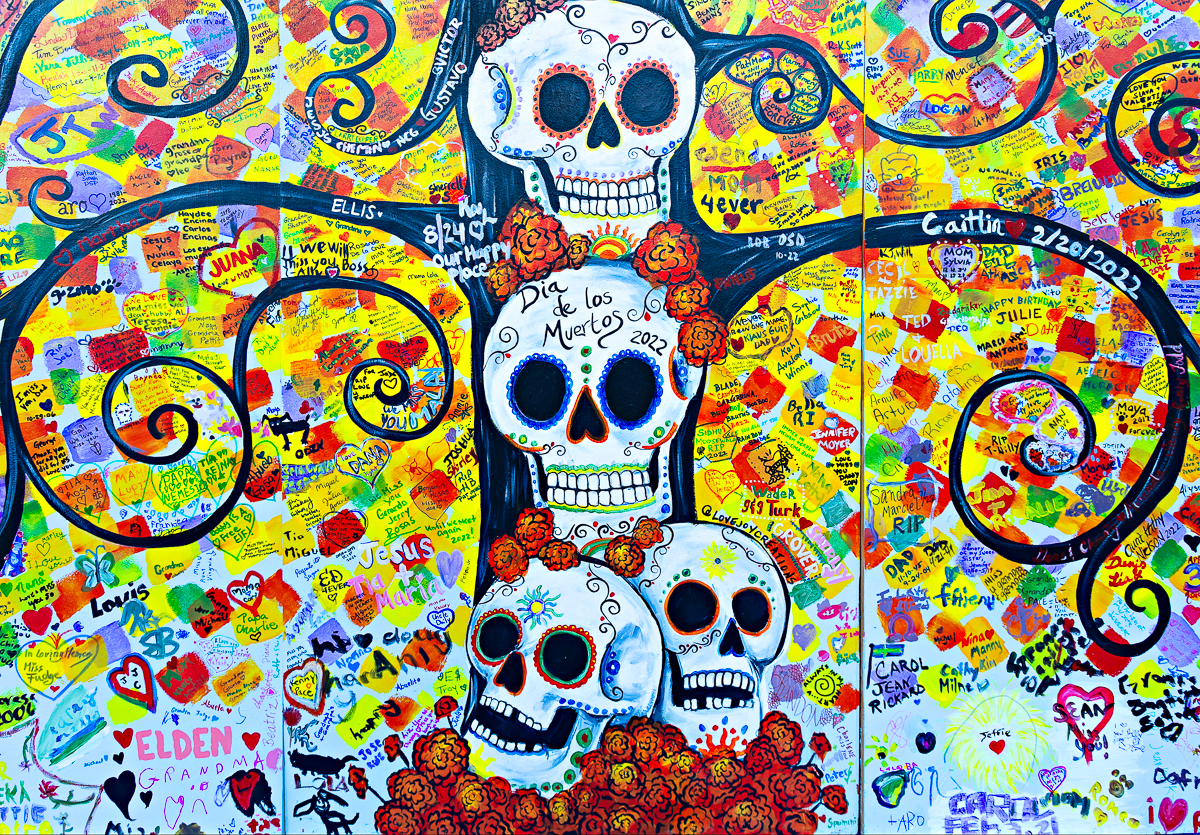 Lovejoy, the artist who created the project, paints a huge motive in the middle and will be there from 11am – 5 pm each day. Stop by and paint a tribute to your loved one with a memory. Or share a photo, poem, or word on the mural.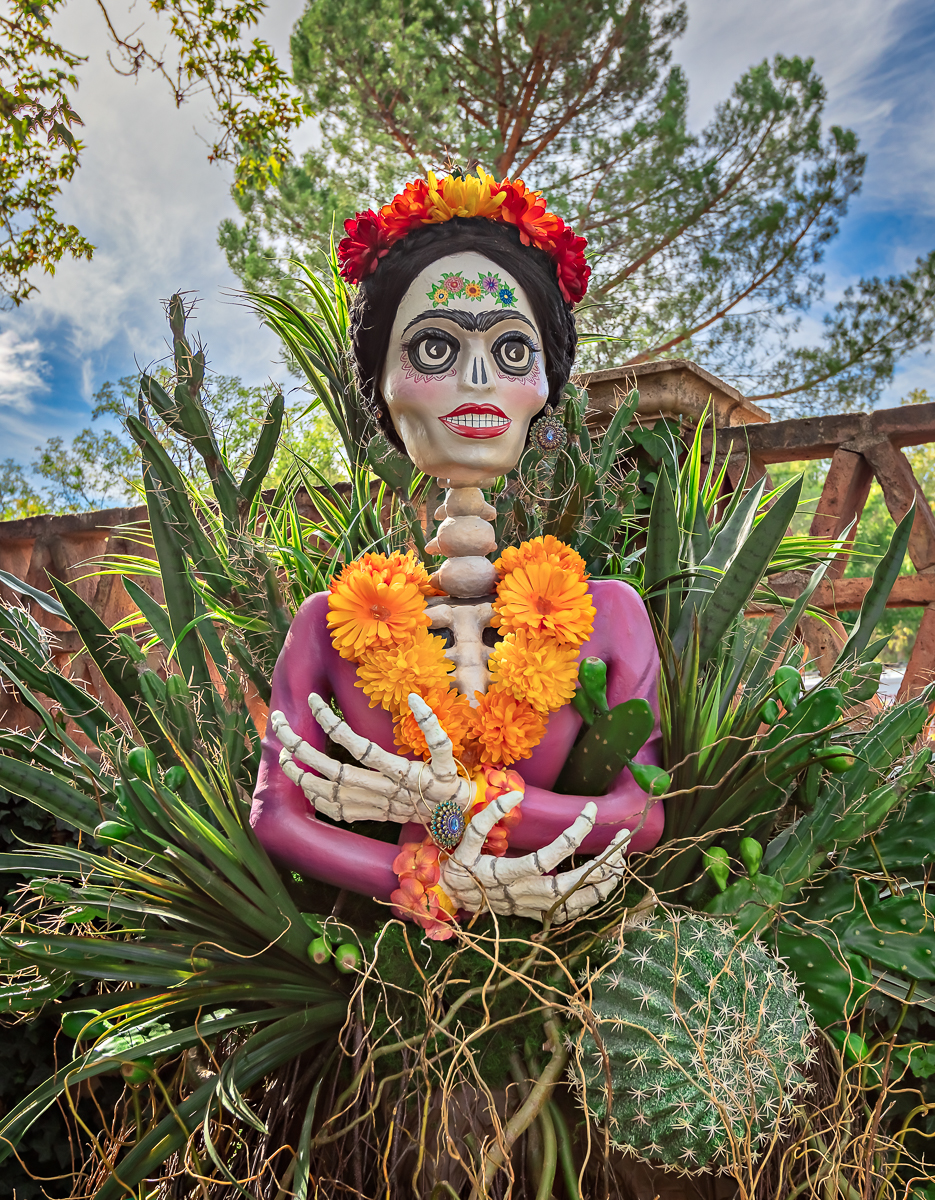 In Mexico, families create altars in their homes and businesses honoring the departed. Entire cemeteries will be filled with decorations on each gravesite where families gather to celebrate their loved ones. Tlaquepaque honors this tradition with altars throughout both their north and south venues. This year, the village will feature a dozen beautiful altars in thoughtful and creative themes honoring the departed.
The first day of Day of the Dead is for children who have passed away and is called is called Día de los Angelitos (Day of little Angels.) This year Tlaquepaque will feature an Angelitos Altar honoring the souls of children.
Locations for Tlaquepaque's Day of the Dead Altars:
Learning Altar – Patio de las Rosas (by the Secret Garden) This altar serves as an introduction to Day of the Dead Altars. It explains the symbolism of the elements used in creating an altar – like incense, salt, water, food, flowers, paper, skulls, photos, etc.
Angelitos Altar — Calle Independencia  Honors the souls of departed children who are eager to reconnect with us on Day of the Dead.
Athena — VUE Lawn  The Goddess of wisdom, craft, war and peacetime pursuits is transformed into a Butterfly Goddess. This life size sculpture by John Benedict is made from reclaimed steel, bicycle chains, & copper
Frida Kahlo — Patio de Las Companas  A Tree of Life depicts Frida Kahlo, considered one of Mexico's greatest artists.
Azteca Altar — Patio Del Norte Honors the Native American people who dominated northern Mexico at the time of the Spanish conquest.
Community Alters — Patio Las Campanas and Tlaquepaque North Tlaquepaque encourage visitors to bring offerings, photos, and mementos to commemorate loved ones on these altars. 
1800's Bridgerton — Patio Azul A Victorian theme of London with Living Day of the Dead  Figures and a High Teadisplay 11 am – 5 pm  Saturday, October 28
"La Iglesia de la Calaca Negra" — Tlaquepaque's Chapel The Chapel of the Black Calcara  represents the dark-skinned Calaca seen as San Rafael Archangel. Live Catrina 11 pm – 5 pm October 2
La Sirena — Patio de Las Rosas (under Oak Creek Restaurant) A pink mermaid represents the story of a young Chamorro girl who becomes half human and half mermaid after her mother casts the spell – God grant that you may become a fish.
Tlaquepaque Alebrijes — Chapel side Courtyard Animals serve as guides for the spirits of the dead in afterlife. This altar honors Spirit animals of the Southwest. Look for the wings of a bat, horns of bighorn sheep, the tail of a lizard, body of a rat, and ears of a jackrabbit.
Super Muerto — Cocopah Side Courtyard  Tlaquepaque's version of a Mexican Superhero. A wrestler known as El Muerto is empowered by a mystical mask.
Spirits Skull — Cactus Garden (below the Chai Spot) A colorful, larger-than-life skull with arms and hands coming out of the ground. Your imagination may lead to you see this scary installation as spirits arriving for a reunion with the living.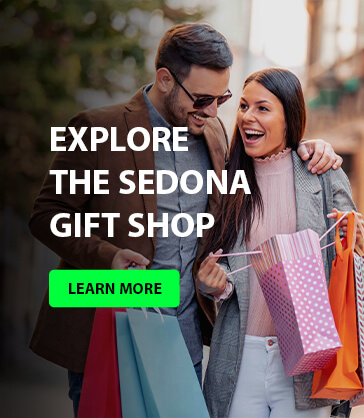 Tlaquepaque Mercados – Calle Independencia –
October 28th 11:00 am – 5:00 pm
Tlaquepaque will have two small markets this year with vendors in Day of the Dead costumes. A sampling of the art you'll find in the market includes acclaimed pastel artist Joanna Agostinelli, multi-media artist and Elizabeth Gerstner, and Emma Gardner – a surrealist painter most famous for her live and colorful Day of the Dead skeletal figures. All are Arizona artists.
El Picaflor will feature Day of the Dead products from the Andes and Wellzona CBD will host a booth. This area is also where visitors will find the the Marigold Mural Project with artist Lovejoy, and Face Paining for a small fee.
El Rincon Restaurante is serving Day of the Dead Bread, Mexican hot chocolate and tacos.  Food booths are available from Los Muertos with homemade salsa and chips and The Tamale Store from Phoenix. There are plenty of dining choices with Tlaquepaque's five restaurants and decadent sweet shops throughout the village. So come with an appetite for art and food.
Day of the Dead Entertainment Schedule October 28th 11:00 am – 6:00 pm
Tlaquepaque North
Saith –  Singer, songwriter, musician — 11:00 am – 1:00 pm New to Tlaquepaque, Saith's music reflects his passionate messages for humanity in soft comforting melodies on guitar and piano. Don't miss him if you enjoy meaningful lyrics and uplifting music.
Ballet de Colores Dancers —  1:00 pm – 3:00 pm These dancers vary in age from children to young adults with the execution of even the youngest being impressive and delightful. Their costumes authenticate a variety of traditional dances from different regions of Mexico. They will have two performances and are a highlight of the celebration.
Tlaquepaque South
The Chapel – Live Music with Live Catrinas
David Mills — 11:30 am – 2:30 pm This funky, jazz pianist plays a variety of jazz classics and original compositions. His improvisations create what some call conversations in music.
Eric Miller — 3:00 pm – 6:00 pm  As one of Sedona's favorite romantic guitarists, Eric delights audiences with every tune in his repertoire. Enjoy listening to flamenco, Latin, Brazilian sambas, jazz, and his original music.
Patio De Los Campanas
Gaetano and Friends with Flamenco Dancing — 11:30 am – 2:30 pm  These musicians play  a fusion of flamenco guitar with spicy Latin rhythms. The phenomenal energy and excitement of Flamenco Dancers will accompany them in the colorful costumes of Mexico.
Free Sugar Skull Decorating 3:00 pm – 5:00 pm A wonderful activity for the kids that serves as an example of how to celebrate and play with death.
Ritmo Latino — 3:00 pm – 5:00 pm  This band plays a blend of salsa, cumbia, cha cha cha, and Latin jazz. Their music highlights the flavors of old Mexico with robust vocals, saxophone, and sultry Latin percussion.
Foxy Koshka — 2:00 pm – 4:00 pm A Flagstaff based acoustical duo with beautiful vocal harmonies offers an eclectic repertoire of American, Latin, and World Music.
Patio Del Norte
Gypsy Kahuno Trio —  11:00 am – 2:00 pm With their fiery flamenco techniques and a surprising Hawaiian soulfulness — Patrick Ki, Fernando Leon, and David Merino perform their infectious Latin grooves to create a unique fusion of music on guitars.
Tucson's Danza Azteca Callpulli Tonantzin Group — 2:00 pm – 3:00 pm A performance of authentic Aztec dances in dazzling costumes always electrifies Tlaquepaque visitors. These Mexican descendants pay tribute to the Aztec Chichimeca culture representing the cosmos and energy of every living being. They dance to the beats of the huehueti, or drum in the nahuati dialect of their ancestors.
Urban Electra — 3:00 pm – 5:00 pm  America's contemporary, all female electric string quartet has a repertoire that includes rock hits from artists like Muse, Coldplay, and The Rolling Stones. These world renowned musicians are unlike anything you've ever heard and will have you asking for encores!
Shopping in Tlaquepaque is always enjoyable; and even more so embraced in the ambiance and activities of their Day of the Dead celebrations. With world-class galleries, 55 boutique shops, and a variety of restaurants and eateries, there is something for everyone. Expect to be surprised and delighted at this annual event. Located on 336 State Route 179 Sedona, Arizona and open Daily at 10:00 am.
For more information, call 928.282.4838 or visit www.tlaq.com 
Written by Riverann : Host of the Heart Sense podcast on Apple, Spotify, Google podcasts