By Holly Epright, Executive Director
Sedona Main Street Program
Sedona AZ (March 18, 2013) – Talk about the luck of the Irish! The day was beautiful right from the start; it began with shaded overcast conditions and blossomed into a beautiful sunny afternoon. Over five thousand spectators gathered along Jordan Road to watch the 43rd Annual St. Patrick's Parade. Sedona Fire District's fire engine led the parade to clear the route. The Parade Grand Marshals were Sedona's First Responders represented by Sedona Fire Chief, Kris Kazian and Sedona Police Chief, Raymond O. Cota. Helping lead the parade, Camp Verde Calvary Color Guard appeared on horseback and Southwest Skye Pipes & Drums in full regalia gave a stirring bagpipe & drums performance. They were followed by the sponsor banners, representing the local businesses who provide the support to keep this community tradition going; please remember to patronize and thank these businesses as you see them throughout the year: Parade Title Sponsor – Aspey, Watkins & Diesel PLLC; Festival Title Sponsor – Red Rock Western Jeep Tours & A Day in the West; Over the Rainbow Sponsors – Sedona Fudge Company and BSE Rents; Pot O' Gold Sponsor – Sedona Pines Resort; Celtic Club Sponsor – Matterhorn Inn; Irish Green Club Sponsor – Best Western Arroyo Roble Hotel and Creekside Villas.
Sedona Mayor Rob Adams, Vice-Mayor Mark Dinunzio, and City Councilors Barbara Litrell, John Martinez, Dan McIlroy and Mike Ward led the Dignitaries including Camp Verde Mayor Bob Burnside with their town Marshal Nancy Gardner, Coconino Coun
ty Supervisor Matt Ryan and Yavapai County Supervisors Chip Davis and Tom Thurman. They walked, road or drove along the parade route, waving to their constituents. Community organizations and businesses composed much of the Parade, showing phenomenal enthusiasm with their entries. They were all warmly received and each was announced by our Master of Ceremonies, John Conway of Audioworxx. They were carefully scrutinized as potential award recipients by three Parade Judges: Steve Conrad – Executive Director Flagstaff Boys & Girls Club, Glorice Pavey – Special Event Coordinator Flagstaff Parks & Recreation and Cynthia Nemeth – Special Event Coordinator Coconino County Parks & Recreation.
Immediately following the parade, the Parade Festival kicked off right beside the Parade route at Sacajawea Plaza & BR Clinic. Southwest Skye & Pipes bagpipers Michael Donelson and Martha Shideler opened with a traditional bagpipe song and Karl Jones and his band Dublin Soul performed throughout the afternoon. Parade awards for outstanding entries were announced (see list below) and wonderful complementary performances by area youth talent entertained during band breaks. The McTeggart Irish Step Dancers of Arizona were represented by an impressive group of step dancers from Flagstaff and the Verde Valley and they received thunderous applause. Sedona Strings from Sedona Charter School honored us with an amazing performance.
Children were captivated by the wide variety of free activities, while everyone enjoyed lunch offered by the Sedona Community Center and sweet treats from Sedona Fudge Company. Of course there was a Beer Garden, courtesy of Oak Creek Brewing Company. Crowds of residents and visitors alike enjoyed the free entertainment and activities in a great setting on a fabulous day with tables and chairs under canopies all donated by BSE Rents.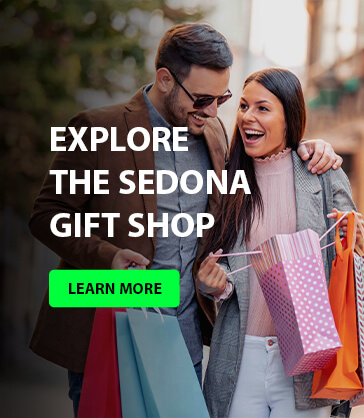 The Parade & Festival is a free event for the community and by the community. That is made possible primarily by generous event sponsors named earlier, plus Shamrock Club Sponsors – Farmers Insurance Group-Don E. Nelms, Johnson Insurance Services, LLC and Touchstone Gallery. Join us in thanks to the City of Sedona, Larson Newspapers, BSE Rents, BR Clinic – Sedona Meditation Center and 350 Jordan Road, Waste Management, Oak Creek Brewing Company, Sedona Chamber of Commerce, Arizona Rangers-Verde Valley Company plus the additional 20 businesses and property owners that donated services and/or products to the event along with all the community volunteers who gave time to make it happen. This event is presented and coordinated by Sedona Main Street Program, NAU's Park and Recreation Management Program and the Green Team event steering committee.
Congratulations to the 43rd Annual Sedona St. Patrick's Parade Award Winners:
Equestrian Color Guard Award: Camp Verde Calvary
Best Musical Entry: Southwest Sky Pipes and Drums
Best Dance Unit: Sedona Meditation Center
Best Float: Pink Jeep Tours
Best Marching Band: Chino Valley Marching Band
Best Marching Unit: Red Rock Youth Football
Best Vehicle Entry: Red Rock Posse
Color Guard Award: No. AZ Veteran's Military Honor Guard
Drill Team Award: Flagstaff Kennel Club K-9 Drill Team
Equestrian Award: Connections Equine Therapy
Uniqueness Award: Greyhound Pets of AZ
Shamrock Award: Bio-Diesel U.S. Inc.
St. Patrick's Award: Sound Bites Grill
Parade and Festival photos are available on our facebook page and high resolution photos will be available on our website at www.sedonamainstreet.com.