By Anne Marie Mackler, Development Director
Sedona AZ (December 25, 2020) –
The best thing about this time of year, especially in a year like we've just had, is it offers a time to reflect and to be grateful. Sedona Public Library would like to say thank you for your interest, participation, patience, and for your support this past year.
Our world, our states, and our towns have all changed this year. But there is one thing that simply hasn't changed, not fundamentally, and that's us, Sedona Public Library.
We promise you that no matter the impact of the pandemic, your library is here to stay. We will continue as guided by the needs and the safety of the community. Our dedication to our mission is solid, and we're taking every opportunity to better serve you during this complicated time.
We'd thought it would be fun to share some stories from the Library and show you how our work this year has had significant reach in the community and beyond.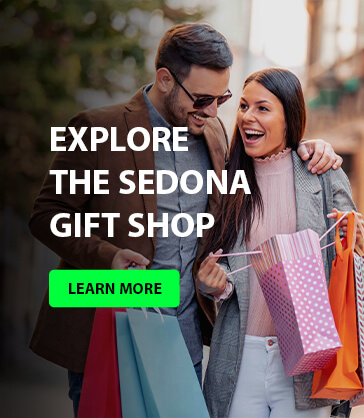 A non-English-speaking woman needed help using Wi-Fi in order to read recent correspondence. It turns out she had a tele-court date, and, with our help, she was able to attend. She offered to pay for our services, not knowing that all of our services are free. She was grateful beyond words.
A woman with COVID called, frustrated and unable to keep up with her reading while sick. Not a digital native, we assisted her with our online services—OverDrive and Libby. She resumed her very avid reading hobby, definitely helpful to her recovery.
A long-time patron hadn't before needed more than a flip phone to reach his family and friends in Central America, or to plan his annual visits to see them. The new smart phone he purchased made him feel far less than smart. With our assistance, he learned how to use the phone, and he is now able to easily correspond and to plan a return visit to his faraway family.
Families who are new to Sedona, and often to parenting, find community at the Library in the Youth Services area. Lifelong friendships are regularly formed at story time and other children's programs. Parents appreciate learning early literacy tips for their little ones, finding resources for parenting and for the Sedona area, and connecting to community in their new lives.
A little girl in California, encouraged by her mother to broaden her online horizons since her normally busy life as a figure skater had been interrupted, discovered Spooktacular Online. She entered our costume contest dressed as a flamingo, having made the costume from a skating outfit. She won! Because Coldstone Creamery is in her home town, she could enjoy her prize, free ice cream!
A three-year-old from Hanoi watched Ms. Marcia's online story time while at his grandma's house in Sedona. Then, when he first visited the Library, he heard Ms. Marcia's voice and excitedly ran towards her, ecstatic to meet her in person. He has since returned home but watches Ms. Marcia from clear across the planet.
These are just a few of the stories showing the impact the Library has on lives locally, and beyond. We look forward to all the stories a new year will bring, and we ask for your support as we write the next chapter. Supporting the Library is supporting the community.
We're excited that with a gift from a generous donor and volunteer, your gifts will be matched dollar for dollar, up to $15,000, through the end of the month. Maybe you'll consider a new or increased recurring gift? We also welcome gifts of stock, donor advised funds, or charitable qualified distributions. And remember, with the CARES Act, your cash gift of up to $300 to Sedona Public Library may qualify for the new Temporary Universal Charitable Deduction.
How you give, or how often, is up to you, but rest assured it's up to us to keep the community connected, and we do.
Visit sedonalibrary.org/donate to make an online gift, drop off a gift at our west Sedona or Village location, or send a gift to3250 White Bear Road, Sedona, AZ 86336. And thanks.
Happy holidays and Happy New Year from all of us at Sedona Public Library, a 501(c)(3) nonprofit organization, serving Sedona and both Coconino and Yavapai Counties.