Sedona AZ (February 3, 2016) – Poetry from the heart, the art of letter writing, and the beauty of dance combined with a wide range of visual representations of  love in many forms, adorns Sedona Arts Center the first 2 weeks of February.
Red Earth Theatre  again partners with Sedona Arts Center to bring a multi-arts feast for all as we move to celebrate Valentines Day on Feb 14th.
Beginning on February 5 (first friday) at 4pm  the Theatre Studio will ring with the poetry of many different voices – and their accompanying images. Poets and artists include: Evelyn Gholson, Nancy Ruby, Melanie Gold, Rose Moon, Martha Entin, Ann Emerson, June Van Valkenburg, Tiffany Rustam, Gary Every, Tanya Marcy and Nancy Melmon. From multi-media art to photography accompanied by the heartfelt and often surprising images created  by the words themselves, this Poet's Corner  is sure to touch your heart and perhaps echo some of your own stories of love.
Adding a special ambiance to the art and words,  Michael  Kollwitz shares the unique sound of the Chapman Stick,  a remarkable musical instrument you wont' want to miss.
On Thursday 11h at 7-9 pm the Theatre Studio will become an intimate live theatre space when two of Sedona's long-time stage favorites, Tricia Greer and Gerard Maguire, directed by Red Earth Theatre's Kate Hawkes, are reunited on stage for the first time since 2007 with a reading of Love Letters by A.R. Gurney. This much loved play is comprised of a 50-year correspondence between Melissa Gardner and her childhood-friend-turned-love-interest, Andrew Makepeace Ladd III, letters exchanged over a lifetime between two people who grew up together, went their separate ways, but continued to share confidences.
As the actors read the letters aloud, what is created is an evocative, touching, frequently funny but always telling pair of character studies in which what is implied is as revealing and meaningful as what is actually written down.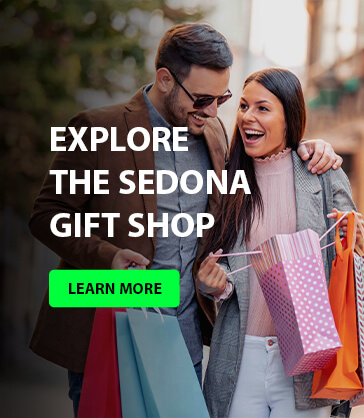 Thanks to its simple staging – 2 actors  sit side by side and read their letters to the audience – Gurney's play, a Pulitzer Prize finalist, has been performed in theater spaces all over the world, from the New York Public Library to Broadway to Carnegie Hall and back again. Put away your iPhone (at least for a minute!) to find out how a touching romance through old-fashioned pen and paper will officially blossom in the Old Barn Theatre.
For more  information  on this production go to www.redearththeatre.org, and to  reserve a seat for this performance please contact Red Earth Theatre at 928-282-1660 or by email info@redearththeatre.org.
On Sunday 14th at 3pm the poets, artists and musician  return to the Theatre Studio and this time are joined with a very special dance performance created by Candy Quillian and Danse Sedona.  Choreographed to a poem written to her husband with music by Massenet, 'Meditation from Thais' , this beautiful expression of love will send you out to your Valentines'  evening warmed to the  very soles of your dancing feet.
What: Poets Corner on Feb 5 at 4pm;
Love Letters – a play reading on Thursday 11th at 7pm; ($10 at the door)
Poetry and Dance on Sunday 14 at 3pm
Where: Sedona Arts Center, Theatre Studio
For more information   go to to www.redearththeatre org  or www.sedonaartscenter.org