Cinderella said "One shoe can change your life…A Step Up will host the dance!
Sedona AZ (April 22, 2016) – Sole sisters, Laura Ditges and Karen Dilks of A Step Up, in customer appreciation, host SPRING & STRINGS, Saturday, April 30, 8:30 to 10 pm.  "An early morning get together will be a lovely way to give tribute to upcoming Mother's Day.  The music will be marvelous," Dilks states. 
Obligato Strings, will be performing.  The group consists of NAU'S faculty members Karin Hallberg, Louise Scott. Jacquelyn Schwandt, and Amy Tackitt.
SATURDAY, APRIL 30th 8:30 – 10:00 am
A STEP UP at Hillside Sedona
671 A-CT 6
Sedona, AZ 86336      
(928) 282-0277
Karin Hallberg Ph.D. is currently Senior Lecturer of violin /Suzuki Pedagogy and Coordinator of the NAU Community Music and Dance Academy Suzuki String Program. Dr. Hallberg is currently Assistant Concertmaster and Principal Violin II and in the Flagstaff Symphony and a regular performer with the NAU Faculty Chamber Music Series.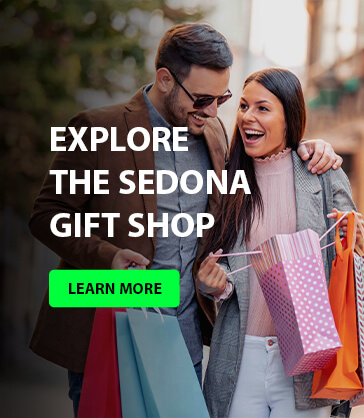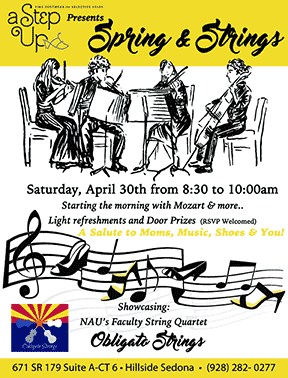 Louise Scott is Professor of Violin and Pedagogy in the School of Music.  She received her doctorate from the University of Arizona in 1980 and came to NAU, first as part-time faculty in 1977, and then full-time in 1984.  Since 1993, she has been Concertmaster for the Arizona Opera, an Opera company based in Phoenix and Tucson that is regularly reviewed by Opera News.  She has also been Concertmaster for the Flagstaff Symphony Orchestra since 1985.
Jacquelyn Schwandt is an Assistant Professor of Viola at Northern Arizona University. She is Principal violist with the Flagstaff Symphony, and is an active member of the NAU Faculty Chamber Music Series. Currently, Dr. Schwandt is the President of the Arizona Chapter of the American Viola Society.
Amy Tackitt currently serves as Program Coordinator of the NAU Community Music and Dance Academy as well as the Curry Summer Music Camp at NAU. She holds a BM in cello performance from the University of Michigan. Mrs. Tackitt played in the cello section of the Flagstaff Symphony Orchestra for three seasons during which she served as chair of the orchestra committee for two years.
The group will be performing in Hillside Sedona's lovely courtyard garden setting.   Light refreshments will be served at A STEP UP.   For further information contact A STEP UP, 928-282-0277.