Sedona AZ (August 28, 2018) – A 12-year veteran of the Sedona Police Department, Officer Kevin Hudspeth, is the recipient of a statewide award for outstanding service to people in mental health crisis.
Hudspeth received the David's Hope 2018 Crisis Response Officer of Distinction award at an Aug. 23 event in Tempe, Ariz. The award was presented by the Arizona Mental health Criminal Justice Coalition, and recognized Hudspeth's work in planning, organizing and executing Sedona PD's homeless/transient outreach operations over the past year.
"Officer Hudspeth is a thoughtful law enforcement officer and problem solver," says Sedona Police Chief David McGill. "Starting about 18 months ago, he directed our officers to step up their attention on the homeless living in the forest surrounding Sedona, many of whom live with mental illness. His goal was to not only enforce the law but, more important, to redirect people to services that can help them in the long run."
SPD officers frequently make contact with people with mental illness, and conduct field operations each quarter to locate, identify, and assist the city's homeless/transient population. One community challenge is a lack of available services within a reasonable distance, especially in times of crisis. Hudspeth took a leadership role in both conducting contact operations and serving as a liaison with health providers such as Spectrum Health, Catholic Charities, Sedona Fire District, and U.S. Forest Service, among others.
In most SPD contact operations, officers contact between 10 and 20 individuals, most of whom have mental health challenges. Some are cited or arrested for repeat law violations, but most are given alternative, diversion, dispositions designed to get them immediate help in the field, and longer term support from mental health and social work professionals.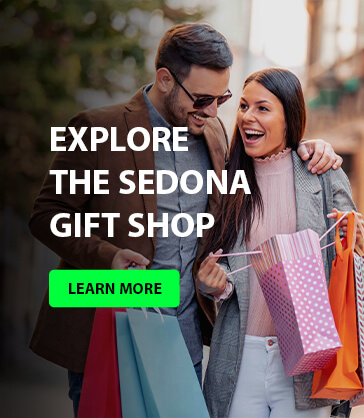 Chief McGill says Hudspeth works with empathy, compassion and dignity and brings special skill to one particular segment of the homeless population. "Being a military veteran, Officer Hudspeth can especially relate with other veterans who are homeless," he says. "Many of them have post traumatic stress disorder, and need support, not incarceration."
The David's Hope organization is based in Chandler and works to reduce the number of people with mental disorders and addictions who are incarcerated. Its website is davidshopeaz.org.
The Sedona Police Department, responsible for law enforcement in 18.6 square miles, has 28 sworn positions and 12 civilian support positions, and serves 10,000 residents and an estimated 2 million annual visitors.