Sedona AZ (August 18, 2017) – The month of September promises to be somewhat spectacular with an explosion of activity. Appropriately named "Corner Table," this 4000 plus sq. ft. restaurant and bar will be open for business after Labor Day, and is targeting its Grand Opening for early September.
There is a buzz of excitement in The Village as C.J. Sells and his family combine their experience and talents in this new venture.  For over 10 years, they have successfully operated Pago's Pizzeria and Italian Cuisine restaurant, just a few blocks north of The Collective Sedona.  Five of the Sells' family members will be involved in the management and operation of "Corner Table."  C.J. and his wife, Nancy, will provide overall general management.  Michael Sells and his wife, Dyanna, will oversee the operation of both the restaurant and the bar from mid-afternoon until closing time.  Julie Tatum (daughter of C.J. and Nancy) will provide overall supervision from the opening at 11:00 am through the lunch period.
Michael Sells will be the head chef, bringing his more than 10 years of experience to "Corner Table" and creating a very diverse and reasonably priced menu.  Examples, just to name a few, include Cajun BBQ Shrimp, Maryland Style Crab Cakes, Green Beans and Roasted Walnut Pate served with warm pita bread, appetizers, salads, burgers, sandwiches, fish tacos, picnic fried half chicken, full rack of BBQ ribs, catfish relleno and fish and chips.  YUM!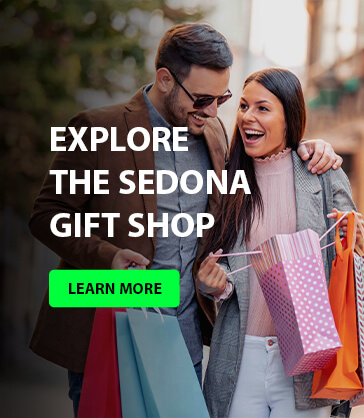 The monthly Art Walk, featuring special music by The Desert Hot Tub Club, will take place between 5:00 and 8:00 pm on Saturday, September 9th.  The Grand Opening for at least two new tenants will be celebrated that night.  The new tenants are:  Eugenia Ortiz Art and Van Loenen Art Gallery.  Eugenia will be doing a "live jean painting" in the space next to Magical Mandala Kaleidoscope Gallery.
The bi-weekly Farmers' Market will continue on Wednesdays, September 6th and September 20th, with an abundance of fresh food and other special products from Da' Nede' Farms and more than fifteen additional Arizona local vendors.
On Sunday night, September 17th from 5:30 pm to 9:00 pm, the second 3MKi Dinner-Show-Dance will take place in Vista Hall.  The initial performance on July 16th was a huge success.  Dinner will be served, beginning at 5:30 pm and the 3MKi Band Show "Beatles, Eagles & Other Wild Things" kicks off at 6:00 pm.  Great dance tunes throughout the night will get you out on the dance floor.  Enjoy great food and drinks plus the show for $57, premium seating and two drinks for $37 or the show only with complimentary coffee or tea for $27.  Prepay Online at SusannahMartinMusic.com and get a $2 discount per ticket with reserved seating (great for up to 10 people per table.)  Tickets may also be purchased at the door.  For more details and to sign up online go to www.susannahmartinmusic.com.