By Annabel V Sclippa
Sedona AZ (June 24, 2014) – Sedona's New Day Spa announces the Grand Opening of their exquisite new location at 3004 W 89A, with a Ribbon Cutting and Celebration on Thursday, June 26, 1pm to 6pm.
Open since 2002 in their previous location, the Spa has been voted Best Day Spa for the last six years, and received a 2014 Certificate of Excellence. This is a direct reflection of the Spa's world-class staff and owners' attention to detail, presented in a quintessentially Sedona-enrobed package incorporating organic, native products. In its new red rock setting, these features become even more enhanced.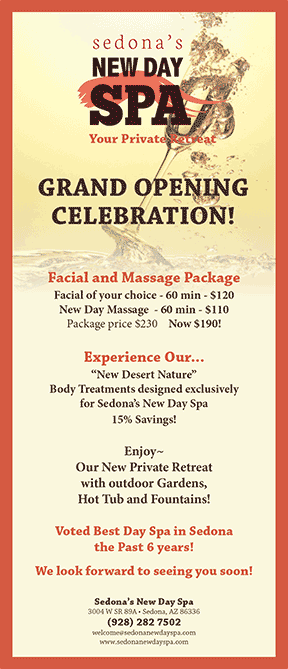 Still maintaining their established reputation of excellence in quality of products and services, the Spa thought the move would be appropriate, to stay true to the "New" in Sedona's New Day Spa. They can now provide clientele this beautiful new property boasting 6 treatment rooms, a pleasing reception area fully stocked with healthy treats, and a lovely outdoor patio area, complete with garden for relaxing, hot tub for soaking, and fountains for being lulled by.
Many of the Spa's world-class therapists have the distinction of being long-time therapists, whose skills have been honed on an international level. Spa Owners/Directors Jill Galea and Ornella Faccin value this real-world experience and work with staff closely to develop and execute exceptional treatment plans incorporating this quality. The resulting dynamic enriches treatments, showcasing the therapists' spiritual knowledge, sometimes leading to some revealing, and accurate, readings.
Along with a full menu of conventional bodywork, massages, wraps, facials, nail care, waxing and tinting services, the Spa offers newly designed Desert Nature Body Treatments and Native Wisdom Spa Rituals. These  incorporate valuable elements of the Native Indian Tradition to help us reconnect with our inner resources, regain a sense of balance, and find the deepest relaxation of body and mind, resulting in an overall sense of regeneration and well-being.
Sedona's locally harvested natural treasures are carefully refined into the form of organic oils, lotions, body butters, facial serums and creams, which have always been the basic elements of the Spa's products. Now even more defined as true to our South Western Desert Land, Sedona's New Day Spa offers products of Turquoise Sage Mountain Arnica, Prickly Pear & Pomegranate, Cedar Citrus Wild Chaparral and many more.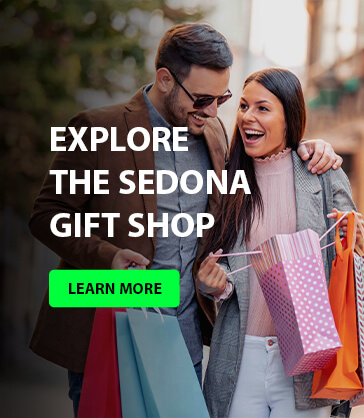 Mrs. Galea feels the Spa maintains its competitive edge and steady client traffic amidst the presence of nearby resort and hotel spas by celebrating Sedona's rich natural and spiritual history in everything from treatments to the products they incorporate, and by providing a consistently welcoming and memorable experience. "Our hope is that from the moment our guests enter Sedona's New Day Spa, they will be embraced by the welcoming staff and feel as though they are steeped in a world of comfort and relaxation."
It must be working, because business flow continues to move in a vortex fashion of consistently good energy. "Our local clientele visit once a month on average. Our vacationers and part-time residents love to visit whenever they're in town. And we see many referrals from our clients," said Mrs. Galea. The spa can also accommodate couples or small groups interested in a shared spa experience.
Sedona is famous for its breathtakingly beautiful red rock landscapes, an unmistakable aura of New Age spirituality, and an indulgent array of luxuries. Sedona's New Day Spa has found a way to tap into the very best that this Northern Arizona town has to offer, creating a haven for locals and tourists who want to escape the harried pace of daily life. You feel this from the moment you enter the pathway lined with bamboo, as a stoic female statue and a melodically flowing waterfall cascading off the fountain entrance you, and then the reception area welcomes you. It holds an abundant refreshment table filled with fresh fruits and nuts, biscotti, lemon and cucumber waters, and a selection of hot herbal teas and cappuccino.
The company slogan Your Private Retreat is well deserved. The quiet and elegant décor, warm welcome and attentive personal care brings an immediate feeling of well-being to this heartfelt haven within this mystical place called Sedona. They do what they do best. They simply give their clients a true Sedona experience: relaxing, nurturing, and one of a kind.
Come join in welcoming Sedona's New Day Spa to its new location of 3004 West State Route 89A, next to Mountain High Flowers. Look for the yellow flags! Grand Opening is Thursday June 26th from 1-6pm. Ribbon Cutting with the City's Mayor Rob Adams and Sedona Chamber of Commerce President/CEO Jennifer Wesselhoff is at 1pm with celebration following. Enjoy the surroundings, the service of Refreshments and Healthy Snacks, and 20%OFF that day's special treatments, an attendees-only future discount on services, and three very special free giveaways.