Sedona Lit is a new series by Dr. Elizabeth Oakes, an award winning poet and former Shakespeare professor. A Sedonian of three years, she will highlight the literature, written or performed, of Sedona, past and present.
By Elizabeth Oakes
(December 7, 2015)
Two of the most famous artists ever to live in Sedona are Max Ernst and Dorothea Tanning. Moreover, Tanning is most likely one of the best writers to have spent time here. In the second half of her long life, Tanning, already well known internationally as an artist, became a memorist, a novelist, and a poet. Before her death in 2012 at the age of 101 (she was born in 1910), Tanning published a novel (Chasm), two memoirs (Birthday and Between Lives), and two books of poems (A Table of Content and Coming to That), the last one published in 2011, when she was over a hundred years old. She is the only poet I know of who had a book of new (not re-issued) work published at that age.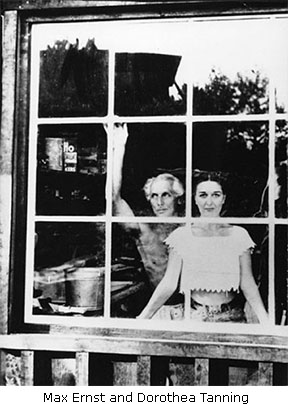 How Ernst and Tanning came to live in Sedona is a love story. They met in New York when Ernst went to view Tanning's paintings for an exhibit his wife, the wealthy art collector and patron Peggy Guggenheim, was curating. The two fell in love at first sight: in a poem, "Time Flew," about the meeting, Tanning writes:
Four eyes met in a blaze,
What they saw
Would have no end, both knew.
Within two weeks Ernst had left the mansion he shared with Guggenheim and moved in with Tanning in her small apartment. Now persona non grata in the art world, Ernst left his world-class career and Tanning a promising one to build with their own hands what Tanning called "a crooked little house" on what they named "Capricorn Hill," in Sedona, where Ernst had traveled previously and where they lived off and on from the early 40s until they settled in France in the mid 50s.
Like anyone who comes to Sedona, Tanning was struck by its strange beauty, as she relates,
Reader! Imagine the pure excitement of living in such a place of ambivalent elements. Overhead a blue so triumphant it penetrated the darkest spaces of your brain. Underneath a ground ancient and cruel with stones, only stones, and cactus spines playing possum. The evilest creatures of nature crawled, crept, scurried, slithered and observed you with hatred, but saved their venom while you kept your distance, when warned. It was then that you gave yourself up to that incredibly seductive wafture that, try as you might, you could never name. Its components? The red dust, the junipers, infinitesimal desert blooms, the stones. Even the stars shed perfume with their light when, sitting outside, we watched them slide rather slowly across the sky.
Despite the beauty, they lived in quite a primitive manner. They had no running water for a year and certainly no air conditioning! Remembering the conditions decades later, Tanning writes:
Nature was not always open-armed. An electrical storm could hang a ball of white fire in the doorway. But it was only for a moment and did no harm. There might be a week of red wind that tore at our wooden house. Kept us inside. Multiple veils of ruddy dust rose high, so high in the air that we could stare without blinking at the perfectly one-dimensional white plate that passed for the sun.
In that camera-sharp place where the only electricity was in such thunderous lightning, there were no sounds in the afternoon save the hum of the heat. It was so intense, so lurking, so aged, that we the intruders felt also quiet, intense and strangely tiptoe, as if in peril. It bounced like coiled springs off the burning red rocks and melted the tar on our paper roof. It came inside to sit on my eyes. Breathing was important, an event.
We can certainly assume that it was a long way from the bustling art world, the galleries, museums, and mansions of Manhattan!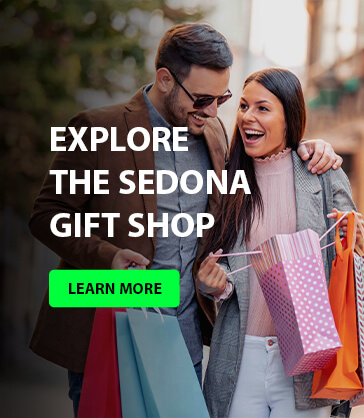 Albeit the three rooms have been expanded and remodeled beyond recognition by subsequent owners, the house still stands off Brewer Road with the same view that can be seen in the photographs of the time.
After living in France and Provence and after Ernst's death in 1976, Tanning returned to Sedona briefly for an exhibit of her work and noted the change in the town, which was so small when she and Ernst lived here that when Dylan Thomas, the famous Welsh poet who was an epic drinker, came for a visit, they had to go to Cottonwood to the Bridgeport Tavern to drink. About the formation now known as Chimney Rock, she writes,
Just west of Sedona was Cleopatra's Nipple. It isn't known, of course, who named it so, or why anyone as removed as Cleopatra should occupy the imagination of an American cowboy – for it must have been a cowboy – but it was often thus pointed out to us. But years later, the name had been cleaned up by less giddy imaginations; it was now known as Chimney Rock and had never, in anyone's memory, been called anything else.
Her poems do not deal directly with Sedona but with her life abroad and in Manhattan. However, they are full of the same wit, whimsey, intelligence, verve, and openness to life, as is in evidence in this very short one, "Free Ride," about a satellite, something that to her may have replaced the stars of Sedona:
Did you see the satellite,
our planetary spy,
cast its vibes around the sphere?
And, crazed as a lost idea
wild to find its mind,
in no time flat it had me out there
reeling in a surreal sky.
My hat turned up in China.
As a child Tanning told her parents that she was going to live in Paris, which must have seemed as far away as a dream to a little girl in Galesburg, Illinois in the early years of the twentieth century. However, Tanning did just that: she lived there and, moreover, portrayed many worlds, both inner and outer, on her canvases and in her books. The first chapter in Between Lives is titled "Headlong," and Tanning is indeed a role model for plunging headlong into life!