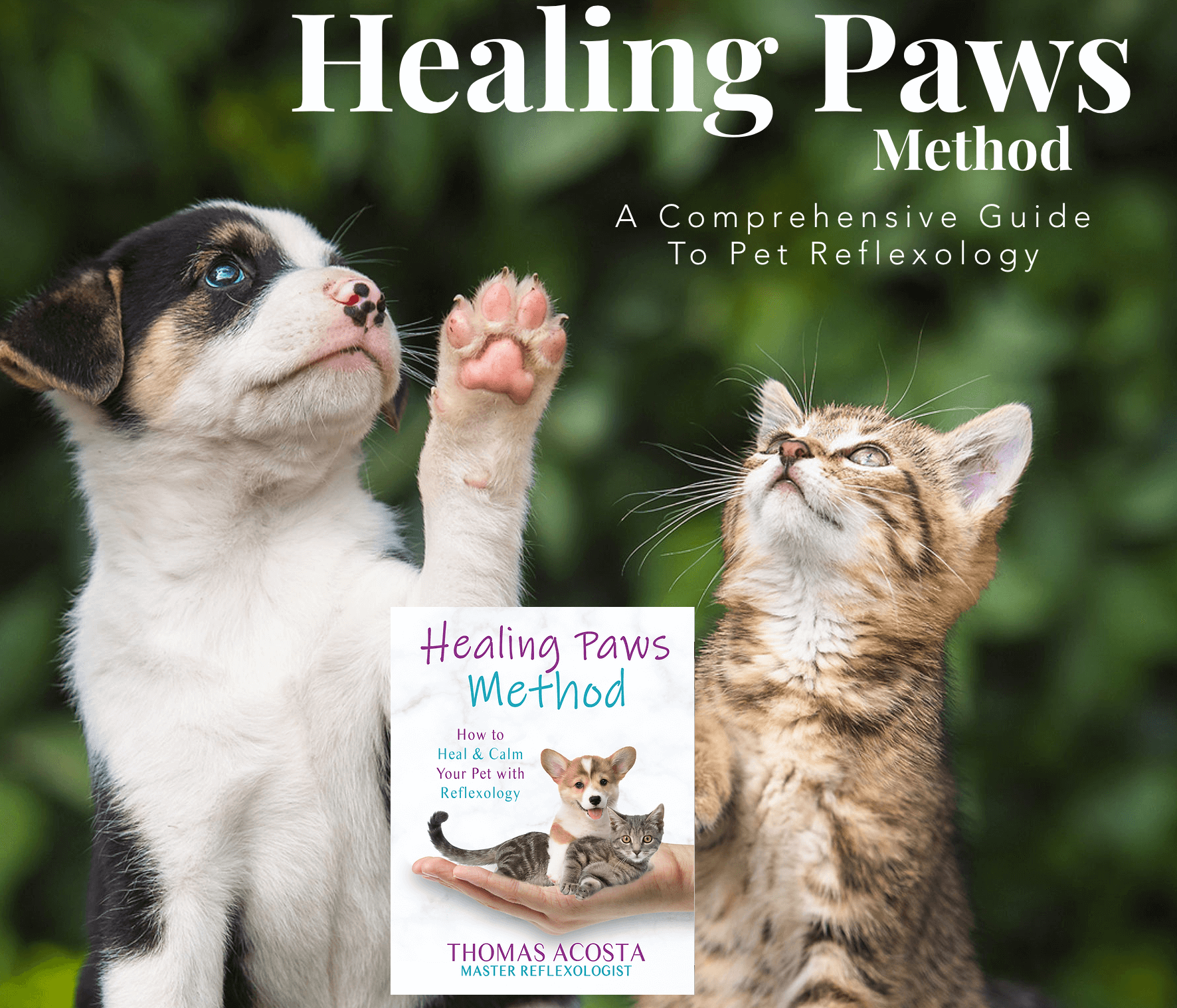 Sedona Lit is a series by Dr. Elizabeth Oakes, an award winning poet and former Shakespeare professor. A Sedonian of three years, she will highlight the literature, written or performed, of Sedona, past and present.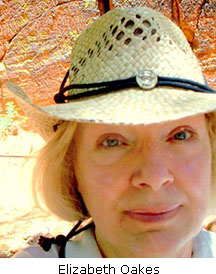 By Elizabeth Oakes
(February 22, 2016)
How many paintings and photographs do you think there are of Sedona's red rocks? I'd say thousands, just of, say, Cathedral Rock, and no two alike! The visual artists portray Sedona in its changes much as Monet painted haystacks in different lights. Likewise, although less visible and with fewer venues, Sedona's writers, among them these three – Christine Marie Cole, Janice Carter, and Sharron Vincent Porter – paint with words.
Christine Marie Cole is a lover of nature, a hiking enthusiast, and an advocate for personal growth and conscious awareness. She is a Personal Transformation Life Coach and Spiritual Counselor with a mission, she says, to "assist others in moving forward on their spiritual path with consciousness, grace, and ease." Four years ago she edited The Heart and Soul of Sedona: A Collection of Poetry, Prose, and Art, in which many more poems about Sedona can be found. Her "Raising the Bar" from that volume is a supernova of rhyme:
All of this creation
is for your participation
so show your deepest appreciation
and raise the bar beyond limitation
to live a life of divine inspiration
moving freely through this manifestation
offering joy as your communication
seeing beauty in all situations
believing all is divination
and the infinite continuation
of consciousness realization
to become the illumination
of the divine being that you truly are.
Janice Carter, who moved to Sedona in 2000, has had many incarnations: midwife, counselor, book store manager, and art gallery manager. Now she is owner and manager of the Peach Tree Retreat, hosting visitors to Sedona from all over the world. She paints watercolors, performs in dance events, and teaches the Enneagram. Each Monday she writes as a member of the Wild Women Writers of the West, a group based on Natalie Goldberg's groundbreaking ideas. After writing for much of her life, she is, she says, just now "beginning to think of herself as a writer." Her "One Spirit of Sedona," which combines her love of dance and poetry, is below:
Yavapai Apache and Peruvian healers
The Sacred Dance Guild
dances to Three Trees'
African drum beat
Korean drummers join
Lite Vibe kids
enjoying hip hop
feeling the primal drum beat
feeling the rhythm of the land
moving our bodies to the rhythm
Mother Earth moves with us
The Vibration of Sedona
is felt
through the crystal covered red rock
reflecting the rays of the sun.
The rain filled clouds
cast shadows and reflections
of ancient ones who came before us
The millenniums of change
have brought floods, earthquakes
and a meteor crater
Rocks spewed out from inside the earth
and spires started to climb
towards the heavens
We cannot remain on this sacred land
without feeling our true nature
calling us home
We have a plentiful harvest
and have reached the fruit
of our labors
Here and now
as the Autumnal Equinox beckons us
to rejoice at the full moon
and know that we are all
ONE SPIRIT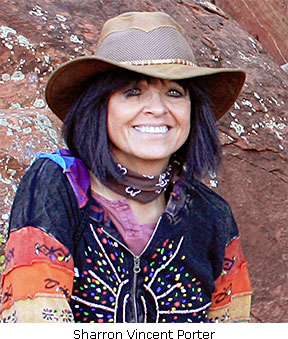 Sharron Vincent Porter has been a practicing, exhibiting, award-winning artist and art educator for most of her adult life. Her latest works she calls "Landstracts." In them she builds up a textured bas relief and adds actual rocks and twigs. Although mainly known as a painter, she considers writing a part of her creativity as well: "When I draw, paint, or write about nature, I feel as if I am part of the Creation itself, celebrating the process of becoming something new, or seeing something in a new way. My art helps me understand the magical relationship between the way things look and what they mean," as in "Hearts of Sedona":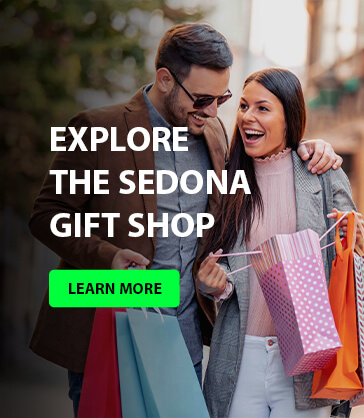 Gentle little messages float like whispers on the breezes
in Sedona;
Architectural gardens grow over eons, carving tokens of love
into the landscape here.
In this magic place of sparkling vibrations, red earth, fire and thunder,
we may choose to pause
And read the topographical Valentines we discover
etched deeply into her rugged earthen breast.
I doubt there is any other town in which people are as moved to explore, develop, define, and refine a relationship with a place through the arts as here. Nearly all of us chose Sedona, not being born here except in a metaphysical sense. Do we create Sedona through the arts, or does Sedona create us?
Christine's, Janice's, and Sharron's visionary poems speak of the interaction between person and place, which is that of seer and seen. As gently and as surely and as differently as the light passes over the landscape each day, Sedonians, poets among them, create art of all forms.
This first column is only an appetizer for the plenitude of writings about Sedona by those who live here. There will be additional installments. Stay tuned!