Sedona Lit is a series by Dr. Elizabeth Oakes, an award winning poet and former Shakespeare professor. A Sedonian of three years, she will highlight the literature, written or performed, of Sedona, past and present.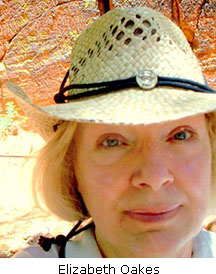 By Elizabeth Oakes
(August 8, 2016)
Georgia O'Keeffe is associated with New Mexico, specifically with Ghost Ranch and her house at Abiquiu, but I had to wonder if she ever saw red rock country. Actually, she may have! In 1929 and 1937 she toured various sites in Arizona and documented the experience in her letters and several paintings.
O'Keeffe is not known as a writer, but she was a prolific one. She and Alfred Stieglitz, her husband, wrote to each other almost every day when apart; just the first volume of their letters (from 1915 to 1933) is 739 pages long. She also wrote extensively to her multitude of friends. Furthermore, she was articulate about her life, her philosophy (she is one of the most quoted of artists), and her work because, she said, "I am often amazed at the spoken and written word telling me what I have painted."
In August of 1929, while staying with Mabel Dodge Luhan, the maven of the Taos art community, she was invited by several friends to a trip to the Grand Canyon in a Rolls Royce, her favorite car, and a Packard. "Well, I just couldn't miss it," she wrote Stieglitz. It was "such a way to go – and they all know the country." They all became "terribly burned" from driving with the top down because "you can see so much better"!
One sight she describes sounds like our unique red rock country! She wrote: "We drove till about five – all day – from eight in the morning through desert along first soft gray sand hills – then red and pink cliffs – sharp and enormous – It is a cruel cruel country – terrible roads – and along with what one saw which finally got to be so much that I just felt I couldn't [take] anymore."
She describes the August heat as "so hot that your eyes feel as tho they are frying – and you don't mind – you like it till it gets you on the top of the head which it finally does – But by that time the side metal on the car is so hot you can't put your hand on it."
After the heat, the bad roads, and the "red and pink cliffs," they "climbed a frightful hill and began going into trees – For over two hours we went through pines – little scrubby ones at first growing taller and taller as we went on – the roads fine – and the air cooler and cooler till we were all done up in coats – and we got here just for sunset."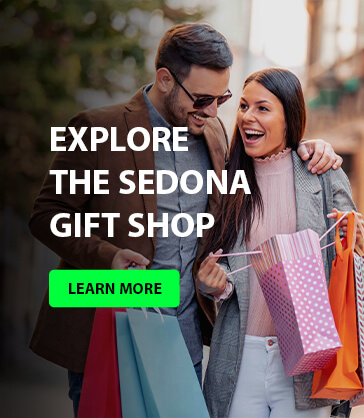 This describes the experience one has even today traveling from the red rocks of Sedona up the switchbacks to the pine forest leading to the higher elevation and cooler temperature of Flagstaff. In fact, a route can be plotted on a 1929 road map from Santa Fe westward to Arizona's Painted Desert (which she described as "dark and naked and simple – and beautiful"), southwest to Camp Verde, then north to Sedona, then up Oak Creek Canyon to Flagstaff to the South Rim, their destination.
The Grand Canyon was "just what one would expect it to be – Big and grand and colorful till one can't take it in," she wrote to her husband, and noted that she felt "quite limp from looking over edges." Its vastness fascinated her; "there seems no end to it," she wrote. Interestingly, she also loved the non-visual, especially "the sound of the water way down in the canyon where you can't see it." In fact, O'Keeffe raved about her visit so much that Stieglitz called her "My Grand Canyon Madness."
Arizona called her again in 1937, when she and Ansel Adams and several others set out for a two-week trip to the Grand Canyon, Canyon de Chelly, and Monument Valley. The famous photographer captured her at Canyon de Chelly with Orville Cox, who was a wrangler at Ghost Ranch, and by herself on an overlook. Adams wrote that the photographs brought back to him "the brilliant afternoon light and the gentle wind rising from the canyon below. I remember that we watched a group of Navajos riding their horses westward along the wash edge, and we could occasionally hear their singing and the echoes from the opposite cliffs. The cedar and pinyon forests along the plateau rim were gnarled and stunted and fragrant from the sun."
It was not until 1965 that O'Keeffe painted the Grand Canyon. The works cannot be linked to any specific place, unlike many of her New Mexico paintings. Perhaps, however, to O'Keeffe, what we see as a distilled image is the way she just saw: some of her paintings, she said, "looked so real to me. But they have passed into the world as abstractions – no one seeing what they are." I have to wonder if, in her vast oeuvre, there are not some referencing our red rock country even if they are not recognized as so.
Why, one might ask, if she was so struck by her two trips did she not immediately paint a long series. She may have given the answer herself in speaking of her flower paintings: "Nobody sees a flower – really – it is so small it takes time – we haven't time – and to see takes time, like to have a friend takes time." She was in Arizona less than a month overall, perhaps too short a time.
Although O'Keeffe averred that "the meaning of a word – to me – is not as exact as the meaning of a color," she was quite adept with them. It struck me that her use of the dash instead of punctuation recalls Emily Dickinson. It gives her writing, too, the feel of the words just tumbling out, unbound by rules and firmly in touch with their own rhythms.
Note: Also see O'Keeffe's "Canyon No. 2," 1965