Sedona Lit is a series by Dr. Elizabeth Oakes, an award winning poet and former Shakespeare professor. A Sedonian of three years, she will highlight the literature, written or performed, of Sedona, past and present.
By Elizabeth Oakes
(May 16, 2016)
We have all heard stories of those who imagined or dreamed of red rocks, came here or googled, and found Sedona an exact match. Perhaps you are one of them. Perhaps Max Ernst was too. In fact, did he paint Coffeepot Rock at least a year before he even was in Arizona?
In "The Robing of the Bride," painted in 1940, there is a formation that looks like Coffeepot Rock. Look at the small painting within the painting in the left of the canvas. Ernst did not come to Arizona until 1941, when he was amazed to see what he had painted from imagination before his eyes. However, this image is different. Coffeepot Rock is not a generic southwestern landscape; it is a specific Sedona landmark. How did it come to be in a painting Ernst did a year before setting foot in Arizona, much less Sedona?
The formation also looks like a bird, which may be part of the story. In 1929, Ernst fashioned himself as Loplop, Superior of the Birds, and they remained important in his private symbology. Also, the full painting has a bird-like figure to the right of the bride, who herself appears avian, with eyes peering through what looks like feathers.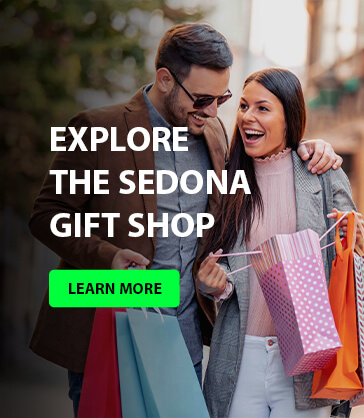 He followed "The Robing of the Bride," presumably after he had seen Arizona and maybe Sedona, with at least three similar ones in 1941: "Wizard Woman"( about which I wrote in a previous column,"Max Ernst as Poet and Artist"), "Marlene," and "Napoleon in the Wilderness." In all four, a semi-nude female is clad in something red that looks like feathers, rocks, or fire. The series moved from a surreal beginning to the real (though it is debatable which is more "real," at least to the artist) environment in which we are privileged to live today.
Did Ernst see Coffeepot Rock in his mind's eye? Was he prescient? Or is there a logical explanation, such as some slippage on the dating, which does happen. For instance, "The Robing of the Bride" is listed also as done in 1939, which, although this instance makes it even earlier, shows that dating is not always firm. Or even just coincidence, given his interest in birds?
Ernst himself disavowed anything paranormal, and perhaps we should take his word. However, the Ernst critic Gisela Fischer says that, nevertheless, the "pictures – hallucinations and pictorialized visions – proved in the end to be prophesied premonitions."
Such is the mystery of the creative mind – and of art – and of Sedona –
(The quotation from Fischer is from the book Max Ernst Retrospective, published in 2013 – full info on Amazon.)