Sedona AZ (May 30, 2019) – Susan Amon, owner of Sedona E-Bike Tours, helps residents and visitors understand Sedona from a new angle. Her rides foster "place-based tourism" that deepens knowledge and appreciation of local geography, ecosystems, and history – all from the sustainable comfort of an electric bicycle. "My very business is about mitigating impacts of cars and the pollution they create." Amon charges her e-bikes with green power through APS's Green Choice program.
On tour days, Amon meets customers at The Collective in the Village of Oak Creek, and after an introduction to the geology and history of the area, guides riders to a range of trailheads with tips about the best times to find parking, reducing congestion at trailheads during peak times.
Amon promotes local businesses. After the ride, Amon refers clients to restaurants at The Collective so they can walk to their meal. These referrals also show appreciation for using the site as a meeting spot. To further her impact, Amon independently picks up roadside trash several times per year. Her initiative complements the work of Keep Sedona Beautiful's Litter Lifters.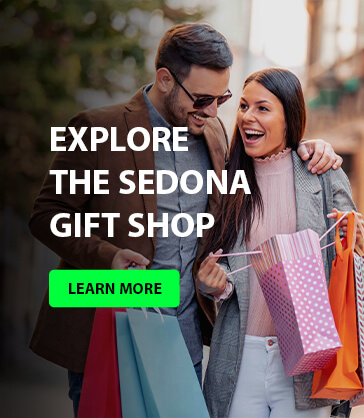 Many customers who take Amon's tours are considering an e-bike purchase and using the tour as test drive. "I spend a lot of time talking to customers about how an e-bike is like having a second car. Running errands, riding to the gym or trailhead means easy parking and gets them out of their car. I also talk to parents about getting their driving-age kids an e-bike rather than a car as there is no insurance and they're fun." Kids learn the rules of the road, and when they do drive a car, they'll promote bike safety.