Sedona AZ (November 11, 2013) – The Sedona Community Foundation held the 2013 Spirit of Sedona awards dinner on Sunday, November 10, at Enchantment Resort.  The Spirit of Sedona is an annual event that honors exceptional displays of local philanthropy and volunteerism and recognizes the Foundation's nonprofit grant recipients for the year.  The four 2013 Spirit of Sedona honorees received awards designed by a local artist and each of them will choose a charity that will receive a $1,000 donation.  Grants totaling $207,000 were presented to 34 local nonprofit organizations.
Barbara Breitbart, SCF advisory board member and organizer of this year's Spirit of Sedona celebration, welcomed the celebrants and their guests. Mayor Rob Adams presented to Paul Chevalier, SCF advisory board chairman, a proclamation officially naming November 10 as Spirit of Sedona Day in the city. Chevalier extended his welcome to the attendees and reminded them of the vital importance of coordination between business, government and nonprofits.
This year's Spirit of Sedona award winners are:
Philanthropist of the Year: John Loveland
This award is given to an individual who consistently commits time and financial assistance to worthy community causes and organizations.  In 1997, John personally founded and initially funded the New Earth Foundation, with the purpose of encouraging forward-looking efforts in science, education, environmental sustainability, and other areas leading toward a more enlightened and loving world.  Over the past 15 years, the Foundation has supported such projects as:  Employing solar pumps for clean water in rural areas;  using nontoxic biodiesel fuels; creating fiber from agricultural waste;  educating  children in Nepal about hygiene and garden-growing; promoting eco-friendly architecture;  developing the organization Youth for Environmental Sanity (or YES!); and teaching non-violent communication techniques. Through the Foundation, John has provided start-up funding for numerous small nonprofits.  He deeply believes in resolution of differences through negotiation, honesty and goodwill and from his Sedona-based foundation, he has put his heart as well as his wallet into creating a more peaceful, just, and sustainable world.
Nonprofit Organization of the Year: Verde Valley Sanctuary
This award is presented to organizations that have demonstrated excellent service to individual welfare, quality of life and community benefits. Under the visionary leadership of its executive director, Jane Hausner, the Verde Valley Sanctuary has proven to be a vital, literally life-saving and life-changing resource for some of the most vulnerable individuals in our communities. Now entering its third decade, the organization serves adults and their children who have suffered domestic abuse.  Partnering with the Sedona Police Department, the Sanctuary offers a safe haven for victims of violence. The Sanctuary's transitional housing program, begun 13 years ago, helps women and their children after they exit the shelter.  The Sedona Community Foundation has supported the Sanctuary for many years, and is pleased now to recognize more formally its vital and needed services.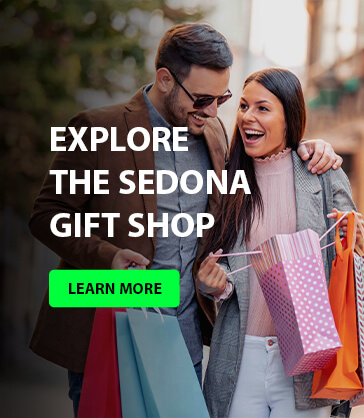 Business Benefactor of the Year: Entertainment by Tom and Shondra
This award recognizes businesses offering significant support to local community causes and organizations. Tom and Shondra Jepperson have given back to Sedona as a business called Entertainment by Tom and Shondra and as a supremely talented musical and entertainment duo for years.  They have contributed their talent, energy, enthusiasm and sheer magnetism to a list of nonprofits and causes that grows longer each year and includes: Sedona Sunrise Center for Adults, Canyon Moon Theater, Center for Positive Living, Keep Sedona Beautiful, and the Chamber of Commerce. Four years ago they were instrumental in establishing the Sedona Sunrise Superstar vocal talent competition, and now its reunions as well.  They regularly donate 5% of ticket sales to Sedona nonprofits. Additionally, Shondra's songs for the Relay for Life Race and KSB have added to the appeal and visibility of these organizations and their activities. Blessed with many talents and gifts themselves, the Jeppersons have chosen to give to their home community, in turn. And they keep on giving. 
Volunteer of the Year:  Katie Hamilton
This award recognizes outstanding contributions of time, energy, talent or financial support for the benefit of nonprofits in the greater Sedona community.  Over the past decade Katie Hamilton has worked with more than a dozen organizations, giving time, effort, support, and energy to an astounding variety of charitable causes, including: Verde Valley Sanctuary, the Food and Clothing Banks, Sedona Recycles, Sedona Winds, the Public Library, and Sedona Women and the Helen Wolfe Scholarship. She has made gourd art and scarves for fund-raisers for the Sedona Library and Heritage Museum, done chores for handicapped women, and organized clothing drives. She and her husband Cliff have also made significant financial contributions to a wide variety of organizations and causes. As one nominator remarked, Katie Hamilton has left a lasting legacy of "making us all better people."
During the Spirit of Sedona celebration, the Sedona Community Foundation, in collaboration with the Verde Valley Medical Center Foundation, presented grants to 34 nonprofit organizations for upcoming projects across a wide range of community needs that include medical and health, senior living needs, music and science education and performance, gardens and food, animal welfare, and much more. 
The Sedona Community Foundation secures, manages and allocates donors' gifts for charitable purposes in the Sedona area, working to build a permanent philanthropic endowment for the enduring benefit of the community. The foundation's local advisory board is committed to meeting the charitable needs of the community and helping donors reach their philanthropic goals. It is an affiliate of the Arizona Community Foundation, which assists in the management of capital gifts, both living and testamentary. For more information about the Sedona Community Foundation, contact Foundation Manager Leslie Hunt at 928-282-2042 or lhunt@azfoundation.org.