By Nancy Lattanzi, Arts and Culture Coordinator
Sedona AZ (November 15, 2018) – Art inspires, awakens our souls and is an integral part of bringing community together. We are fortunate to live in Sedona, where not only is our magnificent landscape a work of art, but where a multitude of artists have chosen to reside. As Arts and Culture Coordinator, I am grateful to support many local visionary talents and would like to honor their work.
The City Hall Art Rotation program showcases a fresh collection of artists work every four months. For each rotation the public is invited to meet the artists at their reception, which includes live music. For the three receptions this year, we were fortunate to hear the enchanting music of Oman Ken, playing both flute and harp, Peter Sterling's angelic new age and contemporary harp music and the masterly skilled Erroll Foldes, playing the classics on amplified jazz guitar.
On display January through April were the intriguing paintings created by Allison Nichols. Her surreal and romantic themed images capture the intricacies of partnership. The radiant and joyful mixed media paintings by Michael Colpitts were also exhibited at this time. May through August displayed oil landscapes, portraits and still life paintings created by Harriet McInnis, alongside Meg Munro's watercolors, which capture detailed images of flowers and cultural depictions, inspired by her years living in Mexico.
Currently we are presenting 66 images photographed by 23 photographers from the Sedona Camera Club. Exhibition images feature a variety of subjects including abstract compositions, wildlife, architecture, street photography, nightscapes and portraits of people, pets and magnificent landscapes of Sedona.
The first council meeting of the month is when an artist is invited to perform for the Moment of Art. Celtic Indian Arvel Bird kicked off the new year by performing his song about new beginnings playing play flute, violin and spoken word. Oman Ken performed Love is the Way on guitar in February. In March, Women's History Month, we were honored to have Adele Seronde, seasoned artist, author, poet, social activist and visionary. Seronde spoke about the importance of art in community and the world.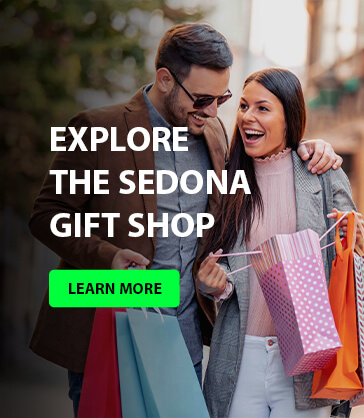 Being cognizant of representing Arts and Culture, in April we were privileged to have Lisa Schnebly, great-granddaughter of our namesake Sedona Schnebly. She shared stories and visuals from her new book, The Journal of Sedona Schnebly, which captures the history and culture of the pioneer days when her family settled in this land. We celebrated the Sedona Heritage Museum 20th anniversary by watching a short film about Sedona's history, presented by board member Al Comello. We saw a film about Sedona's movie history in June created by film historian Graham Hill. In July filmmaker Bryan Reinhart showed his trailer on The Valley, a film about the locals of Telluride preserving their land from being developed. August rocked the room with the talented Suzi Schomaker channeling Janis Joplin. The mood shifted when September's Moment of Art fell on 9/11. I chose to present solemn images I captured and healing stories I experienced from living in New York City at that time.
To quote Albert Einstein, "It is the supreme art of the teacher to awake joy in creative expression and knowledge." I am grateful the city supports our Artist in the Classroom program, comprising 26 accomplished artists with 10 of them new. The annual orientation was filled with passion as everyone shared personal experiences on how they inspire creative joy in students, which is truly rewarding work. The program has always augmented curriculum with creative projects, but I've elevated these experiences by weaving in socially conscious themes. West Sedona Elementary students created a Peace and Unity mural with muralist Joan Bourque. Red Rock High students wrote empathetic editorials regarding the Parkland High School shootings with journalist Cindy Cole. Moving immigration stories were shared and presented in English as a Second Lanuage class with writer Diane Phelps and photographer Aisha Ayazi. Each student created a collage of photographs and writings.
Requests for new programs have been coming in. Students can look forward to classes in: performing Shakespeare, music, writing, poetry, cultural dance, Egyptian paintings, creating photo galleries, weaving, fabric painting, geometric art, studying light and constructing kaleidoscopes and map making.
To quote Pablo Picasso, "Art washes away from the soul the dust of everyday life." Whether an artist or art enthusiast, may we all be inspired by the abundance of creativity in our community.