By Ann Jarmusch
Member of the Sedona Historic Preservation Commission
Sedona AZ (May 4, 2013) – Having wrapped up a year-long tour to popular and critical acclaim, the Sedona Centennial Quilt will be warmly welcomed to its permanent home, the Sedona Heritage Museum, on May 20 at 1 p.m., during National Preservation Month.
Old fans, new fans and potential fans of all ages are invited to the museum at Jordan Historical Park, 735 Jordan Road, for a brief ceremony, when Brynn Unger, chairman of the city of Sedona's Historic Preservation Commission, will present this unique work of art to the Sedona Historical Society. Forever after, the society's museum will treat the quilt like the family jewel it is. Immediate plans call for it to be showcased in an exhibit drawn from the pioneering Jordan family's wardrobe.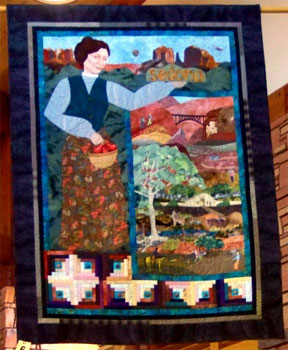 The more than two dozen gifted and generous quilters who created this large fabric portrait of Sedona Schnebly (holding a basket of apples) and this region's gloriously varied landscape and landmarks are invited to take a bow during the presentation ceremony. They contributed their award-winning talent in crafting this quilt as a special community gift to mark Arizona's Centennial. Helen Snyder proposed this legacy project to the Historic Preservation Commission in 2010. City staff then approached the Red Rock Quilting Guild and Patsy Krause, owner of the Quilters' Store in Sedona, to gauge interest.
The rest, as we now see in splendid color and form, is history. Karin Scanlon, the primary artistic designer, started sketching ideas on paper in early 2011. Lorrie Petersen, Patsy Kittredge, and Eunice Hill contributed to the design and were members of the construction team. Once consensus was reached on the design, guild members held a series of quilting bees in their homes during the first half of 2011.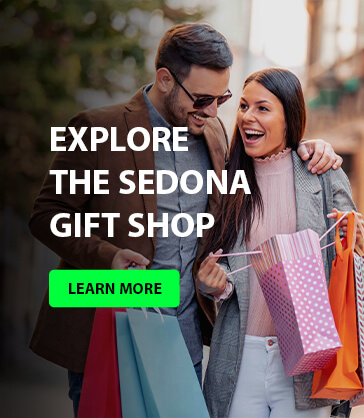 Like generations of women before them, the quilters eagerly contributed hundreds of hours to this project, finishing the quilt months ahead of schedule. Some of the women hand-dyed fabric with Sedona soil and other traditional dyes; others made countless, impossibly tiny stitches to piece the quilt together. Linda Ward prepared the fabric javalina for more local flavor.
Becky Dreher painted Sedona Schnebly's face and Leigh Shafer stitched the word "Sedona."
The fabric used for Sedona's blouse and skirt came from a bag of remnants that belonged to the Jordan family, who gave the bundle — along with many family garments — to the museum. The Quilters Store donated backing material and batting, while the city of Sedona provided funds for additional fabric.
The quilt is making its second appearance at the museum, which displayed it last spring for the Arizona Centennial. In addition to local showings, the quilt also made a splash at the 2012 Arizona State Quilters Guild Show in Phoenix.