Sedona AZ (February 18, 2015) – In November of 2014, the Sedona Art Museum received its nonprofit 501(c)(3) status, added three new members to the Board of Trustees, and formed a Marketing Committee. At that point, some changes then seemed inevitable.
Kellie Ann Garsed-Donnelly, one of the new trustees, took on the role of Marketing Chair almost immediately. She is a creative professional with an Arts Administration background and more than 15 years in marketing, management and educational technology experience in a variety of corporate, academic and non-profit environments. The marketing committee felt it was the right time to refresh the identity of the Sedona Art Museum with a logo that would provide a sophisticated identity well into the future.
That would be the first step. And that's where Scott Garsed-Donnelly, Kellie Ann's husband, joined the effort by providing his expertise as a veteran creative director and design leader for Fortune 500 companies.
"In building a new logo, we wanted modern shapes that echo the shapes surrounding us here in Sedona – the plateaus of the Mogollon Rim, Sinaguan cliff dwellings and southwestern architecture," said Scott. "The addition of the 'glow' element represents the sun of Arizona, a mandala…that places the museum at its core."
Once the logo was approved and incorporated into the design of the collateral materials, the focus shifted to the website. "What kind of feeling do we want to evoke?" asked Kellie Ann. And from there, she and Scott began to gather the necessary informa- tion, and brainstorm creative approaches while keeping the site professional, intuitive, simple to navigate, and representative of the regional area.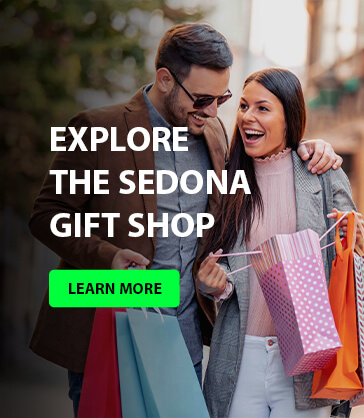 The new site provides a fresh new look with easy access to event details, press releases, board information, and updates on recent developments.
"This is only the beginning," says Kellie Ann. "Phase II will include historical perspectives on artists in the Verde Valley, features that highlight an Artist of the Month, and a virtual museum."
We invite you to visit www.sedonaartmuseum.org to learn more about our dream for a world class museum in Sedona.