Sedona AZ (February 2, 2012) – The world-famous "Guitar Alchemyst", Scott Huckabay, returns to Sedona from his remote wilderness home near Mt. Shasta to deliver an electrifying performance on Sunday, February 12th at 8:00 p.m. at the historic Relics Restaurant at Rainbow's End.
A living guitar legend, Scott has been described as musical legends Michael Hedges, Ravi Shankar, Jimmy Page, David Gilmour and Jimi Hendrix all rolled into one. Each live performance with Scott is like a unique musical initiation to a new dimension. With incense burning between strings of his guitar, the passionate ritual of his concerts begin as he starts to move, wearing bells on his right ankle. The stage echoes, rolling like thunder under his bare feet, pounding a mesmerizing heartbeat. Dancing in a circle, shaking his dolphin guitar like a shaman shaking his magic medicine rattle, he lifts the guitar to his lips and howls the ancient cries from the deepest seas. Using a violin bow, an E-bow, percussion stylings and other effects, he creates a mystical musical landscape that is so multi-textured, vast and breathtaking, it is unimaginable that this music could be created by just one man and his guitar. And yet he creates this music before the entranced eyes of his audience, as if surrounded by celestial spirits or Merlin adding their joyful music to his own. His audience is overcome by the sensation to dance and vocalize their own vibration with the first pluck of his guitar or violin bow moved over a string.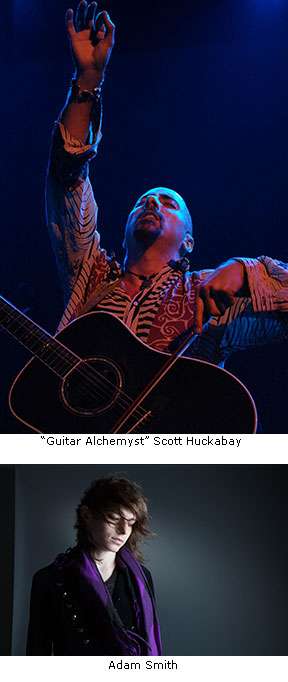 Scott Huckabay is a very rhythmic player, developing complex and energetic tribal progressions on his alternately tuned guitar, resonant with the heart chakra at 528Hz. He has become famous for transforming sound into gold through electrifying inter-dimensional sound exploration. His vibrational love melodies shine through invisible sound frequencies to create a sensory landscape of living bliss. Come and be utterly transported and mesmerized by the sound of his pure presence!
Rainstick effects, percussion and breathtaking original and exciting compositions combined with a dynamic stage presence led to Scott Huckabay receiving Bam Magazine's "Guitarist of the Year" award in L.A.
Scott has performed with such artists as Chicago, Steve Morse, Joe Satriani, Crosby, Stills & Nash, Bonnie Raitt, Albert Lee, Buffy Saint-Marie, Shadowfax, Jackson Browne, John Trudell, Toni Childs, Sarah McLachlan, Pierre Bensusan, Ram Das, Hapa, Bob Weir, Randy Hanson, and performed at various festivals, theaters, stadiums, and coffee houses across the U.S. and the world!
The rising star, Adam Smith, of Phoenix, will be the opening act for the Heart Chakra Portal Activation Experience. Adam Smith is a singer/songwriter/producer from the mountains of Southeastern Kentucky. He was discovered while singing for change on the streets of Nashville and invited to Sedona to record his demo and first album with several professional musicians. Adam's voice and well-crafted songs stood out and caught immediate attention. With echoes of an era of peace and love, and a sound that is uniquely fresh and all his own, his music is a blend of Americana and Alt-country with Celtic and Bluegrass undertones.
His debut album "Another Way to Get to Heaven", with ten original songs, was released in the spring of 2010 and has been well received. His most recent single, "A Friend is a Stranger", is a song inspired by the work of Teen Lifeline, Arizona's peer-to-peer counseling hotline for troubled and suicidal teens, and includes two bonus tracks. All proceeds from the single go to benefit Teen Lifeline.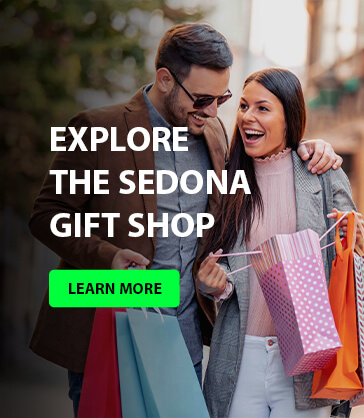 Scott will welcome his special guests, Jesse Kalu, "Flute Master of Sedona", Patrick Pape, "Digeridoo Master of Sedona" and Cara Marie to perform onstage during the event. The "Heart Chakra Portal Activation Experience with Scott Huckabay" is set on the 12th of February to provide a heart chakra opening just before Valentine's Day 2012!
There is a "Sliding Scale Entry" for tickets between $10. – $20. per person (cash only please) and the show is for adults 21 and older only. C.D.s by all of the musicians will be available for purchase at the show.
Relics Restaurant is located at 3235 West Highway 89A,Sedona, Arizona 86336. Please call Relics at 928.282.1593, if you would like to make a dinner reservation for the evening of February 12th.
For more information about Scott, please check out his website at www.scotthuckabay.com and for more information about Adam Smith, please visit www.adamsmithmusicart.com