Sedona AZ (February 28, 2014) – The Sedona Arts Center is hosting the largest and most diverse raku ceramics exhibition that has been held in the United States in over 15 years. "Raku Ceramics: Origins, Impact and Contemporary Expression" takes place March 7–17, 2014 in the Special Exhibition Gallery at the Sedona Arts Center.
Raku is a method of firing ceramic vessels that originated in Japan as part of the traditional Japanese tea ceremony. Western raku artists developed their own unique processes in the 1950s, whereby ceramics are removed from the kiln while red hot, treated to a smoke-and-flame reduction with combustible materials in an airtight chamber and then cooled quickly. This process allows nature to take over by simply leaving the pieces in the airtight container with no interruption.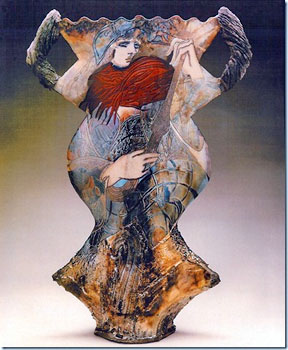 However, a fine-art raku artist interprets, manipulates and stretches the complexities of the natural elements during the most sensitive part of the process, embodying the cultural, intellectual, and the philosophical, as well as the hand of the maker. Whether by chance or deliberate, the process makes for dramatic results.
The curator for this extraordinary exhibition is Jim Romberg, an internationally known raku ceramist. The exhibition includes artworks of historical significance from private collections including the work of Paul Soldner (USA), Jean Biagini (France), Aline Favre (Switzerland), Tim Andrews (UK) and Fabienne Gioria (Switzerland). Artworks by contemporary raku artists from as far away as London and Israel will be included as well as contemporary raku artists from the continental United States, including such luminaries as Jun Kaneko, Patrick Crabb, Jim Romberg, Bennett Bean, Harvey Sadow, and Robert and Gail Piepenburg. Many works in the exhibition will be for sale.
On Wednesday, March 12, Jim Romberg will give a special gallery talk at 5:30 p.m. This talk is free and open to the public, though advance registration is strongly recommended. To reserve a spot, register online or by phone through the Sedona Arts Center.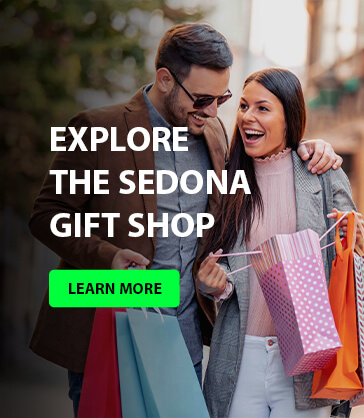 The Arts Center's ceramics department will also host two workshops in conjunction with the exhibit. Jim Romberg and Patrick Crabb will teach a weekend raku workshop on March 8 and 9. Participation in this "New Forms, New Surfaces" workshop requires some previous ceramic experience. Workshop participants will glaze and fire their own work over the space of two days.
On Sunday, March 16, from 1:00 to 5:00 p.m., Dennis Ott and Jim Romberg will host a "Raku Firing and Japanese Tea Ceremony"; no previous ceramic experience is required. Each participant will choose and glaze a tea bowl, participate in the firing and then use their bowl in the Tea Ceremony conducted by Masumi Oshima. The bowls are theirs to keep.
You may register for these events through the Sedona Arts Center online at www.sedonaartscenter.org, by phone at 928-282-3809, or in person at the Arts Center on the corner of SR 89A and Art Barn Road in Uptown Sedona.