Sedona AZ (February 24, 2016) – After 25 years, the Red Rock Arts Council is winding down and recently made a donation to the Sedona Art Museum in the amount of $10,000 and to the Sedona Arts Center for $4,400. "We are very proud to be in a position to contribute to akin organizations from funds we had in escrow," said Bill Levengood, president.
RRAC was established in 1990 as the umbrella organization for the Sedona Sculpture Walk — but its beginning was in 1988 when architect Mike Bower, a member of the Sedona Chamber, had a vision of our city vibrant with public art. Little did he know then that the seeds were sown for the most ambitious grass-roots undertaking of its kind.
Twenty sculptors got together and planned the first Sedona Sculpture Walk held at Los Abrigados Resort. It was called "Sculpture Under the Sycamores." It grew in size and quality the next year at Poco Diablo Resort, and was called "Sculpture Under the Willows." Then RRAC was formed with non-profit status and a Board of Directors, and a mission to provide "art in public places" in Sedona.
Under the guidance of several outstanding leaders, including Tom Bollinger, John Soderberg, Susan Kliewer, Ron Bacon and Harriet McInnis, SSW grew to 100 participating local and national artists and showcased their art for five years at Los Abrigados' creekside venue.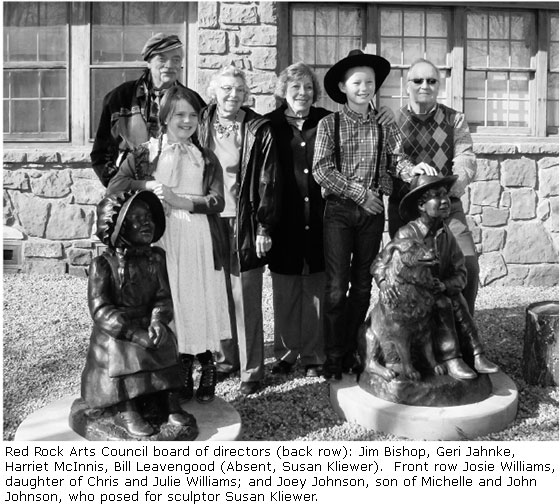 In 1992, a competition was sponsored by RRAC for artists to submit their "maquette" entries for a monumental version representing our city's namesake. Susan Kliewer won both the juried and popular vote. After two years of fundraising, Sedona Schnebly was ready to be dedicated to the City and its citizens and installed at the Sedona Public Library.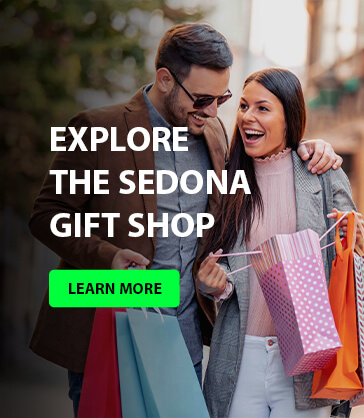 In 1995 RRAC approached the Sedona Arts Center about co-chairing the Sedona Sculpture Walk, which it did for two years until RRAC turned it over to them completely.
During the ensuing years, RRAC continued to generate funds through the sale of maquettes and accrued interest in its bank account. In 2011, treasurer Geri Jahnke notified the board that there was enough money to sponsor another project. It just so happened that the Sedona Heritage Museum was looking for something special to adorn their lawn area. It took more than a year to get all the parties, including the City Council, Parks & Rec and the Preservation Committee, to approve "The Storytellin' Cowboy." The project grew from there to include sculptures of two young children, "Josie" and "Joey", seated on tree stumps listening to the cowboy's tales of old. RRAC was fortunate to have received donations and grants to assist with the final two pieces.
Our mission is complete.
Note: Maquettes of Josie and Joey, and the Storytellin' Cowboy can be seen at the Sedona Arts Center and the Sedona Public Library. The price for the Cowboy is $1,900. Josie sells for $1,200 and Joey is $1,500. If you are interested in purchasing two or three maquettes, the bundle price offers a 10% discount. In fact, you can put the name of a loved one on the plaque of Josie or Joey for an additional $25.00 If you want to buy a little bit of history, please call Harriet McInnis at 282-0788 or Bill Levengood at 554-4509.