Verde Valley AZ (August 10, 2013) – Red Rose Inspiration For Animals, Inc. does so much more than just promoting Community-Organized Special Events for Animal Rescue, such as the popular Art and Craft Shows held at the Olde Sedona Bar and Grill in West Sedona.
When Rosey a rottie/pit-bull mix passed from osteosarcoma (bone cancer), Founder Tina Allegrezza felt the need to continue helping animals in Rosey's honor, and in 2009, Red Rose Inspiration for Animals was formed out of the love for Rosey.  
Tina says, "while Rosey was alive she used to help me work dogs to rehabilitate them and grow their confidence. After Rosey passed, I continued to work with fear based dogs, realizing that their chances of being adopted were much less than what many people consider 'perfect dogs' – the ones that play with Frisbees and balls, who are ready to jump in the car and go for a ride to the dog park."
Today, Red Rose has taken on a life of its own with the programs created as the need to make a difference has become so much greater.
Did you know, that the United States is facing a severe pet overpopulation crisis and spay/neuter is the only way to overcome it?  Six out of ten dogs are euthanized because there are not enough homes for them.  One dog, her puppies their offspring, can produce over 66,000 dogs in six years.   One Cat, her kittens and their offspring can produce half a million cats in a little more than seven years.  The number one cause of death in companion animals is euthanasia.  This is a direct consequence of irresponsible pet ownership resulting in overpopulation.    One out of twelve cats will never find a permanent home.   A cat can be in heat every other week unless mated.   It is not possible to adopt our way out of the overpopulation problem.  Red Rose is committed to making a difference in the lives of animals in our community extending beyond the Sedona border across the Verde Valley.
The General Spay and Neuter Fund for Felines and Canines was created to assist pet owners with partial or full funding at low cost clinics for spay and neuter of felines and canines.   Low cost clinics are necessary in the community as they provide a service affordable to pet owners on a fixed income.  However, there are times that even the low cost services (that can still amount up to $95) are not within pet owners' budgets.  Red Rose is dedicated to making a difference in the over pet population of animals in our community.
Volunteers and donors of Red Rose have co-founded the Pitty Party Fund, which is a free spay and neuter fund for pit bulls or pit bull mixes in Sedona and the Verde Valley.  Red Rose, working in collaboration with the Morning Starr Affordable Spay/Neuter Clinic, has received a very generous grant from the Sedona Community Foundation, along with individual donations and proceeds from their special events.  Red Rose has spayed and neutered over 130 Pit-bull/Pit Mixes within 18 months.  The Pitty Party Fund is breed-specific because they are the most common breed filling our shelters and rescues across the U.S. today.  The number of pit bulls euthanized yearly is staggering and Red Rose wants to help stop this needless slaughter. They are also used in illegal dog fighting.
Animals left to reproduce often times become abandoned, abused, malnourished, neglected and or injured.  Tina says, "It's a horrible existence for them.   It doesn't have to be this way as we can all make a difference by helping to promote and educate pet owners as to why spay and neuter is so important."
The newly founded Emergency Medical Fund For Felines and Canines a collaboration between Red Rose and Angie's House, a Cottonwood organization that provides affordable transitional  housing for people with pets who have fallen upon hard times.   Many of these people would rather live in their vehicles than give up their pets and often times when their pet requires medical attention, they cannot afford vet services.   Out of respect and dedication to these pet owners for their companion animals this program was created with Dr. Brady of Tumbleweed Animal Hospital in Cottonwood, Red Rose and Angie's House so that pets can immediately receive the medical attention they require.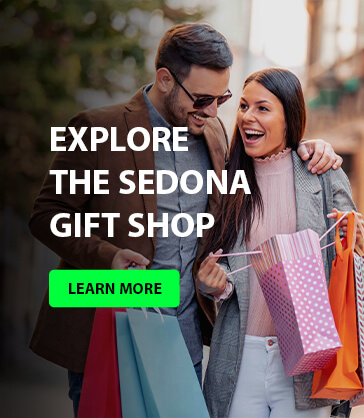 Red Rose has donation banks at locations in Sedona to help raise money for this particular fund.  Current locations are Biddles Nursery, Sedona Paint Center, Famous Pizza, IGA Webers, Oak Creek Brewery and Redrock Precision Motors with more to come.  Another way Red Rose has decided to raise money for this fund is through the Program In Honor Of A Beloved Pet.    If you or a loved one has recently lost a pet, consider making a donation to Red Rose in the pet's honor.  They will send out a sympathy card, along with a beautifully handcrafted stained glass paw print made by one of their talented artists, Karen of the Crimson Fairy.   This paw print can be displayed on a rear view mirror, a window or even outside on the pet's favorite tree. 
Through the Emergency Medical Fund, volunteers of Red Rose discovered the need for another service that provides Special Pet Food Assistance for Prescription Diets.   This program is unique because it provides assistance to low income households who need specific food for their companion animals.    This food is necessary due to illnesses such as digestive problems, urinary or dental etc.  These diets can be financially demanding for pet owners on a fixed income.  Funding for this program is desperately needed.
This summer, Angie's House and Red Rose collaborated once again when they discovered that occasionally pet owners find themselves homeless.  Getting Back On Your Paws Fund was created to give pet owners and their pets a place to stay together while working to find permanent housing.  This program will be ongoing, made possible by individual donations for sponsorships.
The newest program started in Camp Verde, one with an overwhelming need, is the TNR (Trap/Neuter/Return) for Feral Cats.  TNR is promoted by the ASPCA as a humane and effective alternative to euthanasia for managing and reducing feral cat populations.  The feral cats are brought to Dr. Holcomb, the new owner of Montezuma Veterinary Hospital in Camp Verde.  Dr. Holcomb has generously agreed to work with Red Rose to spay and neuter these feral cats and kittens along with vaccinations and medical assistance if required.  The kittens caught young enough are placed in pet homes.  The cats not eligible for pet placement are returned or relocated to other areas were as for instance they can become valuable rodent controlling Barn Cats.    This helps reduce the feral population by diminishing pregnancy and kitten births.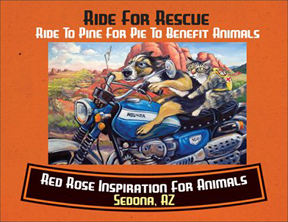 Red Rose kicks off the art show season September 7th and 8th along with the Ride For Rescue, a motorcycle ride from Sedona to Pine for pie and ice cream, with 100% of the proceeds going directly to Red Rose's Emergency Medial Fund and their General Spay and Neuter Fund.
If you are interested in being a sponsor of this event, or a volunteer for this organization, please contact Tina at 928-282-5278, email info@redroseinspiration.org  or visit www.redroseinspiration.org .     Thank you for your consideration!
In addition Red Rose is running public service announcements on Yavapai Broadcasting radio stations concerning the importance of spay/neuter and other topics.  If you, as an individual or business, would like to be a sponsor to help continue these important announcements, please contact Red Rose.
Red Rose Inspiration for Animals is an all-volunteer 501(c) 3 and 100% of any donations go directly into the campaigns and funds.  Please specify which program you would like to support when donating.