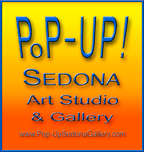 Sedona AZ (March 30, 2014) – On Friday, April 4, Pop Up Sedona Gallery will be highlighting two local artists, Linda Bellacicco and Pauline Georgakis, along with several other gallery artists. Many of the gallery artists will be on hand to meet and greet the public and talk about their work. The First Friday reception will include wine and refreshment and will take place from 5-8 PM.
Linda Bellacicco lifelong love for art began as a child while sitting alongside her grandfather at his art table. He was a shoe designer for a Paris company based in the Empire State Building in Manhattan.
Motivated by her grandfather, Bellacicco was inspired by her exposure to color, texture, composition, and form to study art at St. John's University in New York.  She went on to work in the advertising industry and won the coveted Clio award for packaging design.
Stained glass caught her attention and Bellacicco started a stained glass business in New York. Her kaleidoscopes were then born and became her focus. Working with brass, clay and other natural materials, Bellacicco integrates these materials with colorful stained glass pieces to create her decorative and popular kaleidoscopes.
Pauline Georgakis has a B.S. and M.S. and taught mathematics at the American Community Schools in Athens, Greece for over 10 years. Upon retirement, she fell in love with painting.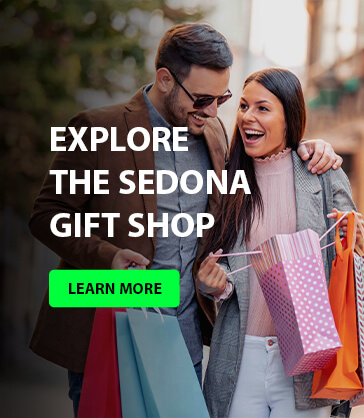 After moving to Sedona, Georgakis boosted her skills by studying under several renowned local masters, including Cody DeLong, Vince Fazio, Gretchen Lopez, and Susan Pitcairn. Her favorite subjects became the landscapes of both Greece and Arizona.
Working in oils, Georgakis explores the colors visible in the sky and earth of her delightful landscapes.   Four of her paintings were juried into the recent Sedona Arts Center member's show, and one won an award. 
Pop Up Gallery is a co-op of local artists representing a wide variety of visual art.  The venue is also committed to giving back to the community.  Thus, a portion of all sales helps to support Camp Soaring Eagle or other local charities.
Pop Up Sedona Gallery is located on the upper courtyard of Hillside Sedona Center, 671 State Route 179 (about ½ mile south of the "Y" in Sedona).  The venue's hours are 10:00 AM until 6:00 PM daily.  For more information, call (928) 282-8143 or visit www.pop-upsedonagallery.com .