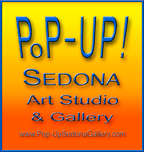 Sedona AZ (July 23, 2014) – During August, Hillside's Pop Up Sedona Gallery will be highlighting two accomplished local artists who work with similar subject matter but in contrasting styles and mediums.
Painter Rick Gandolfo and photographer Mary Ratner will both be honored at the venue's First Friday reception on August 1, 5-8 PM.  The public is cordially invited to attend, meet the artists, and hear about the creation of their latest works.
Rick Gandolfo is renowned for his depictions of local landscapes and landmarks.  His bold colors and adept brushwork contribute to a style that is instantly recognizable and highly expressive.
Gandolfo got his start as a painter when he won a scholarship to Chouinard Art Institute in Los Angeles (now The Art Institute) while still in high school. But after his introductory studies there, he put his artistic endeavors on hold while he got an MBA from Pepperdine University and embarked on a three decade career in the aerospace industry.
In 1980, Gandolfo revisited his artistic roots by taking art classes and joining an art group in Hermosa Beach, CA.  His passion was quickly rekindled, and he subsequently held as many as three separate jobs while furthering his art education. 
When he eventually retired and moved to Sedona, Gandolfo was finally able to focus on art full time.  His favorite artistic pursuit is plein air painting in Sedona's magnificent surroundings, but he also paints historic buildings, people, and animals.  In addition, he is now exploring the new (to him) medium of sculpting.
Mary Ratner is a self-taught photographer who has published in Southwest Art Magazine.  Originally from New York, she has traveled extensively, showing her photography in juried shows throughout California and Arizona and also visiting and photographing on several continents.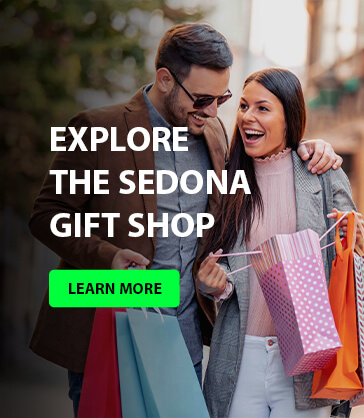 Ratner has augmented her artistic prowess through studies at the Rocky Mountain School, the Santa Fe Institute, and Lepp (now Light) Photography Studios, among others.  From Monument Valley to China, she has pursued light and form, photographing wild animals in their natural habitat along with landscapes, historic structures, and captivating local sights.
Ratner's distinctive work has appeared in government offices, private collections, commercial galleries, and public exhibitions across the nation.  She is noted for creating inspiring images that evoke the atmosphere and scale of the creatures and spaces to which she is drawn.
Pop Up Sedona Gallery is a co-op of local artists dedicated to exhibiting a wide variety of artistic styles and mediums.  The venue is also committed to giving back to the community.  Thus, a portion of all sales helps to support Camp Soaring Eagle or other local charities.
Pop Up is located on the upper courtyard of Hillside Sedona Center, 671 State Route 179 (about ½ mile south of the "Y" in Sedona).  The venue's summer hours are 11:00 AM until 5:00 PM daily.  For more information, call (928) 282-8143 or visit www.pop-upsedonagallery.com.