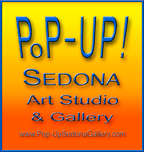 Sedona AZ (December 26, 2014) -The renown of metal sculptor Richard Barnwell has grown exponentially in recent years, in parallel with the increasing sophistication and charm of his signature pieces.
Barnwell, in addition to expanding his already sizable body of original works, has also been accepting a growing number of commissions and custom-designed projects.  Collectors of his pieces, as well as first-time buyers, have thus always had a fine selection of new and original works to choose from, including functional pieces like elegant candle holders and sconces as well as purely decorative sculptures in a wide variety of sizes.
The breadth of Barnwell's recent creations will be on display during January at Hillside's Pop Up Sedona Gallery, where he will be the featured artist during the month.  The public is cordially invited to meet the artist and view a diverse range of his latest pieces at the venue's First Friday reception on January 2, 5-8 PM.
Barnwell was first introduced to the arts through a woodworking class while he was a teenager in California.  But he soon moved on to the metal shop, and it was there that he found and pursued his true passion.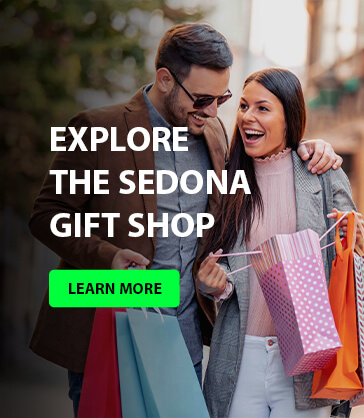 After a thirty year career in print media and broadcasting, he returned to his artistic roots when he retired and moved to Sedona.  Using tools like an acetylene torch, a Metal Inert Gas (MIG) welder, and a Tungsten Inert Gas (TIG) welder, he fashions his imaginative and whimsical pieces from metals, wood, granite, and other materials, and often incorporates found objects into his designs.
Barnwell's unique sense of line and form are embodied in works ranging from small tabletop sculptures and candle holders to large metal gates, tables, chandeliers, and free standing or wall-hanging creations.  "My style can be said to range from 'Modern Zen' to 'Southwestern', sometimes with a hint of 'Spanish' as well", he notes.  "I like to explore different styles in my work, and I never do the same thing twice."
Pop Up Sedona Gallery is also announcing that its name will change during January to Movin' On Gallery.  It will continue to operate in the same Hillside location and to represent most of the same artists, but some new artists will also be added.  Further changes and additions will be announced in the coming weeks.
The gallery is located on the upper courtyard of Hillside Sedona Center, 671 State Route 179 (about ½ mile south of the "Y" in Sedona).  The venue's hours are 10:00 AM until 6:00 PM daily.  For more information, call (928) 282-8143 or visit www.pop-upsedonagallery.com .