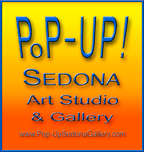 Sedona AZ (September 2, 2014) – It's no surprise that landscapes have always been a favorite subject of Sedona artists.  For an artist who lives and works here, it's impossible to resist being moved and inspired by the city's magnificent surroundings.
But there is infinite variety in the ways that different artists approach a landscape, and September's featured artists at Pop Up Sedona Gallery provide a perfect illustration of that.  Painter Ellen Perantoni, one of the venue's newest artists, embraces the rich colors and contrasts of the local scenes she interprets.  Photographer Jim Peterson, meanwhile, loves to create expansive works that express the scale and majesty of the Southwest's dramatic vistas and skies.
Perantoni and Peterson, along with several other Pop Up artists, will be on hand at the venue's monthly First Friday reception on Sept. 5, 5-8 PM, to meet the public and showcase their latest works.  Everyone is cordially invited to stop by, enjoy a glass of wine, and chat with the artists.
Originally from New Mexico, Jim Peterson has long been known for his rich, superbly detailed images of the natural world.  Using a singular blend of classic photographic methods and state-of-the-art digital techniques, he hopes to help preserve our natural legacy by fostering a wider appreciation of the intricate beauty in the fragile world that surrounds us.
Peterson's body of work ranges from small, intimate portraits of wild beings to majestic, room-sized landscapes and panoramas, plus occasional abstract or experimental compositions.  He has recently expanded the scope of his work by taking up infrared photography, providing a new and expressive way of seeing and rendering the world around us.  His exhibit at Pop Up Gallery will include several examples of his infrared images, as well as some of his newest color landscapes from recent travels.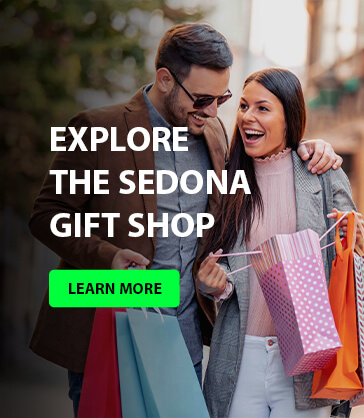 Ellen Perantoni is an accomplished landscape painter with numerous exhibits in New York and Massachusetts to her credit. She has been juried into Green Saugerties, Mountain Gallery, Gazen Gallery, Lionheart Gallery, Halfmoon Studio, and Firefly Farm Gallery, to name a few.
Perantoni attended Syracuse University and the Woodstock School of Art.  She received a Special Opportunity Stipend grant from the New York Foundation for The Arts and was featured in the Hudson Valley Quadricentennial Performance.  She is represented in the Whistler House Museum of Art and the Livingston Collection.  She now lives in Sedona and is excited to be joining the group of artists at Pop Up.
Pop Up Sedona Gallery is a co-op of local artists dedicated to exhibiting a wide variety of artistic styles and mediums.  The venue is also committed to giving back to the community.  Thus, a portion of all sales helps to support Camp Soaring Eagle or other local charities.
Pop Up is located on the upper courtyard of Hillside Sedona Center, 671 State Route 179 (about ½ mile south of the "Y" in Sedona).  The venue's hours are 10:00 AM until 6:00 PM daily.  For more information, call (928) 282-8143 or visit www.pop-upsedonagallery.com.