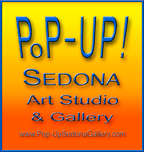 Sedona AZ (February 20, 2013) – Pop-Up Sedona Gallery continues to celebrate its talented diversity of artistry in their Hillside Sedona location.
The upcoming event is the monthly First Friday Reception on Mar. 1, 5-8 p.m. The featured artists are Csaba Martonyi, photography and wood sculpture, and Norma Holden, oil paintings. Both will be on hand to meet the public and discuss their work at the gallery's reception. Special refreshments are provided by the artists during First Friday receptions.
Norma Holden is one of the Pop-UP's newest artists. After Norma moved to Arizona in 1983 she quickly became an avid hiker, backpacker, camper and river rafter to experience and paint on-location the southwestern USA and Mexican mountains, deserts and oceans.
She paints plein-air landscapes in oil and oil sticks, and watercolor. She uses her smaller quick studies and her digital photographs to complete larger paintings in her Sedona studio. Norma's recent painting trips include Grand Canyon river rafting, Colorado, California, Arizona, New Mexico, Texas, Utah, Hawaii, Florida, the Carolinas, and the Mexican Riviera.
Norma uses many materials such as clay, Forton, concrete, hydrostone, Winterstone, cast-paper, and resin/fiberglas to create figurative sculptures and organic shapes. She carves sculptures in Verde River silt and casts these in hydrostone. Some of her carvings are a mix of hydrostone and red rock silt that she gathers in her yard after rainstorms.
Norma graduated Phi Beta Kappa from The College of Wooster in 1975 with a Fine Arts in Education Bachelor of Science degree. Before then she was fortunate to study at the Cleveland Institute of Art 1964-71.
Her ongoing study includes numerous workshops and classes. She studied sculpture in workshops at Paolo Soleri's Arcosanti in Arizona, and has taken painting and sculpture classes at the Sedona Arts Center and at Yavapai College.
She is a member of Sedona Arts Center, Northern Arizona Watercolor Society, Arizona Artists' Guild and Arizona Watercolor Association. Norma has shown her work in numerous juried shows and galleries across the country. Her work is in many corporate and private collections.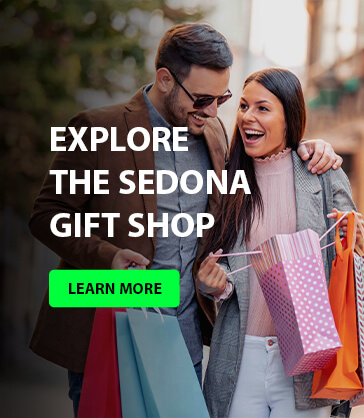 Csaba Laszlo Martonyi began photography at age 14, and photography has dominated his life ever since. Following two years as a Naval Air photographer, he spent 30 years as director of ophthalmic (eye) photography at the University of Michigan. During his tenure, his work was recognized with nearly 100 awards in international competition. Today, he enjoys more time for fine art imaging and working in wood. Csaba is an exquisite wood carver. His pieces are sublime and must be seen in order to understand the complexity of his carving.
His photographic images suggest that his greatest fascination is with textures and patterns, either natural or man-made. The opportunity to travel has also influenced his work and how he perceives the world and his role in the greater picture. "My reverence for nature grows with each encounter, and I never fail to marvel at the ever changing expressions of beauty in even the harshest environments."
In addition to Martonyi and Holden, Pop-Up showcases the work of 13 other local artists, representing a remarkable variety of mediums and styles. The gallery exhibits the creative work of painters, photographers, sculptors, jewelers, potters and glass artists. Pop-Up is operated entirely by the artists, giving visitors the opportunity to meet an artist and discuss both the medium and the meaning of pieces exhibited in the gallery.
A portion of each sale for the winter quarter at Pop Up is donated to Yavapai Big Brothers, Big Sisters, whose mission is to enhance the lives of children through quality mentoring relationships. The need for this fine organization has never been more urgent. Pop Up Sedona Gallery is proud to partner with this organization.
Pop-Up is located on the upper level of Hillside Sedona Center, 671 State Route 179 (about ½ mile south of the "Y" in Sedona).
The gallery is open from 10 a.m. to 6 p.m. every day.
For more information, call 928-282-8143 or visit .