By [Concerned Sedona Resident]
(May 23, 2021)

In our last article, we looked at the five questions or criteria governing the viability of proposed Sedona traffic solutions.  In the way of quick review, those were ownership of the land, public access to publicly-funded sites, funding, efficacy of the proposed solution and negative considerations. 
In this first of a two-part discussion, we evaluate some of the most commonly proposed traffic solutions against those five criteria to see how they measure up.  They include routes for locals only, bridging Red Rock Crossing and paving Schnebly Hill Road.  In the second part, we'll look at widening Highway 179, bypassing Uptown and neighborhood connectors.
For Locals Only:
"Let's build a road that only locals can use or that only locals know about."  These two proposals are evaluated together since both are conceptual and do not focus on specific sites. 
Without a specifically site, it's harder to weigh the land ownership issue.  Given the lack of open land inside the city and assuming the proposers don't want to destroy residents' homes and take away their private land, that leaves only Forest Service lands outside the city and thus outside the city's jurisdiction.
Actually, there is no possibility at all of building anything that "only locals know about."  Social media would quickly take care of that!  Supposedly the Chamber of Commerce is not advertising Sedona right now, but somehow huge numbers of people still find us every day.  There is no big sign that says "Hike Here" at the entrance to the Devil's Bridge trail, but upwards of 1,000 people find it every day.  And, no advertising or signage directs people to camp out along Forest Road 525, but the area is overrun with campers.  Social media speaks!
For any proposal involving the taking and use of national forest land, an environmental impact study will be required.  This is not a simple, cheap or quick process.  Assessing the environmental impacts of any routing will involve serious evaluations including everything from archeology to wildlife and significant public participation in the process.  Several years of time and several million dollars would likely be needed to complete this mandatory step for any roadwork on federal lands.
A completed impact study doesn't assure a project approval.  Impact studies develop information on a set of choices.  Those include a "no-action" choice.  If the negative impacts of the project and the feasibility of it being accomplished outweigh the estimated benefits, "no action" may be the preferred alternative.  The more limited the public's access the less public benefit is realized and the lower the overall project value.  Attempting to build a road, bridge or bypass on federal land for limited public use would be highly unlikely to ever pass environmental impact approval. 
As noted in our first article, using county or state public highway money (the only likely funding source) for a road that excludes certain publics would never be approved by those who administer the funds.  Any real proposal to "…build a road that only locals can use or know about," would be dead on arrival.
Bridge Red Rock Crossing:
It's not just about a bridge.  The "crossing" and the road on both sides are on national forest land.  All three areas would require a major construction effort.  And, no, we cannot just put back the low water crossing slab.  The rules about Oak Creek and the land on either side have changed in the decades since the last slab washed out. 
First, an environmental impact study would be required.  The time and money to do that activity has already been discussed.  This proposal, unlike the for-locals-only ones, would probably stand a better chance of being approved.  But that is only the beginning and it's a long shot. 
Design and construction costs would run in the tens of millions (roughly $40 million and climbing?) and there is no available money source.  As we noted before, Sedona certainly doesn't have it.  Neither does Yavapai County or the state.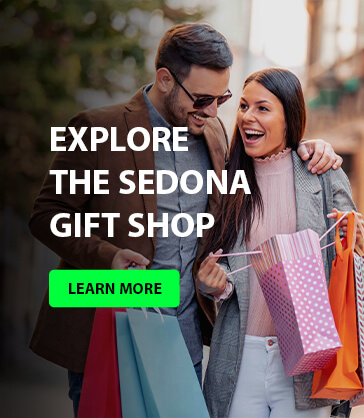 Again, it's about way more than a bridge.  The roads on both sides of Oak Creek would require major rebuilding to bring them up to current roadway standards necessary for use of public highway money.  That means rebuilding all the way to 89A on the north and at least to where pavement begins on the south side. 
Then there is the opposition certain to come from some county residents living along the Verde Valley School Road as their peaceful country route threatens to become a high volume and higher-speed traffic thoroughfare.  Finally there is the safety issue of pushing a major load of traffic past our Junior High/High School – where the city's largest concentration of low-experience drivers gather.
This route would likely become a convenient cut-across for locals but few tourists would find it.  The probability of it reducing traffic volumes on Highways 179 and 89A is small, meaning the overall public benefit is small as well.  Lack of funding alone likely kills this proposal.  Along with the likely political storm from some Village residents and those living along Upper Red Rock Loop Road as well, plus safety concerns about increased traffic next to a school, this proposal will stay dormant far into the future.
Pave Schnebly Hill Road:
It sounds so simple.  The road is there.  Just pave it and problem solved!  Whoa!!  Anyone making this proposal probably has never been up this 12-mile piece of road.  It's hardly a road at all from Sedona up to the top of the rim.  It's barely one vehicle wide in places, has steep mountain grades far exceeding highway standards and a construction price tag that likely exceeds any of the other common traffic proposals by a wide margin. 
Much of the road below the rim is cut out of a rock shelf.  Widening it to highway standard width (necessary to use any highway funding source) of about 30 feet would take really major work in solid rock.  The necessary widening would leave a very large and visible scar on the mountainside and, overall, need upwards of $80 million or more for cost.
It's on Forest Service land all the way.  This means several years and several million for the impact study.  Expect strong opposition from the Forest Service who don't want another main highway bisecting the forest through major recreation areas and prime wildlife habitats. 
Expect also increased, not decreased, traffic problems with a larger number of vehicles dumped into the Schnebly Hill Road roundabout on Hwy. 179.  That would be one of the unintended consequences of adding traffic load just before the major bottleneck of the "Y" roundabout.  And then there is the issue of maintenance costs for a lengthy new piece of highway and the question of whether it can be kept open in winter months.  (The current road is closed in winter due to snow blockage.)
In summary, it would take years – up to a decade – to study, design, contract and build this proposal.  Sedona does not control the land.  The price tag is huge with no funding source in sight. The number of vehicles it might actually serve is questionable and the environmental impact is high. 
Forget this one.  It's way short of any level of feasibility. 
In our next edition, How Do They Measure Up  Part II, we'll review the proposals for widening Highway 179 to four lanes, bypassing Uptown and building neighborhood connector routes.
(Over) Selling Sedona: Decision Points
How Do They Measure Up? Part 1 • Part 2
The Fallacy of Transit
Simple Solutions
Selling Sedona – One Year Later: Part 1 • Part 2 • Part 3
Selling Sedona, 2015: Part 1 • Part 2 • Part 3 • Part 4 • Part 5 • Epilogue