Verde Valley News – Old Town Center for the Arts has lined up renowned performers from around the U.S., and right here in Arizona for the Fall Concert season. Here's a brief description of some of our upcoming concerts and events at Old Town Center for the Arts.
California Guitar Trio in Concert
Saturday, October 8, 7:00 PM
Celebrating their 30th Anniversary, the California Guitar Trio's performances have been astounding, with unparalleled diversity.  The California Guitar Trio is Paul Richards from Los Angeles, Bert Lams from Belgium, and Tom Griesgraber from San Diego.  Together, their technical wizardry is breathtaking, as is the wide range of instrumental music, from unique originals to dazzling, cleverly arranged interpretations of music from Queen and the Beatles, to Bach and Beethoven, and surf music from the Ventures.
CGT's recent collaborations with bassist Tony Levin and the Montreal Guitar Trio have broadened the scope of their touring repertoire and educational outreach.  
"Little about the California Guitar Trio can be considered an expectation", writes Walter Tunis of the Musical Box.  "Their wildly versed and versatile technical command is harmonically and compositionally complete without any semblance of a traditional rhythm section present as aid".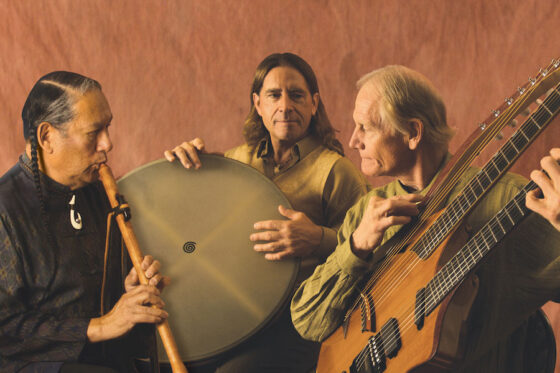 Carlos Nakai, William Eaton and Will Clipman
CD Release Concert of "Spiral Rendezvous"
Sponsored by Best Western Cottonwood Inn
Friday, October 21 and Saturday, October 22, 7:00 PM
Carlos Nakai is the world's premier performer and composer of the Native American flute. He has released over forty albums on Canyon Records, including RIAA Certified Gold and Platinum Records, and has sold over four million albums worldwide. William Eaton is a visionary musician and composer, and co-founding Director of the Roberto-Venn School of Luthiery. His multi-stringed instrumental inventions are world-renowned, and are featured on his 26 recordings, including seventeen for Canyon Records. Will Clipman plays a pan-global palette of ethnic percussion in addition to the traditional drumkit. He has recorded over seventy albums, over half of those for Canyon Records. Nakai, Eaton and Clipman have collectively received twenty-two GRAMMY® nominations.
Over the course of their thirty-year collaboration as performing and recording artists, R. Carlos Nakai, William Eaton & Will Clipman have engaged in an ever-evolving improvisational trialogue to generate their collective sound. This creative process is documented on their five studio recordings for Canyon Records: Feather, Stone & Light; Red Wind; the GRAMMY® nominated In a Distant Place (with Tibetan flutist Nawang Khechog); the GRAMMY® nominated Dancing into Silence; and the newly released Spiral Rendezvous. The trio will play improvisational themes and variations from their recorded oeuvre in their trademark one-of-kind, in-the-moment performances at Old Town Center for the Arts.
Zenprov Comedy 
Red Rocky Horror Improv Show
Saturday, October 29, 7:00 PM
Where's that spooky laughter coming from? Look no further than Zenprov Comedy's "Red Rocky Horror Improv Show" on Saturday, Oct. 28 at 7:00 pm at the Old Town Center for the Arts. "This is our favorite show of the year to perform. Halloween, monsters, aliens, and hyper children on sugar — it's going to be a scary good time," said Derek Dujardin, director of Zenprov Comedy.
If you've never been to one of their live performances before, Zenprov Comedy is similar to the popular improvised TV show "Whose Line Is It Anyway?" The troupe performs a mix of fast-paced improvised scenes created in the moment based on audience suggestions and Chicago-style, long-forms such as "The Harold." Unlike sketch or standup comedy, nothing is scripted or prepared ahead of time, so it's never the same show twice. Moreover, the troupe a world-renowned Second City improv coach from Chicago to up their game to new levels of authenticity and humor. 
For more than a decade, Zenprov has tapped into the rich source material that comes from living in a place steeped in spiritual seeking, small-town politics, UFOs, vortexes, radical vegans, and endless roundabouts. So, while Zenprov Comedy may start in the New Age culture of Sedona, their otherworldly performances are grounded in the rock-solid fundamentals of quick-witted improvisational acting, inventive satire, and a constant search for the meaning of life hidden inside the great Cosmic Giggle.
Zenprov Comedy embraces the Del Close method of improv acting, which emphasizes the "group mind" that mysteriously develops during a performance. Miraculously, the player's minds fuse together to create a "super mind" where they practically finish each other's sentences—and often do. Laughter ensues.
"Ephemera"
A World Premier Performance by Hydrangea Sky Movement Arts
Friday, November 11, and Saturday, November 12, 7:00 PM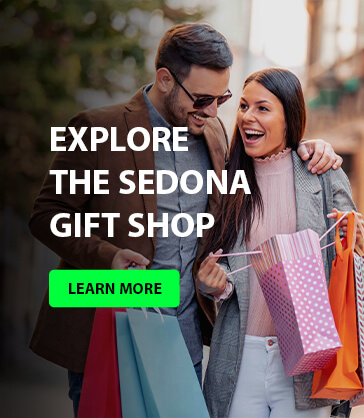 'Ephemera' is a captivating, enthralling evening of aerial dance, acrobatics, and flow arts, unfolding on and high above the stage at Old Town Center for the Arts in Cottonwood, Arizona on Friday and Saturday evening, November 11th & 12th, at 7:00 PM.  This multi-media event will be a stunning array of aerial arts, colorful lighting, sound and music.
'Ephemera' is created by Hydrangea Sky Movement Arts, a company of diverse artists, performing high-flying stunts on aerial silks, corde lisse (rope), trapeze, lyra (aerial hoop), chains, and straps; transitioning into the grounded movement arts of Kung-Fu, Tai-Chi, modern dance, acrobatics, Cyr wheel, and Poi spinning.
Exploring the space from floor to air, through dynamic movement, each act is woven into a cohesive storyline that summons ethereal elements – the intangible and the profound – that connect us all. 'Ephemera' explores the dichotomy of time and memory being at once fleeting and eternal; juxtaposing the graceful and the primal, the grounded-ness on earth and the limitlessness of atmospheric space. 
This debut full-length show of Hydrangea Sky Movement Arts dance company is the first show of its kind to be presented in the Verde Valley / Sedona area at OTCA.
Website: hydrangeasky.com
Greg Tamblyn
Holiday Humor and Musical Mirth
Saturday, December 3rd 7:00 PM
Dubbed "a contemporary Mark Twain" by author Dr. Larry Dossey, Greg Tamblyn's concerts tend to be as funny as they are musical.  Multi-award-winning songwriter / humorist Greg Tamblyn brings his irreverent songs and sideways view of life back to OTCA. .Greg's last appearance at OTCA was a full house.
With a list of national plaudits to his credit, including multiple "Best Comedy Song" awards from the Just Plain Folks Music Awards, the Music City Song Festival, and the EmPower Music Awards (the Grammys of Positive Music), Tamblyn's unique musical wit provides the perfect dose of 'conscious comic relief' from the workday blues, global anxiety, and personal challenges.
Recently Tamblyn received the Grace Note Award for Lifetime Contributions to Positive Music from the EmPower Music Awards. 
His concerts feature songs and bits like The Top Ten Whiny Victim Love Songs, Self-Employment Made Harder by Difficult Boss, Analog Brain in a Digital World, The Shootout At The I'm OK You're OK Corral, My Life is a Beer Commercial, and A Brief History of God (G-String Theory). 
Tamblyn's concert will also feature Cashbox Magazine's "Christmas Single of the Year" which he wrote and recorded, "It's Another Joyful Elvis Presley Christmas."
Mark your calendars for these special events and stay tuned for more events at Old Town Center for the Arts coming this Winter and Spring.
Tickets are available online at www.showtix4u.com or in Cottonwood at Mysterium and In Sedona, you can find tickets at The Mary D. Fisher Theater. For ticket prices and more information about these and other upcoming events, visit www.oldtowncenter.org, or call Elena Bullard at 928-634-0940.